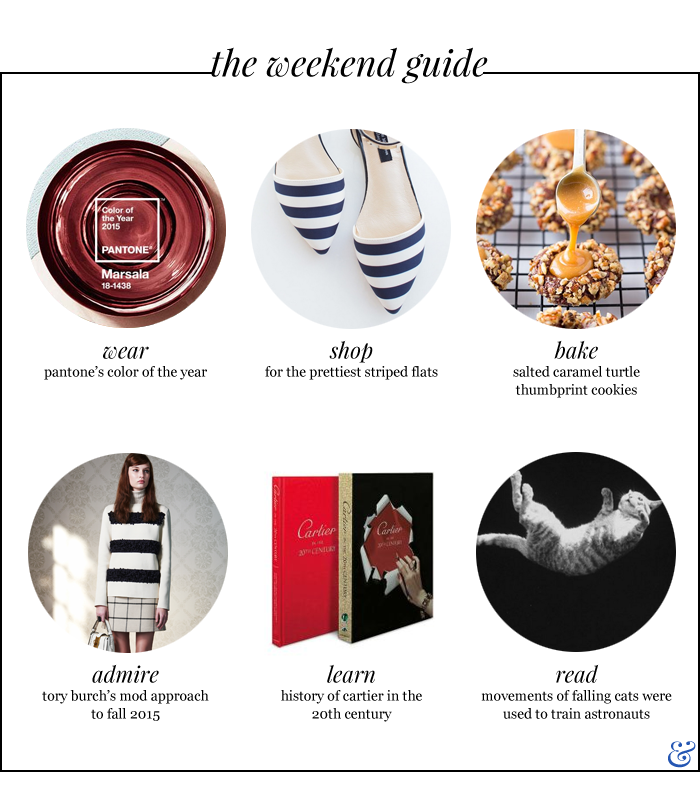 WEAR
Pantone just announced the sophisticated color of the year for 2015.
[spacer]
SHOP
It's a little too impractical to wear these d'orsay flats now, but they'll be on repeat come spring. A metal plate ankle strap adds a touch of sophistication.
[spacer]
BAKE
Salted caramel turtle thumbprint cookies look divine.
[spacer]
ADMIRE
I'm lusting after every look in Tory Burch's mod pre-fall collection. You have to click through to see the jewelry, especially the oversize pendants.
[spacer]
LEARN
Delve into Cartier's history in this coffee table tome. (I received a review copy and I'll share more details next week.)
[spacer]
READ
Or look at pictures, rather, of falling cats contorting their bodies to land safely. The photos were used to train astronauts in the '60s.
[spacer]
REMINDER
Enter to win jewelry from Gerard Yosca's latest collection.