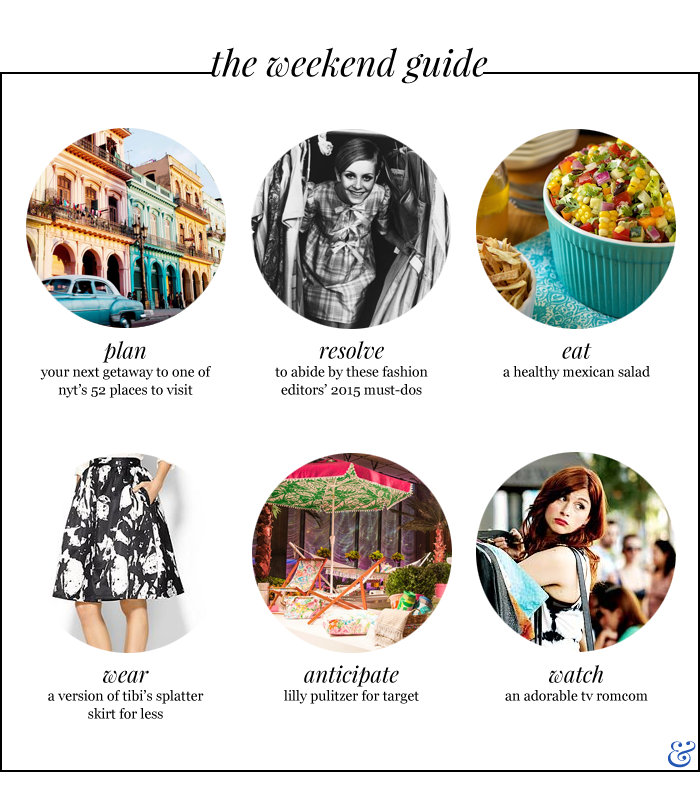 PLAN
Shore up your travel plans with The New York Times' "52 Places to Go in 2015." Many are unrealistic for most of us, but it's fun to daydream.
[spacer]
RESOLVE
Still penning your style resolutions? Find inspiration from Bazaar's editors.
[spacer]
EAT
This Mexican chop salad is a healthy and delicious option to add to your meal lineup.
[spacer]
WEAR
How cute is this take on Tibi's splatter skirt? It comes in at just $79 and the knee-length hemline is more universally flattering than the midi length.
[spacer]
ANTICIPATE
Overhaul your summer wardrobe with Lilly Pulitzer's collaboration with Target. I'm thrilled about the partnership, but others don't share the same excitement.
[spacer]
WATCH
We started watching You're the Worst last night. As IMDb puts it, the show "centers on two toxic, self-destructive people who fall in love and attempt a relationship." It's cute, hilarious, and unexpected. It's also so good that we breezed through most of the episodes last night.
[spacer]
---
// additional images via 1, 2 //