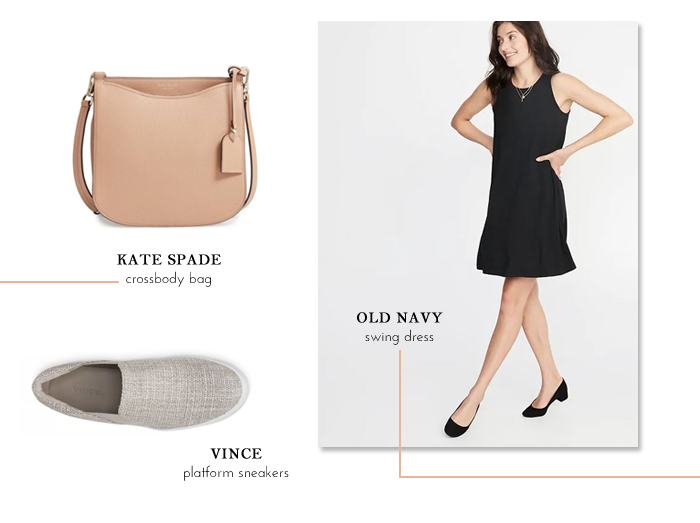 Another month and another pared down list of purchases to share! Although, this might be a bit misleading because I've ordered quite a few things over the past week including this blouse and this one, a pair of jeans, and a dress. None of them have arrived yet, so we can pretend I'm sticking to my quality-over-quantity mantra for now. (And, really, there's a good chance that half of those items are heading back to their respective retailers.)
PURCHASED
See all of this year's sartorial additions here.
Vince 'Warren' platform sneakers – I bought my first pair of Vince sneakers last fall in navy tweed and I absolutely love them. They're incredibly comfortable, run true to size, and don't require a break-in period. I wanted a pair in a lighter color for our upcoming trip to Portugal to wear with spring clothing – and to offer comfort while walking along the cobblestoned hills.  (I relied on my other pair during our trip to New York and never had sore feet at the end of the day.) I was unsure about the platform at first, but they've grown on me.
Kate Spade 'Margaux' large crossbody in 'light fawn' – I agree with another reviewer in that this bag isn't "large," but it is perfect for what I was looking for: a neutral-colored, crossbody bag to use while traveling when I don't want to bring along my camera. I usually carry my camera with me during the day when we're on vacation, but I rarely want the extra weight at night. This bag allows me to pare down to just the essentials while still offering enough room for any small souvenirs I might collect. I love the sophisticated shape of the bag that allows it to sit close to the body without being bulky. There's an exterior slip pocket that can hold a phone for easy access.
Old Navy sleeveless swing dress in black – I have a grey version of this and it's one of my favorite things to wear traveling or to slip on after work to go for a walk around the neighborhood. It's cheap, comfortable, and doesn't look sloppy. It's a win in my book.
DIDN'T WORK OUT
Things I tried and didn't love.
Mango floral print dress – This was my first purchase from Mango and I wasn't really sure what size to order. The one I opted for was too large and shapeless, and the length went nearly to my knees. The fabric also felt really cheap. I'm not sure I would have kept it even if it fit better.
Who What Wear floral blouse – The fabric of this blouse almost feels like linen and I love the print. I tried the small and the medium and neither one was all that flattering. It's worth trying though.
–
Let's keep in touch!  Instagram / Facebook / Pinterest / Bloglovin'