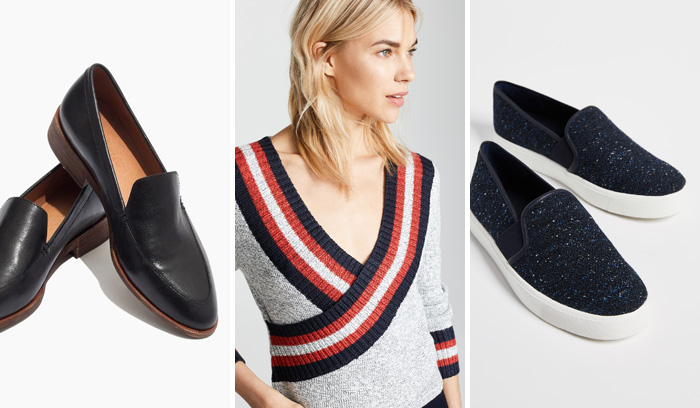 All of the purchases I kept last month were made at the tail end of September and didn't arrive until the very beginning of October, giving me a misleading sense of frugality for the month! But if we're looking at cost-per-wear (the fashionista's convenient rationale for overspending), I nailed it with these three items. All have been on heavy rotation, especially the shoes which have become such staples that I'm surprised I've only had them for a month!
PURCHASED
See all of this year's sartorial additions here.
Madewell 'Frances' loafers in black – I've wanted these loafers since they debuted last year, but I missed out on my size at the time and they fell off my radar over the summer. The reviews claim the stretch and to go with a snug size. I disagree. My normal size 7 was way too tight. Yes, they stretch a bit because they're leather. But if they're not comfortable right out of the box, I'd recommend going up a half size. You can wear loafer socks with them, too.
C/Meo Collective sculpt knit top – I bought this during the Shopbop sale at the beginning of October. I wasn't sure if I'd like it that much in person since it's a lot sportier than my typical style, but it was really a ride-along item to get me to the 25% off threshold rather than the 20% off. (I was also ordering two sizes of the Vince sneakers to try.) I was shocked by how much I liked it. The wrap style is flattering, and it's incredibly soft and warm. However, I don't recommend it at its full price; wait for a sale.
Vince 'Blair' slip-on sneakers in navy tweed – I finally caved and bought a pair of Vince sneakers. I honestly wasn't sure I'd like them, but I wanted something that felt more elevated than a traditional lace-up style and everyone seems to like them. Well, there's a reason that bloggers rave about these — they're so comfortable! I went with my normal size.
DIDN'T WORK OUT
Things I tried and didn't love.
–
Let's keep in touch!  Instagram / Facebook / Pinterest / Bloglovin'