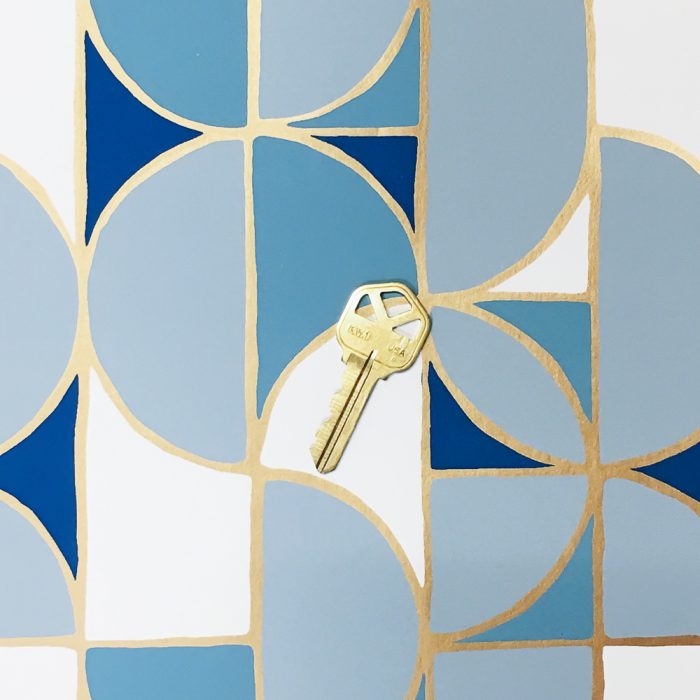 On June 20, 2017, we closed on our first home. As we popped the bubbly in celebration of our one-year house-iversary, I found myself reflecting on the past twelve months and was struck by how much of a learning experience home ownership proved to be. Here are some of the things that surprised me most after accepting the keys a year ago.
Improvements take time.
There's so much pressure to have a Pinterest-perfect house shortly after moving in, but doing so takes a lot of time and [primarily] a lot of money. Honestly, I was naive in thinking how quickly we'd have rooms furnished. We didn't want to have our home look like the West Elm and CB2 catalogs circa 2017, so we spent a lot of time browsing other retailers to find pieces to complement the big box items that we owned. When you pair that with someone who is picky (ahem, me), it's not exactly a quick process. (I selected our new living room sconces after looking at no less than a thousand options.) And then there's money. When you're balancing one pricey purchase with dozens of other pricey purchases, you have to prioritize which items will make the biggest impact in terms of design and comfort as you save money for the other things. Plus, you still need to consider the finances needed for travel and other hobbies. It's definitely a balancing act, and this doesn't even take into account major changes like renovations and remodels. I've learned to be comfortable taking our time with the house. Purchases are more satisfying after you've had time to truly consider them, and it's better to wait until you know how you're going to live with your space. Even when it comes to simple improvements like painting, it's unrealistic to think you'll have everything done right away. We accomplished a lot last summer, but there's still a laundry list of things to work on. It's getting done — just a bit more slowly than I had anticipated.
You can DIY a lot.
Before we moved in, I knew I wanted to paint as much as we could on our own and only hire someone to do the stairwell where I couldn't reach. (I feel clumsy enough on ladders, let alone adding this contraption to use one on stairs.) I figured that's where my DIY know-how would start and end. Instead, we've learned how to do a lot on our own thanks to help from our parents and plenty of YouTube videos. My dad taught me how to change the electrical outlets from outdated almond-colored and black ones to white. That experience and an online tutorial gave me confidence to swap out light fixtures. Dave and his dad installed our garage door opener. Dave fixed our washing machine when it broke a couple of months ago. I've been painstakingly removing paint from our 90-year-old door hardware to reveal the brass hidden beneath. It takes time to DIY, but each project is intensely satisfying and we're saving a lot of money by making these changes on our own.
There will be unexpected expenses.
Everyone says that houses are expensive and there's good reason for it. It seems like no matter what you do, you'll have a surprise pop up that'll cost you. In the year that we've owned the house, we've needed to have four trees removed because they were dying, we had a roof leak that needed to be repaired, and we had our furnace go out in the middle of winter. Each expense wasn't exactly awful or budget-breaking, but when you have money earmarked for, say, a dining room table, it feels pretty shitty to fork over hundreds of dollars for a necessary repair. We've been saving roughly 12% of our mortgage each month and putting that money into a CapitalOne 360 savings account specifically for home-related expenses like repairs or furnishings. Having a joint account labeled "Home" has made some of those expenses more bearable because it's money we already expected to spend on the house.
Everyone will have an opinion.
This was such an eyeopener to me! It seems that no matter what your plans are and how well you've researched your options, everyone will have an opinion and their own war story about why you should do something else. They're well-meaning, of course, but it can be annoying to hear unsolicited advice from everyone from family to friends to colleagues. It's one thing if everyone is telling you to shy away from one particular decision, but that's not typically the case. It's more like you tell one person your plans for X and they had a bad experience. You tell another person about Y and they had a different result. The worst is when someone suggests we skimp on an improvement that doesn't matter much to them. (Sure, we could purchase run-of-the-mill, builder-grade light fixtures, but I'll be annoyed with them every day.) I've learned to take it with a grain of salt. I'll re-research some things just in case, but I'll usually do what I wanted to do initially and it turns out fine. (Don't let this deter you from reaching out for recommendations and how-tos. That advice is invaluable.)
Focus on what you love when things go wrong.
When something doesn't pan out quite the way you expected it to, it's easy to hone in on all of the problems with the house. In our case, there's a lot of stupid choices made by 90 years worth of owners — one of whom was a landlord and we all know how well renters treat a home. There's a lot about our house that isn't easy and there are a lot of things we need to repair or replace that come with hefty price tags. Sometimes I'll find myself frustrated by the process and wondering why I wanted an old home. Those are the moments that I need to stop myself and appreciate the unique features of the house (the glass door knobs, the perfect patina on the brass, the substantial baseboards, the original hardwood floors that we couldn't afford otherwise) and the progress we've made. I know it's corny, but oftentimes I feel like a steward of the house and that it's our opportunity to correct the things that went wrong over the years and modernize it while paying respect to the quirks that make it what it is.
–
Let's keep in touch!  Instagram / Facebook / Pinterest / Bloglovin'