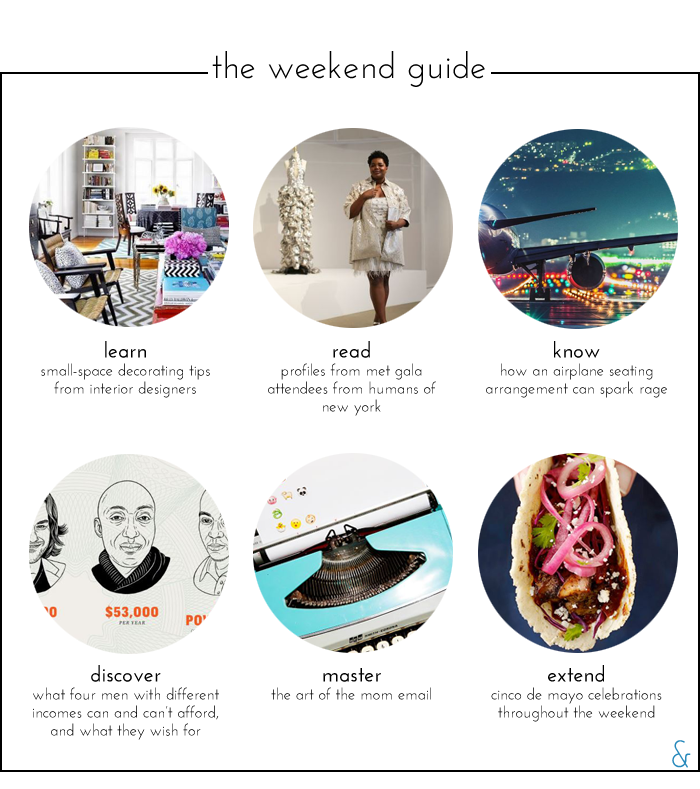 LEARN
Dave and I went to the bank this week to get pre-approved for a home loan. While we don't have a specific house in mind yet, everything we've read urges a buyer to get the preapproval letter in order first to make an offer more enticing to a seller. There's a short list of homes that we'll be touring with a realtor in the next couple of weeks provided they aren't purchased by someone else first! (Madison has a crazy real estate market right now with many homes swept off the market within a week.) We'd like a sweet 1950s or '60s home. They come with tons of character, but they also come with small rooms, which is why I'm referring to this small-space decorating guide when the time comes (hopefully mid-July!).
READ
If you're like me, you've alreay poured over the best-dressed lists from the Met Gala. My favorite post, however, comes from Brandon Stanton, the brilliant man behind Humans of New York.
KNOW
It seems terribly inefficient to load a plan from front to back. Beyond that, it seems there's research to support that walking through a first-class cabin can lead to "air rage" on the flight. (I've never understood how pre-boarding is a perk to first-class passengers. While I love to travel, I don't love to be strapped to a seat in a stuffy plane for longer than necessary. )
DISCOVER
I appreciated this poignant article profiling the financial differences of four men, ranging from a gentleman on the poverty line to a CEO millionaire.
MASTER
So much of this post rang true. There's a true art to the mom email!
EXTEND
Tacos are by far one of my favorite foods and we didn't even use Cinco de Mayo as an excuse to overindulge yesterday. Dave was out of town, so I opted for a more responsible meal of chicken and a side salad. Boring. You know what's not boring? A weekend of tacos to look forward to! Here's a comprehensive list of Mexican meals to make all summer long. I'm definitely trying this corn salad.
EARLIER THIS WEEK
Dressing like a Danish girl.
A stunning ring from Anjolee.
Style steals under $50 and under $100.