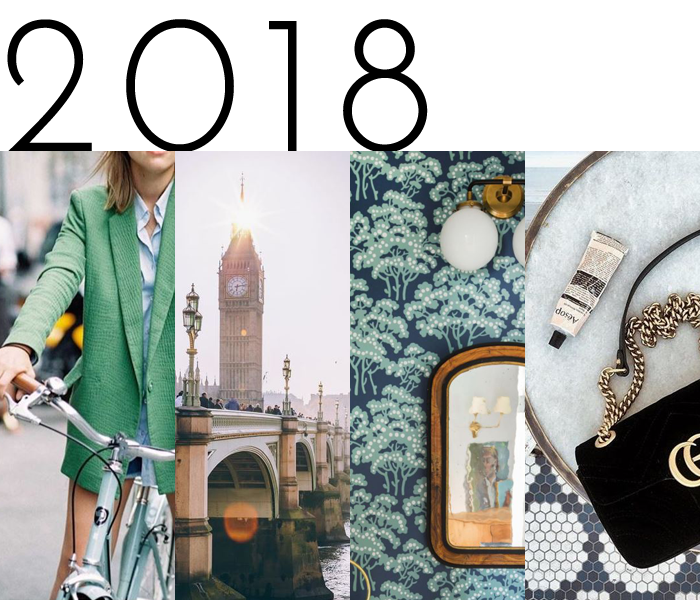 FEWER, BETTER THINGS
I know this is the Cuyana tagline, but it makes so much sense for where we are in our lives. We have a lot of possessions — which became evident when we moved — and the last thing we really need is more stuff. I'm trying to get out of the habit of impulse purchasing or feeling like I need something new to scratch an itch, or in terms of our home, feeling like we need a transitional piece that acts like a placeholder while we hunt for "the one." I have a few lofty items that I'd love to own this year, namely the Gucci bag I've been saving for, wallpaper for our stairway, light fixtures for the entire house, and a dining room table and chairs. Having clearly defined purchases makes it easier to pass up the impulse items. I've also thought about limiting myself to just one or two sartorial pieces each month. It'd be an interesting challenge to whittle down a wish list to just a couple of purchases, but I could see it sucking a lot of joy out of fashion. Maybe worth trying for a few months, though!
TRAVEL SOMEPLACE NEW
This perennial resolution is my favorite. I think it's important to expand my horizons and see a different part of the country or world. Plus, it's so much fun to experience a new location! Last year we only took one vacation, and fortunately it was to a new-to-us location: New Orleans. It was difficult to justify additional travel when we just purchased a house and were feeling financially stressed as we adjusted to a new budget. Hopefully we'll have more travel flexibility this year. We already have London on the books for April (with the flight and hotel already paid for, so that's taken care of!), and have toyed the idea of going to Iceland for a week in the summer. I'm not sure if Iceland is realistic, so we have a couple of domestic ideas in mind. (After last night's subzero temperatures, I wouldn't mind ringing in 2019 somewhere with a beach!) And, while this is more than a year away, I promised Dave that we could go to Japan in 2019 or 2020. (Maybe if I write it down here, I'll feel accountable for making it happen?)
MOVE MORE
Challenging myself to lose a certain amount of weight or commit to an ambitious workout schedule isn't going to happen. However, I am looking to make healthier changes to my lifestyle in 2018. (Gone are the days that I could reliably lose weight just by reducing my calorie intake!) I'm starting an exercise regime that I can accomplish at home (twice a week sounds realistic to start) and once the weather gets nicer, I'm committing to at least one bike ride a weekend to get out an enjoy our neighborhood, Madison's parks, and the surrounding lakes.
AROUND THE HOUSE
When we purchased this house, we knew there'd be a lot of work to do to make it our own. It was largely abandoned and hadn't been taken care of or updated over the years. We've made impressive strides in the first six months of ownership, but there's still a long list of things to do! We keep a shared list on the "Notes" app that allows us to jot down every project that comes to mind so that we can prioritize them. I won't get into all of the projects, but some that I'd like to do tackle this year include:
Finish painting the trim and doors.
Finish painting the hallway and ceiling. (We'll need a professional painter for part of the wall and ceiling that we can't reach over the stairs.)
Repaint the guest room since we hate the grey we originally picked.
Replace the storm door at the front of the house. It's in such poor shape and incredibly ugly.
Replace the remaining light fixtures … for seven rooms.
Buy a dining room table and chairs.
Purchase a living room rug, preferably vintage.
Add a screen door to our back deck.
Have a contractor come in to give us quotes on renovating the bathroom, closing off the opening between the master bedroom and guest room, and renovating our front porch/sun room. (It was originally a porch, but had been closed in at some point. We'd like to add more windows and give it an interior face lift so it's a space that we'll use.)
Get quotes on wallpaper installation for the stairway. (I'd love to make wallpapering a priority for 2018, but it all comes down to money.)
Get quotes on skim coating the kitchen to get rid of the awful textured walls.
Have an electrician install exterior outlets.
Resurface the driveway and add a parking pad to the side of the one-car garage.
Add exterior lights to our side entrance and the garage.
Paint or stain our deck and front porch.
Figure out window coverings. We're likely going with roller shades because they fit the period of the house and they're affordable.
Let's keep in touch!  Instagram / Facebook / Pinterest / Bloglovin'