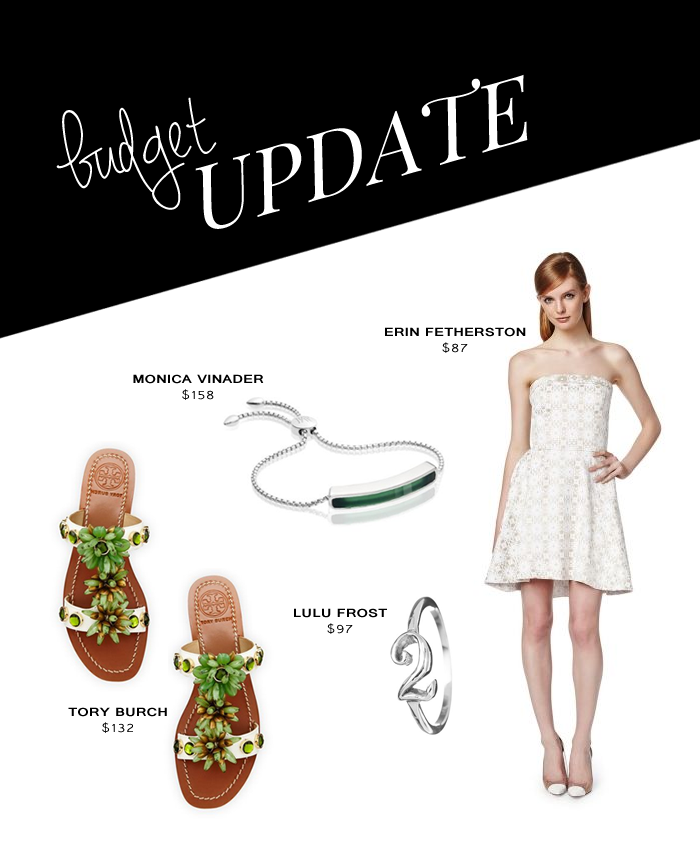 I may have gone a little overboard in a month that's supposed to be about other people, but there were too many great deals to pass up. (Isn't that always a convenient excuse?)
[spacer]
ERIN FETHERSTON DRESS
First up, the most stressful purchase of the month: a cocktail dress to wear to Dave's office party. I've gained a bit of weight over the last few months and I didn't feel confident in any of the dresses already in my closet. Sure, I could have squeezed into something with the help of Spanx, but I wanted something I was excited to wear. I first tried this dress. I thought I could get over the goofiness of the ruffled flaps in person, but they're in such an awkward spot and kind of looked like limp fins. Eventually I came across this Erin Fetherston dress on Amazon. All of my favorite cocktail dresses are by the designer. You'd think I'd learn to stop wasting time trying on other dresses when I know one of her looks will win my heart.
[spacer]
LULU FROST RING
I've wanted the Lulu Frost #2 code ring for a well over a year and the perfect excuse fell into my lap a few weeks ago. At the end of November, I received a 40% off coupon from the company as a thank you for supporting the brand through my blog (such an unexpected surprise!). Naturally, I placed an order immediately. I'm fond of the number for a few reasons: my numerology number is a two, I'm a Gemini (the twins), and, most meaningful, I met Dave on February 2nd (2/2). I love having an everyday piece that commemorates our first date.
[spacer]
MONICA VINADER BRACELET
This Monica Vinader bracelet also made its way home to my jewelry box after Black Friday. It's incredibly gorgeous and well made. I'll admit that two silver pieces seems a little uncharacteristic this month, given that I usually go for oversize gold pieces. However, I do favor silver tones for fine jewelry. I think it's a little more versatile and mixes well with yellow gold.
[spacer]
TORY BURCH SANDALS
Last, but not least, sandals. Sandals are kind of a stupid purchase for December. I get that. But these Tory Burch slides are so pretty and a heck of a deal at $132. I also tried the petal toe ring sandals from Loeffler Randall, which were a little uncomfortable at the toe strap. I suspect it would get softer after some wear and I did like that the scallop strap had elastic on the sides to accommodate different foot widths.
[spacer]
UP NEXT
So, where do we go from here? You'll see below that I was lucky enough to add quite a bit of money to my budget this month. It almost covered my purchases for December, leaving me with just over $100 to last through February. I do have a $200 Visa gift card to spend on something indulgent. I'm also going to add a couple hundred from this year's work bonus to my budget, since that was unexpected money anyway. I'd still like to snag a summery purse (perhaps this one) and a new sundress if we do book a trip to Florida. Wouldn't a Clover Canyon dress be fun for a tropical escape? I love the Dancing Silk Slip Dress. (With my Shopbop collaboration, I receive a shopping credit each month and am seriously considering that dress, even if the bra situation for the frock baffles me.)
[spacer]
THE BUDGET

I started with a six-month budget of $1,500. I consider blog revenue and eBay sales to be "fun money" and will add a portion of that additional income to my overall seasonal budget (if it doesn't end up in my travel fund first). I'll record any budget increases or expenditures here each month. Anything that has been ordered and has not yet arrived will appear on the next budget update. (There will also be an annual "Tax Refund Splurge" that goes above my budget, but I'll devote a post to that in January.)
$1,500 starting budget
+ $655 added to the budget this season ($455 this month)
– $2052.59 spent this season ($473.54 this month)
= $102.41 remaining
[spacer]
WARDROBE UPDATE

View all of my purchases (that I can find stock photos for) on my fall and winter wardrobe Pinterest board.
Clothing:

Shoes & Accessories:
Gifted Items:
This section sort of comes off as braggy, which isn't my intention. Blogging is getting less and less transparent and I want to be clear with what I've purchased and what items I've received as part of a collaboration. I'm awfully picky about the brands I work with–and won't post items I don't love–so rest assured these are solid.
[spacer]
HOW ARE YOU DOING?
Fran does a great job of linking to budget bloggers each month and I strongly encourage you to take part. I hope you'll also share links to your wardrobe recaps here. I'm always curious to learn how others curate their closets!