I started the month with the best of intentions, but then found myself fed up with my summer work wardrobe and "I have nothing to wear!" days becoming more frequent. Most of my work wardrobe was more appropriate for cooler months, leaving me with casual pieces I've been repurposing for the workplace. I dreaded getting dressed Monday through Friday because I had no idea what to wear and was growing tired of the same ensembles. And with that, a sizable order was placed with J.Crew, a Tory Burch dress was justified, and my wardrobe got a whole lot more versatile. So, yes, I went completely and utterly overboard with my budget. And you know what? I don't care. I can't remember the last time I purchased truly professional clothes. I considered giving myself a pass this month–mostly because I was too embarrassed to add it all up–but that seems like cheating. I present to you, the monthly list of what I spent money on instead of investing in my IRA.
See all of the year's wardrobe additions here.
THE BUDGET

Each month, I've earmarked $250 to spend on clothing and accessories. I consider blog revenue and eBay sales to be "fun money" and will add a portion of that additional income to my monthly budget (if it doesn't end up in my travel fund first). I'll record any budget increases or expenditures here each month. Anything that has been ordered and has not yet arrived will appear on the next budget update. I'm also allowing any extra money to rollover into the next month.
$250 starting budget
– $48 deficit from last month
+ $400 added to the budget this month (And yet I still went over…)
– $704 spent this month
= $102 deficit
PURCHASED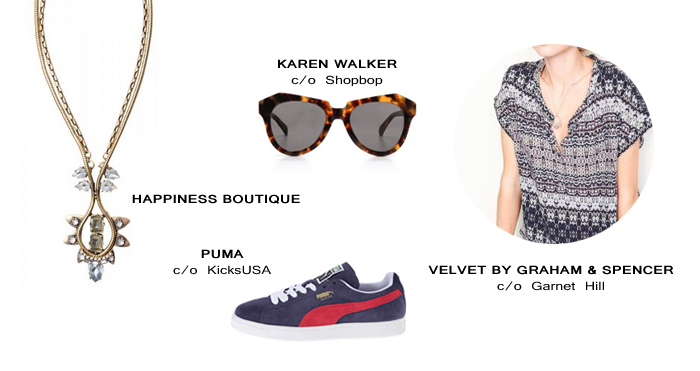 GIFTED
As always, I want to be transparent about what I've received from companies for review or as part of a collaboration. I'm selective about the pieces I accept and will only work with companies I feel good about recommending.
UP NEXT
I do need to buy another pair of practical shoes to wear when my cast is off. I'm thinking a pair of white slip-on sneakers that I could wear with dresses. After that, I'm going for a month of no shopping (or almost no shopping). Wish me luck! And don't tempt me with your adorable blogs and outfit photos. 😉
[spacer]
DIDN'T WORK OUT
Of course, with every successful shopping month, there are some misses:
Fallen Star off-the-shoulder swing dress: Everything I hate about fast-fashion stores (human rights considerations aside) is in this dress: cheap fabric, poor construction, and questionable sizing. If your judgement is clouded by the print, be sure to go up at least one size.
Zara off-the-shoulder embroidered dress: This was adorable! I tried a medium, but a small would have had plenty of room. I didn't keep it because it looked so similar to the Michael Kors version I bought last month, which I like quite a bit more.
//
linking up with Franish