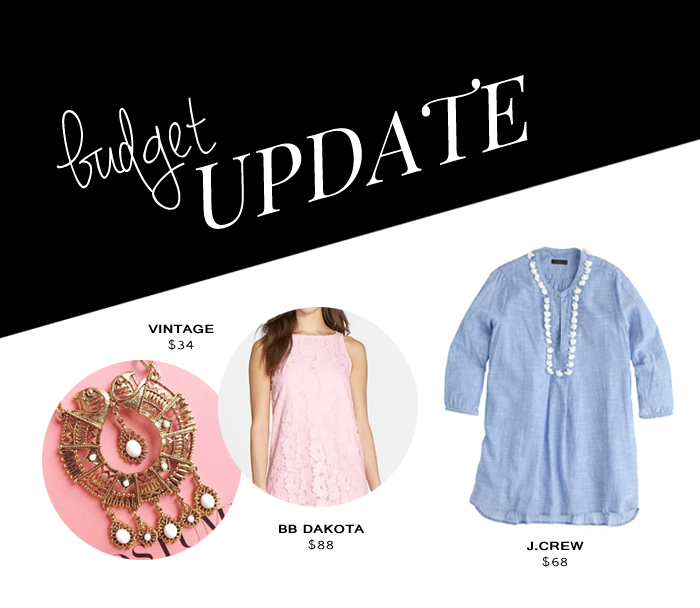 I'm never too excited about clothes at this time of year. I've grown tired of cold-weather clothes and all I want to do is purchase items for warmer months…only spring seems so far away. (Does anyone else hate February as much as I do?) On the bright side, this bout with melancholy helped me stay well under budget with just three new purchases!
If you follow along on Twitter, you might be wondering about one more purchase: the Tory Burch monkey earrings I've been obsessing over. I decided to spend a portion of my tax return on these (#TaxReturnSplurge) and they're scheduled to arrive today. Can't. Wait. I don't include this annual designer splurge part of my regular budget. If the earrings are as great as I hope they are, I'll dedicate a post to them soon!
See all of the year's wardrobe additions here.
[spacer]
THE BUDGET

Each month, I've earmarked $250 to spend on clothing and accessories. I consider blog revenue and eBay sales to be "fun money" and will add a portion of that additional income to my monthly budget (if it doesn't end up in my travel fund first). I'll record any budget increases or expenditures here each month. Anything that has been ordered and has not yet arrived will appear on the next budget update. I'm also allowing any extra money to rollover into the next month.
$250 starting budget
+ $146 rollover from last month
+ $50 added to the budget this month
– $190 spent this month
= $256 remaining
[spacer]
PURCHASED
Vintage Egyptian revival pendant – $34: Every few Saturdays, I get on a vintage jewelry kick and spend hours scouring eBay. This was way too good to pass up and I've already worn it a ton.
BB Dakota "Savvanah" lace dress in pink – $88: I haven't been thrilled with my current dresses and had a big event early in the month. The "short, swingy silhouette" description of this dress won me over and I ordered in a couple of sizes to try. As the reviews indicate, the smaller dress was the winner. It has a deep keyhole opening in the back that puckered out strangely. I loved the dress otherwise and did a quick running stitch to close it for the event. I need to take it to the tailor to have it done properly before I wear it again for Dave's sister's rehearsal dinner in April.
J.Crew pom-pom beach tunic – $68: I've finally stepped up my beachwear game after years of cheap knit shorts and old jersey dresses. It's so freaking cute and can't wait to wear it in Florida this April. I went with a size small, which is my normal J.Crew size for sweaters. It had more than enough room to fit my hips.
[spacer]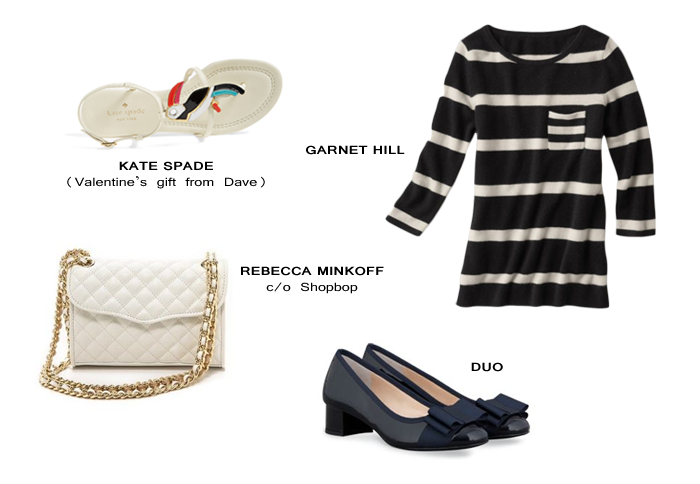 GIFTED
As always, I want to be transparent about what I've received from companies for review or as part of a collaboration. (Or, in this case, Dave purchased for me as a gift.) I'm very selective about the pieces I accept and will only work with companies I feel good about recommending.
[spacer]
UP NEXT
Two words: vacation clothes! The day after Dave's sister gets hitched in April, we're heading to Fort Lauderdale for a week! It's actually the same city and week of our first vacation four years ago (aww), but we're staying in a nicer hotel. 😉 We're planning a day trip to Palm Beach where I hope to wear this dress and buy a pair of Stubbs & Wootton loafers (worth going over budget for). I've also got my eye on a pair of shorts from J.Crew Factory in "blue grotto" and retro sunglasses in white (just $48!). I've also got a crush on the orange and pink dresses by Rory Beca. I'll probably pick up this Banana Republic dress once there's a good sale. It's not the most exciting piece, but I see myself wearing it to work often over spring and summer.
[spacer]
TRIED & RETURNED
Of course, with every successful shopping month, there are some misses:
Re:named midi skirt in turquoise: This was darling and I loved the color and fabric, but it arrived with a broken zipper. I tried it on anyway and the waist seemed too snug.
English Factory white dress (featured in this post): Gorgeous, but way too small. I had purchased a medium and there was no way it would accommodate my hips. The large was already sold out, but I'm not entirely sure that would have given me enough room. I need a dress with a swingy cut.
Diane von Furstenberg "Fleurette" dress: I've long admired this dress and was eager to try it on after I saw that it was on sale. The fabric and quality were divine, but it didn't do my shape any favors. (I felt like an eccentric extra on The Golden Girls, which I'd be fine with if it didn't make me look twice my size.) It has really good reviews here, which makes me think it's for an entirely different body type.
[spacer]
HOW ARE YOU DOING?
Fran does a great job of linking to budget bloggers each month and I hope you take part. I'm always curious to learn how others curate their closets!