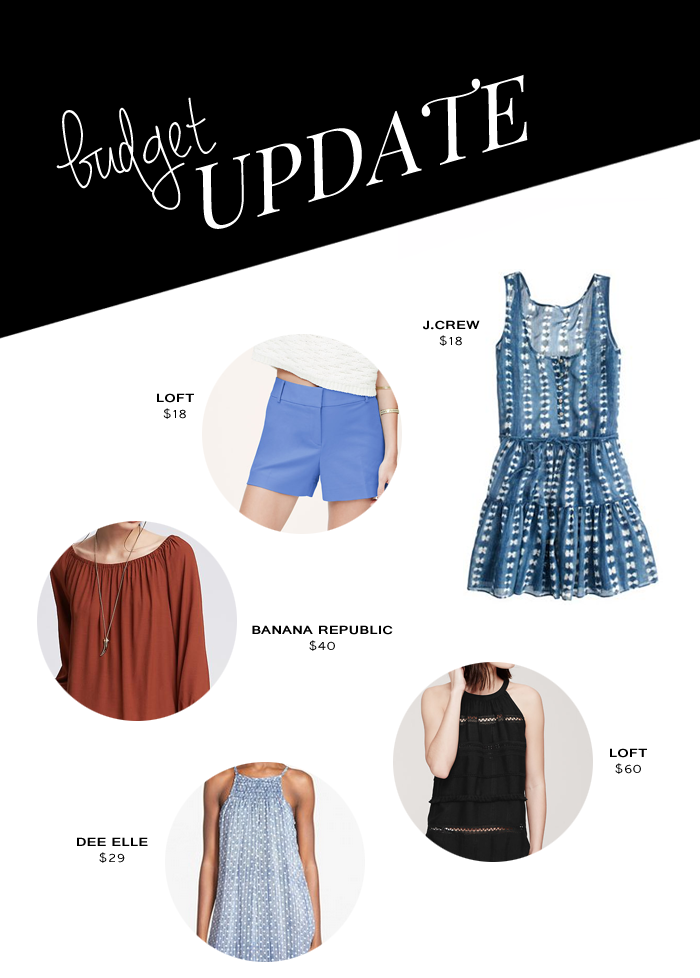 See all of the year's wardrobe additions here.
THE BUDGET

Each month, I've earmarked $250 to spend on clothing and accessories. I consider blog revenue and eBay sales to be "fun money" and will add a portion of that additional income to my monthly budget (if it doesn't end up in my travel fund first). I'll record any budget increases or expenditures here each month. Anything that has been ordered and has not yet arrived will appear on the next budget update. I'm also allowing any extra money to rollover into the next month.
$250 starting budget
– $102 deficit from last month
+ $0 added to the budget this month
– $165 spent this month (I'm not counting the sneakers I had to buy out of necessity.)
= $17 remaining (Let's just call this even instead of moving this deficit to August.)
PURCHASED
"MEDICAL EXPENSES"
Let's be serious, I would never have purchased sneakers if I wasn't instructed to do so by my doctor. I needed supportive footwear with shock absorbency for the final month healing.  

Puma suede sneakers ($60): I have the Puma suede sneakers in navy and red from a collaboration last month, but I didn't find the color combination versatile enough for my work wardrobe. I went with black to wear with my basic skirts and pants. It hasn't been a very fashionable summer at the office, but at least my feet are protected!
Converse Jack Purcell sneakers ($80): I also picked up a pair of white leather sneakers to go with summer dresses (canvas is too flimsy). I hated the round laces and used a regular set instead. You can see them styled here.
GIFTED
As always, I want to be transparent about what I've received from companies for review or as part of a collaboration. I'm selective about the pieces I accept and will only work with companies I feel good about recommending.

UP NEXT
I hate to start breathing a word about autumn until we're through August, but it is time to start making fall wish lists. Judging by my private Pinterest shopping board, I'm looking forward to a wardrobe of grey, black, navy, white, and blush. There's a very strong chance that I'll add this Chloe knockoff to my closet next month. I also have a growing wish list at J.Crew with this skirt, a skort, and a cute short-sleeve top. (Fingers crossed for a sale!) I'd like to try on this LOFT dress, too.
DIDN'T WORK OUT
Of course, with every successful shopping month, there are some misses:
***
linking up with Franish