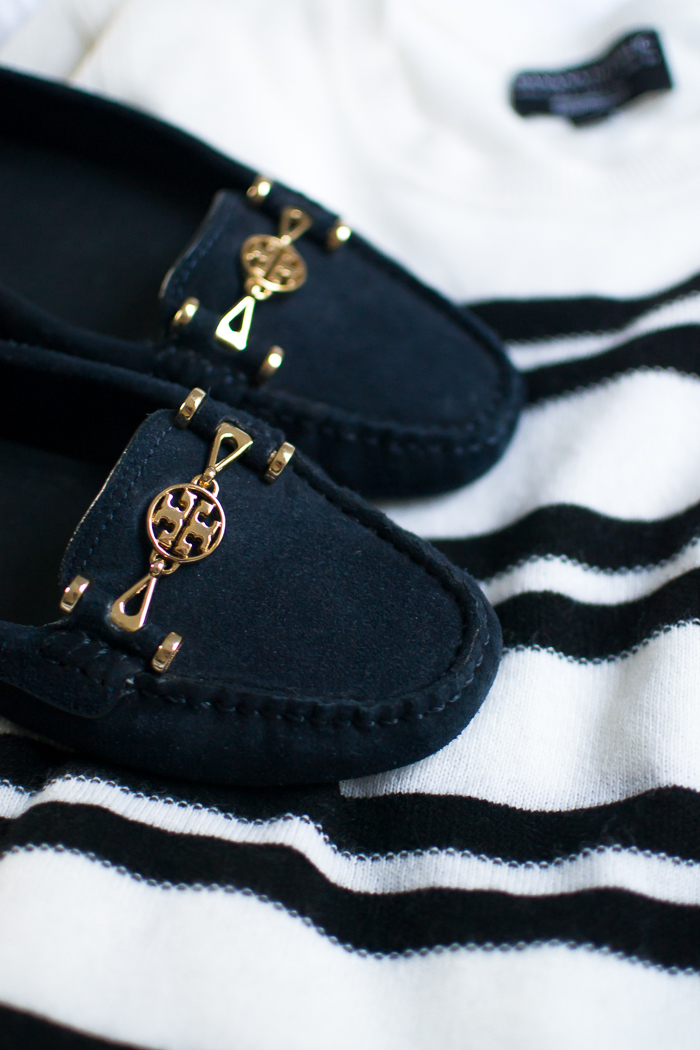 I was thisclose to purchasing just one item this month, until I went to Nordstrom Rack and came across the most perfect pair of navy driving moccasins last Friday. I actually left them at the store that day, thinking that I would be able to forget about them. Nope. I went back the next afternoon to add them to my wardrobe. Even then, I stayed under budget this month when it came to clothing purchases. It's a good thing, too, because I'm pretty sure I need to own this necklace. I mean, it's a horse head whistle. How can I go without having this in my jewelry collection? I also really want this choker from Jenny Bird, who is my favorite jewelry designer of the moment. Those two pieces would look pretty awesome worn together, after all.
Anyway, jewelry lust aside, the budget-consciousness didn't exactly hold true in other areas of my life. We finally bit the bullet and ordered a king-size mattress from Casper. I had no idea how luxurious it would feel to upgrade from a queen-size bed to a king. I feel like I'm on vacation all the time and, surprisingly enough, it's helping with my insomnia. We opted for a budget-friendly bed frame to make sure Bacon doesn't use the upholstery as a scratching post. If all goes well, we'll upgrade after we buy a house (and I'll finally get the grey fabric I wanted).
BUDGET*
Autumn Budget (September – November): $750
Spent in September: $177
Added: $0
Amount Remaining: $573
Winter Budget Recap: December, January, February
Spring Budget Recap: March, April, May
Summer Budget Recap: June, July, August
*I don't add money for tax and shipping into my budget, nor do I add athletic clothing or sleepwear. Most of the money I earn from the blogging goes into my general savings account or is earmarked for travel, but I'll move some to the clothing budget when needed. That's usually a last-ditch effort to offset overspending the final month of the quarter!
PURCHASED
See all of the year's wardrobe additions here. 
Banana Republic Italian cashmere blend striped crew pullover ($27; worn here): It's a lightweight blend of merino wool, cashmere and synthetic materials that's machine washable. The fabric is on the thin side, but that it's not actually that sheer when worn with a nude bra underneath. I'd say it runs true to size. I went with a size small, which is what I typically purchase for sweaters.
Tory Burch "Daria" driving moccassin in navy suede ($150; similar): I'm pretty sure this Nordstrom Rack find was from Tory Burch's 2013 collection. They're incredibly comfortable and will be perfect for traveling, especially on international flights when tight shoes just aren't going to cut it after my feet swell! My favorite shoes right after college were a pair of driving moccassins from Banana Republic and I wore them to death. I'm pretty excited to finally have another pair of drivers in my wardrobe, especially when they're much more chic than that old BR pair was.
GIFTED
As always, I want to be transparent about what I've received from companies for review or as part of a collaboration.
DIDN'T WORK OUT
Things I tried and didn't love: 
LOFT "Valley Floral" bow blouse: I checked out the LOFT website the day new arrivals hit and I was completely smitten with their latest floral print. It took me all of five minutes of consideration to add both the blouse and trousers to my cart with the intent to wear them together, knowing that they would still make for versatile separates with other items. Unfortunately, the sleeves on the small that I ordered were so tight. The medium would have been too boxy in the torso.
LOFT "Valley Floral" trousers: I hated how thin the fabric was. It showed every imperfection even in a larger size.
Line & Dot "Renee" babydoll dress: One of my favorite summer dresses is from Line & Dot, so I thought I'd see what was available for fall and ordered this rust-colored dress. The flirty length, sheer sleeves, and shirred waist seemed like a slam dunk … too bad it looked matronly in person.
Zara multi-colored jacquard dress: This runs awfully small. It's pretty, though.
Zara velvet loafers in navy: These were an impulse purchase when I ordered the Zara dress. I love loafers and the color navy, so how could I resist a shoe combining the two with an on-trend material? I might have kept them if they weren't so huge. Definitely size down.
J.Crew matte Chelsea rain boot in black: I wanted an alternative to my tall Hunter wellies for rainy days this fall, but these looked too masculine for my tastes. I might have liked them more in patent instead of matte. They run true to size.