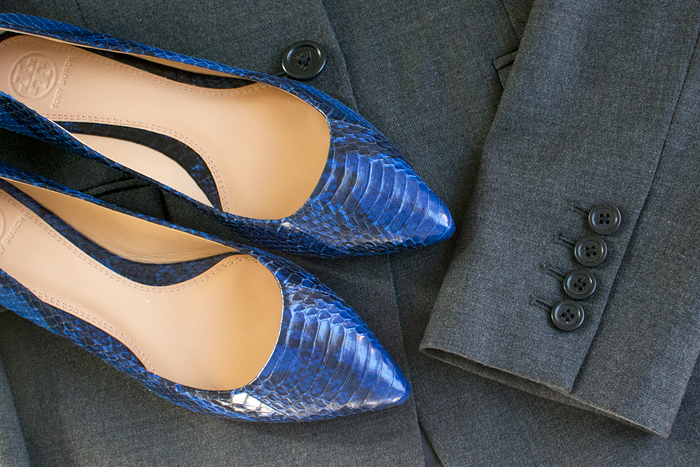 [dropcap custom_class="normal"]T[/dropcap]wo months down, four months to go, and less than a third of my budget left. Holy sh*t.
I can't say I'm surprised, though. I've been on a bit of bender, collecting my fall favorites so there's plenty of time to enjoy them. At least that's been my rationale, but it is on par with last year's spending habits. I had a dry spell in November and December (likely because I was checking others off my holiday shopping list) that I expect to happen again this year.
That said, I did put those dollars to good use and purchased a few items that had been on my wish list for a long time: a pair of oversize Prada sunglasses with a subtle cat eye shape, an indulgent yet versatile evening clutch, and a blazer that I can wear to work or as a light fall jacket. The other purchases weren't as well planned, but have been in regular rotation with the exception of the DVF sunglasses. I impulsively purchased them while waiting for the Prada pair to arrive and I haven't worn them since. I don't know if it's because I'm in the honeymoon period with the sunglasses I actually yearned for or if it's because I just don't love them as much. Either way, it's a good reminder that I value thoughtful purchases more than impulse buys.
In the coming months, I'm itching to add more a-line shift and swing dresses to my wardrobe. They're my favorite pieces to wear with a piece of statement jewelry and pointy flats.
[spacer]
THE BUDGET

I started with a six-month budget of $1,500. I consider blog revenue and eBay sales to be "fun money" and may add a portion of that additional income to my overall seasonal budget (if it doesn't end up in my travel fund first). I'll record any budget increases or expenditures here each month. (There will also be an annual "Tax Refund Splurge" that goes above my budget, but I'll devote a post to that in January.)
$1,500 starting budget
+ $200 added to the budget this season ($200 this month)
– $1313.45 spent this season ($903.85 this month)
= $386.55 remaining
[spacer]
WARDROBE UPDATE

View all of my purchases (that I can find stock photos for) on my fall and winter wardrobe Pinterest board.
Clothing:

Shoes & Accessories:
NEW Prada sunglasses ($204): I've been crushing on these for awhile and I was pretty excited to see that they were on sale for 20% off as part of Nordstrom's price-matching policy. I can't believe it took me so long to pull the trigger. They're all kinds of fabulous in person.
NEW DVF sunglasses ($50): My Prada sunglasses hadn't yet arrived when I visited Nordstrom Rack. I was sucked in by the rows of eyewear and took these home. They're more of a square shape than anything else I own, but I'm more enamored with the Prada pair.
NEW Tory Burch "Bedford" flats in cobalt snakeskin ($206.25): This was an impulse purchase fueled by a beer fest and they're glorious.
NEW Tory Burch Metallic Lace Minaudiere ($175): Does anyone else bemoan their clutch collections whenever a special occasion is on the horizon? Just me? I was tired of last-minute runs to T.J.Maxx to find something (anything!) to go with my outfit. This bag is like a little art piece in versatile white leather that will go with a lot of different ensembles. And the strap makes it easy to juggle drinks and appetizers at the same time. Priorities.
Gifted Items:
This section sort of comes off as braggy, which isn't my intention. Blogging is getting less and less transparent and I want to be clear with what I've purchased and what items I've received as part of a collaboration. I'm awfully picky about the brands I work with–and won't post items I don't love–so rest assured these are solid.
Items I tried this month, but didn't purchase: 
Badgley Mischka mineral print skirt: I added this to last month's budget update before it arrived. It was gorgeous in person, but it fit too high on my waist. I'm working on dropping a few pounds, but there's no guarantee it'll sit in a more flattering spot and I really don't want to keep things in my closet for "someday."
Elliott Lucca ankle boots: These were my favorites of the ankle boot lineup I did a few weeks back. Unfortunately, the shaft was a bit too high for on me and I couldn't wiggle my toes. They sure are pretty though.
Donated or sold:
5 dresses
3 pairs of shoes
1 skirt
3 handbags
3 belts
a boatload of old costume jewelry from places like H&M and Forever21
[spacer]
HOW ARE YOU DOING?
Fran does a great job of linking to budget bloggers each month and I strongly encourage you to take part. I hope you'll also share links to your wardrobe recaps here. I'm always curious to learn how others curate their closets!