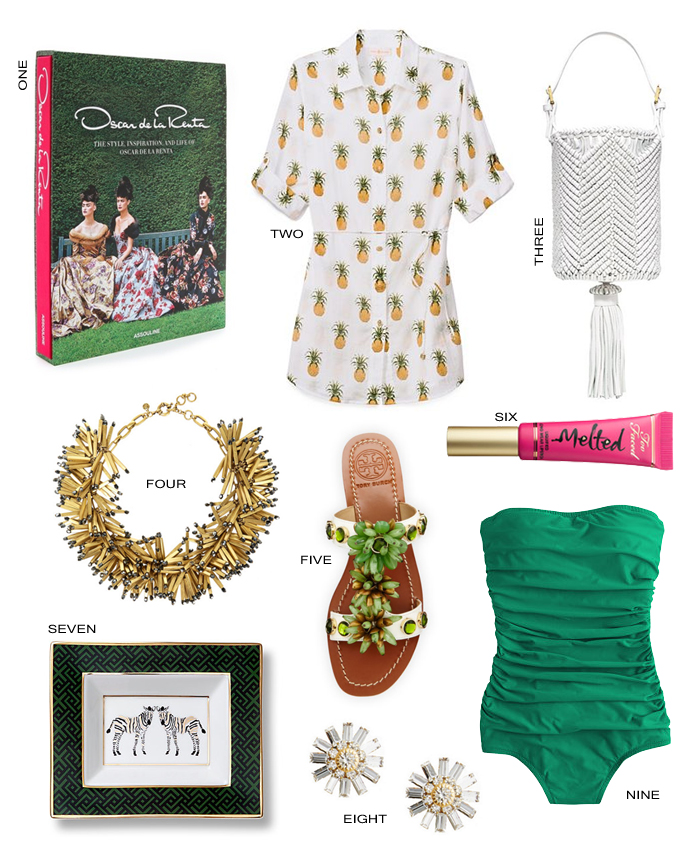 ONE | TWO | THREE | FOUR | FIVE | SIX | SEVEN | EIGHT | NINE
[spacer]
This beach-themed Covetable post is a departure from the holiday sparkle and cocktail dresses we're all hunting for right now. However, we're considering a trip to Florida in January and I just want to shop for warm-weather pieces. Surprisingly, last summer's Tory Burch sandals are still available for just $132. I have a pair of heels from the same collection that are a little snug, but I just might give these a shot. I'm also planning to snag this pair of sandals. This scallop detail is irresistible, plus I have a discount code and reward coupons to bring the price down substantially.
[spacer]
I know the bag featured above is staggeringly expensive for most of us. You can snag a similar vintage version on eBay. (Remember when raffia bags were in vogue? I wasn't going to spend a boatload on a new one and bought a vintage version on eBay for around $10. So much cheaper and you get the satisfaction of telling people it's vintage when they ask about it.)
[spacer]
And speaking of handbags, a friend from college now manages a Chicago-area Tory Burch store and gave me a Friends & Family coupon for 30% off a purchase through the end of the month. I also received a $200 Visa gift card from work as a holiday gift. It's the perfect storm for a purchase, right? I really want this bag. The mod design makes my heart skip a joyful beat. Or, should I pick something more practical like this satchel? It's still on the smaller side, but will probably fit my camera. Decisions, decisions.