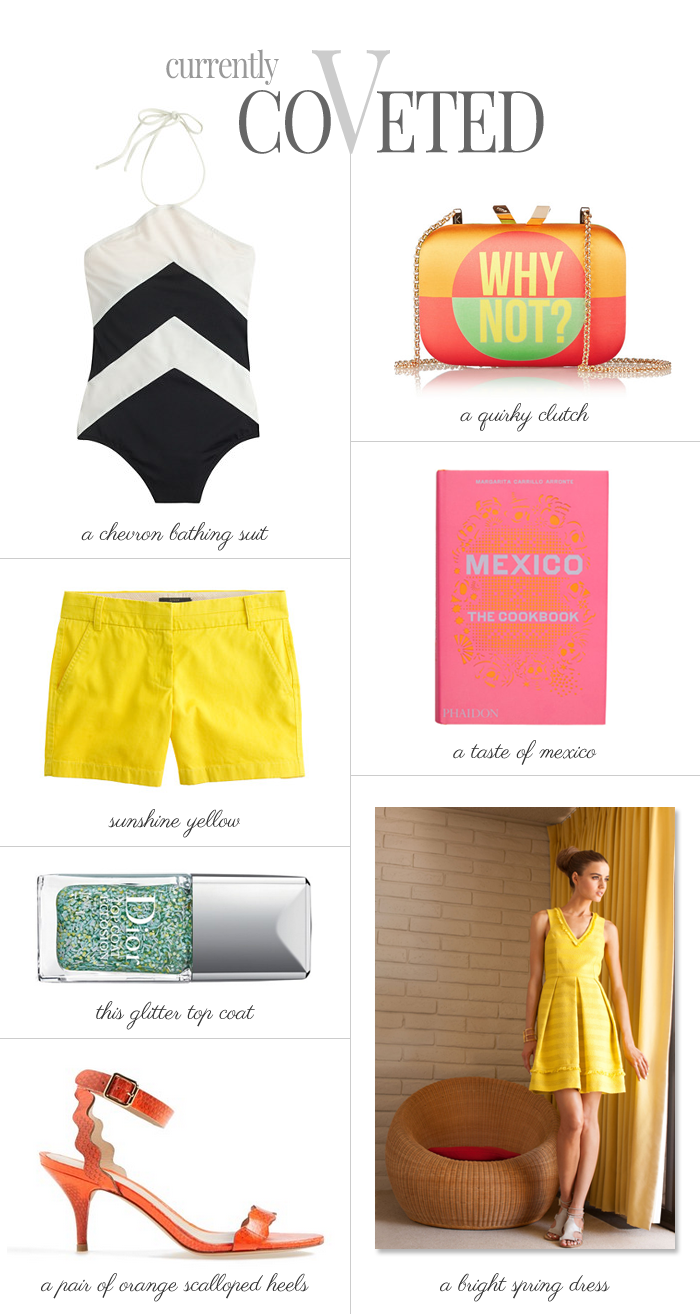 I'm still shirking winter attire in favorite of warm-weather attire. After all, there are only 50 days until spring. Not like I'm counting down or anything…
[spacer]
A CHEVRON BATHING SUIT
I love the retro cut of this chevron bathing suit. It also comes in orange.
[spacer]
A QUIRKY CLUTCH
If you have money to blow on something that's sure to make you smile, this Kotur clutch is it.
[spacer]
SUNSHINE YELLOW
Yellow isn't the most flattering color on me, but I can't get enough of it this season. (I just ordered this iPhone case.) A pair of shorts is a great way to incorporate the color without it casting a sallow glow on my face. And, speaking of shorts, Gap has an adorable striped pair right now.
[spacer]
A TASTE OF MEXICO
Meals are set for the season with this collection of 650 Mexican recipes.
[spacer]
THIS GLITTER TOPCOAT
It's like spring confetti! Pair this glittery topcoat with pale ocean hues.
[spacer]
A PAIR OF ORANGE SCALLOPED HEELS
I don't wear heels very often anymore, but this adorable pair is enough to get me back in the saddle.
[spacer]
A BRIGHT SPRING DRESS
Admittedly, I rarely think to shop Trina Turk and I've just realized how misguided I was. This saffron dress first caught my eye, but it's the new arrivals section that has my wish list bursting at the seams with this jacket, a dress, and a swimsuit that I'll purchase if I get down to my goal weight before summer.