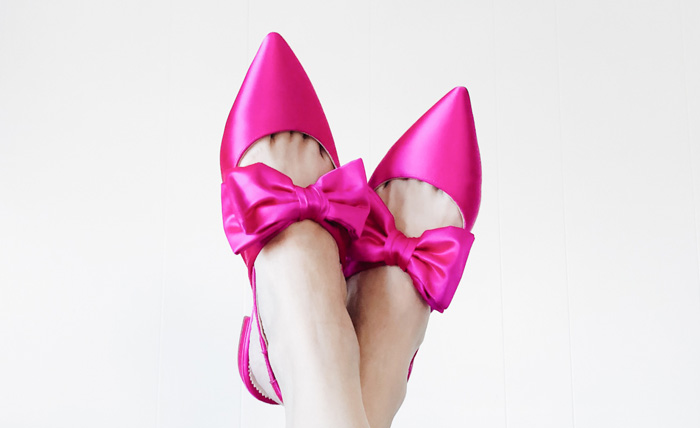 It has been entirely too long since I've given into my affinity for pink (lipstick aside). I don't know why I started to shy away from the hue, but I started wearing it again with one of last month's purchases and my love of the color has been fully reignited with these flats. They're so pretty and perfect for upcoming holiday parties. I'm obsessed. And in other pink purchases, I couldn't help but order this top coat when it was on deep discount a few weeks back. I'll take outfit pics with it soon!
As far as modern style icons go, Jenny Walton is one of mine. I'm always inspired by her feminine, vintage-inspired aesthetic. She just launched her debut accessory collection with the prettiest daisy pieces. The double daisy drop earrings are my favorite.
The complicated history of flamenco in Spain.
Now that the weather is getting chillier around here, we're all about cocktail and puzzle nights. This company is making puzzles awfully chic!
Ten of the best houseplants for the bathroom.
This look on Lydia is one of my favorites of hers — she looks so elegant! And I completely agree with her on prioritizing vintage finds, even if I tend to do that for the home and less for my closet (with the exception of jewelry).
Whenever you sharpen these pencils, you'll leave behind rainbow shavings.
We made these apple brandy sour cocktails last night to see if they'd be a hit on Thanksgiving. Verdict: yes. However, we're going to toy around with making them as a batch cocktail to cut down on the hassle of mixing individual drinks on the holiday.
I'm a sucker for a good organizational tool — especially when it's an analog version since I can't always get on board with digitally recording everything — and I love Ashley's home binder for all of the papers that come with homeownership.
Finds Under $50
–
Let's keep in touch!
Instagram / Facebook / Pinterest / Bloglovin'