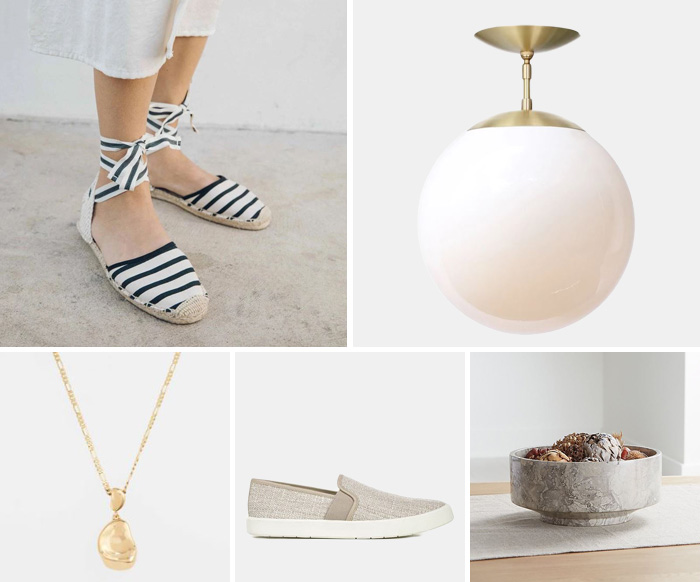 Sometimes I don't realize how well my recent purchases coordinate until I put them in this monthly collage! I couldn't have predicted I'd be on such a neutral kick, but it really gives off an airy, spring vibe that I couldn't be more ready for!
PURCHASED – FOR ME
See all of this year's sartorial additions here.
Jenny Bird 'Thea' pendant necklace – Jenny Bird is one of my favorite jewelers, but it's been awhile since I've purchased a piece from her. I've been looking for a heftier pendant necklace to wear with v-neck tops and I opted to try this necklace. It has a lovely organic shape and a nice weight to it.
Soludos classic striped espadrille sandal – When summery espadrilles are on sale for a mere $20, you add-to-cart without a second thought! The black version is also on sale, but in limited sizes. They're true to size.
Vince 'Preston' sneakers in linen – I wear my other Vince sneakers all the time, so I couldn't help myself when I found theses at nearly 50% off. I find that they run true to size. They're definitely stiff right out of the box, but they're perfect after you break them in.
PURCHASED – FOR HOME
Cedar & Moss light fixture – The light fixture pictured above is actually the 12-inch design, which is slightly bigger than the 10-inch one we purchased for our office. There wasn't a preview image of the smaller one in brass with the opal shade, thus the discrepancy. In any case, this fixture is gorgeous! It's handmade in Portland and the attention to detail and quality is spot on.
Crate & Barrel grey marble bowl – We stopped by Crate & Barrel when we were in Chicago last weekend. I had been looking for a display bowl to gather Instax printed photos (we have this printer which pairs to your smartphone). This one might actually be a bit too large for what I was picturing, but the bowl was too gorgeous to pass up. If you're interested in it and near a store, it's worth stopping in to see them in person as the grey marble varies quite a bit from bowl to bowl. All of them were pretty though and the modern shape is versatile.
DIDN'T WORK OUT
Things I tried and didn't love.
–
Let's keep in touch!
Instagram / Facebook / Pinterest / Bloglovin'