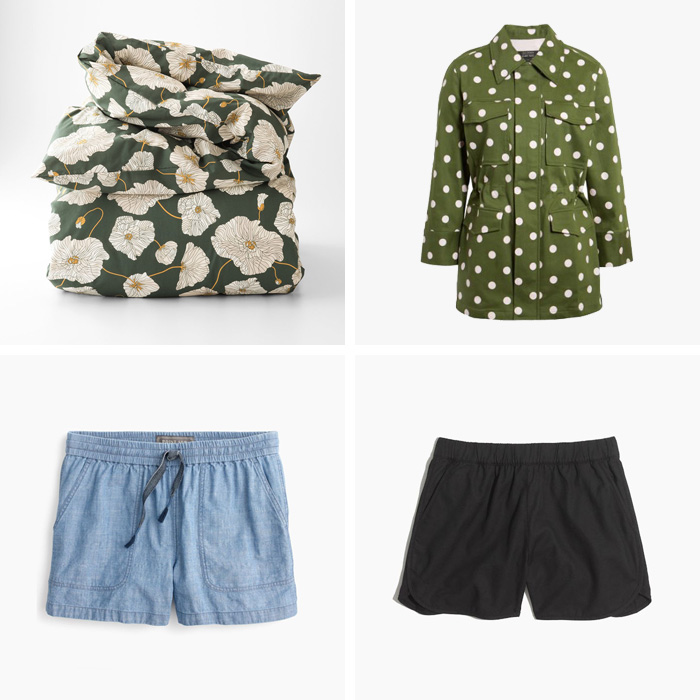 I know this is the epitome of first-world problems (and I'm grateful I can even complain about this because I've been healthy), but one of the most difficult things about the global pandemic is not being able to travel. In a typical year, we would have already had at least one getaway by now. And while we were able to do long weekends in Chicago and Milwaukee before the world was turned upside down, it's not nearly the same as our usual spring jaunts that Facebook is so helpfully reminding me of almost daily. (Yes, I know we were in Portugal one year ago … yep, I know Austin was two years ago … please stop.) These May trips are largely because my birthday is at the end of the month (tomorrow, in fact!) and I like to plan a jaunt to celebrate another trip around the sun. This year is just as memorable, of course, but not for the right reasons! Below, you'll find a roundup of the things I bought during my birthday month.
I did order a couple of dresses (this and this) from Shopbop yesterday that are scheduled to arrive today (one of the perks of living in the same city as its warehouse!). Fingers crossed that I'll be celebrating my birthday in one of them!
PURCHASED – FOR ME
See all of this year's sartorial additions here.
J.Crew seaside short in chambray – I'm all about easy, pull-on shorts for summer bike rides when I don't want to wear athletic clothes. These run true to size, but they get a bit stretched out at the end of the day. I just ordered a size smaller to have on hand, too, since I've been shedding some of this COVID weight — finally.
Halogen x Atlantic-Pacific polka dot utility jacket – This is a great pairing of a classic silhouette and a whimsical twist. I've gotten so many compliments on it! It runs true to size.
Madewell pull-on shorts in black – For the same reasons as above, I snagged this pair of shorts from Madewell. It's hard to find shorts to accommodate an ample rear end and thighs, and these fit the bill. These also run true to size.
PURCHASED – FOR HOME
Schoolhouse Electric 'Blooming Field' duvet cover – I can't even tell you how much I love this! I bought the pillow shams last year after falling head-over-heels for the pattern. Twelve months later, still obsessed with the design, I ordered the matching duvet cover. It's such a great print that brings in a floral that isn't too feminine.
Target self-watering planters – This isn't very exciting, which is why I didn't include them in the photo above. However, if you're looking for inexpensive, lightweight planters for your patio garden, these are great options!
DIDN'T WORK OUT
Things I tried and didn't love.
J.Crew seaside short in stripe – Unlike the chambray pair, this one fits a bit tighter and just didn't look as cute. It kind of reminds me of the stripes a stereotypical train conductor wears.
En Saison striped tiered babydoll dress – Kudos to the brand for having a lining in a loose dress that isn't tighter than the dress itself! However, the dress ran large and the ruffled sleeves made me look wide on top.
Luv Aj mother-of-pearl circle hoops – These are so pretty, so I was disappointed to see that the pearl design is only on one side of the earring. The back is all gold, which is easily seen when worn. There are better earrings out there for the price point.
–
Let's keep in touch!
Instagram / Facebook / Pinterest / Bloglovin'