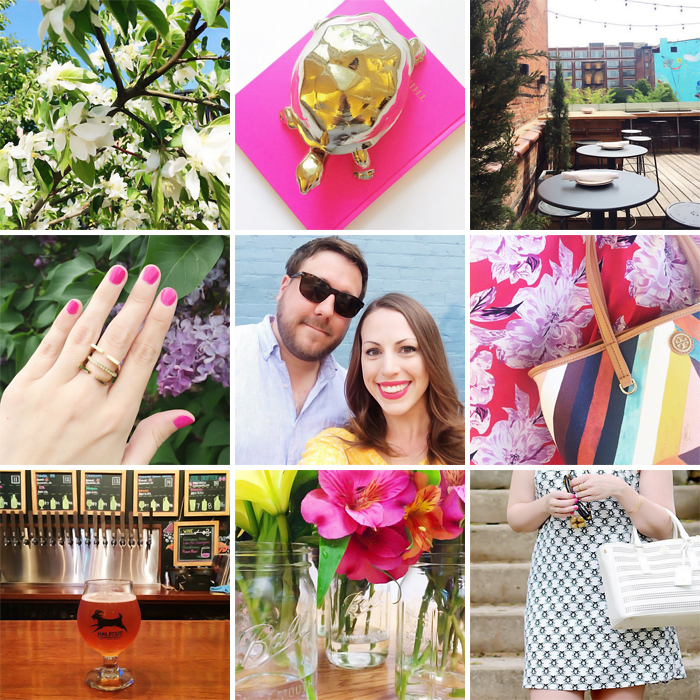 I haven't done a monthly recap post in awhile and I miss it. It's such a nice reminder of the mini moments that made the month more fun–especially when I'm in need of a dose of optimism! This broken foot is starting to wear on my spirits. May is actually my favorite month. The weather hints at warmer temperatures, sundresses are a reality, and it's an excuse to travel somewhere to celebrate my birthday. Here are just a few of the things that made me happiest last month:
Blossoming trees.
A gold ceramic tortoise box. I love this thing and it was only $15 at Target. I use it to hide my inhaler on the coffee table.
An indulgent brunch in Cincinnati at Krueger's Tavern. The cocktails were incredible.
Trying out Rocksbox for the first time. I'm not usually a fan of subscription boxes, but this jewelry rental service is pretty fun. It's a nice way to try new styles or designers without the investment. You can try your first box for free with code bedknobsandbaublesxoxo.
Pausing for a selfie with Dave. There's a series of 20 photos, all much more ridiculous than this one. (I'm thinking of getting this one framed. I had a great experience with Instantly Framed last year.)
Print mixing out of necessity. I try not to overpack when we go on vacation, so I was left with my Tory Burch tote for daytime to wear with this dress. I was hesitant at first, but I like how it turned out. I used my white Rebecca Minkoff "Mini Affair" bag at night.
Plenty of beer stops in Cincinnati. I know many of you aren't beer drinkers, so I try not to babble about it too much here or Instagram. If you're interested in what I'm drinking, you can find me on Untappd with username jmhamm.
Grocery store flowers tucked into canning jars. I'm an event manager and we had a farm-themed event in May. I bought dozens of assorted blooms and created seven centerpieces for $55. Who needs a florist when you can DIY to save money?
[spacer]
---
// follow along on Instagram //