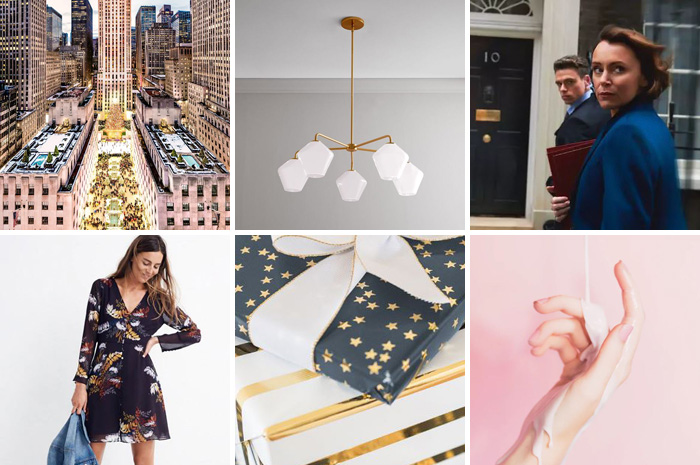 TRAVELING
As I mentioned last month, we're heading to New York for a five-night stay in the city after Thanksgiving. It'll be my first time in New York and I can't wait to be there with all of the Christmas lights and decor. Gray Malin just released a beautiful photograph of the Rockefeller Center Tree, which I've already made my phone background to put me in the holiday spirit in advance of the trip! Shortly after we return, we'll head to Chicago for the Christkindlmarket. Spending a holiday-filled weekend in the Windy City has become one of our favorite annual traditions — even if we have to limit ourselves to just one new ornament! A tree can only handle so much glitz!
WATCHING
I'm not a huge fan of movies. For whatever reason, the idea of sitting still for two hours for a feature film sounds like too much of a time commitment, yet I can binge-watch TV shows all afternoon long. It took no time at all for me to get through two new shows: The Haunting of Hill House and Bodyguard. I really liked Hill House up until the ending, but I'll stay mum if you haven't watched it yet. Bodyguard, on the other hand, was great through the last episode. We just started Homecoming, which gets rave reviews from critics and mediocre ones from viewers, so I'm curious to see how that unfolds.
DECORATING
If you saw my Instagram story last week, you'll know that we finally installed a dining room light fixture! We had been living with an old ceiling fan that we removed the blades from last summer when we painted the ceiling. It was certainly a conversation piece, but not in the way we would have liked! I'm smitten with the new fixture and it has given us so much motivation to continue working on that room. We ordered this rug to try. The 7′ x 10′ size was just $140 when we bought it, so it's cheap enough to keep for now even if it's not "the one." Adding curtains is the last thing I'd like to do in that room before the holidays. We have dingy roller shades right now and I think I'm going to add a curtain rod and light-filtering sheers or sheer linen drapes. I want the light in the room, while offering privacy from our neighbor's house. Yet, I'm not sure I want to cover the architectural detail the window provides in that room. Anyway, just another thing to obsess over (and Photoshop ideas) before pulling the trigger!
WEARING
I can't wait until the month-end recap or an outfit post to talk about the dress I bought, especially because there aren't many sizes left. Madewell's fit-and-flare dresses fit my body like a glove, and I love that the low v-neck and short hemline keep the dress flirty. The colors of the pattern are a lot more vibrant than they appear on screen. I'm smitten. I'm also eyeing up this bag in white (I do have a trip to Florida on the books in January), this coat, this sweater in green for casual holiday gatherings (just add sparkly jewels!), this sparkly sweater, and this swimsuit.
SHOPPING
I'm trying not to bombard you with all of the holiday spirit just yet, but that's probably going to change next week. Ideally, I'd like to get the majority of my shopping done before the end of November. (I'd like to kick back and enjoy the holiday season instead of worrying about last-minute gifts.) I end up bookmarking all sorts of gift ideas to pass along while I'm shopping for friends and family, so those gift guides are going to start comin' atcha soon. I'm also working on a gift guide for men that includes the things that I've given over the years that have rave reviews. I don't know about you, but I'm tired of seeing the same J.Crew sweaters and socks on everyone's gift guide. (Speaking of socks, if the guy on your shopping list is looking for new pairs, Dave likes Garnet Hill's cashmere socks, Anonymous Ism, and the wool socks from Chup.)
MOISTURIZING
Winter does a number on my skin. I'm stocking up on my moisturizing favorites to avoid running out during the winter. I'm still using this every night and loving how my complexion looks, along with this eye cream. This serum is an absolute must, and this overnight mask is great for the really drying days. My hands are prone to severe dryness and cracking during the winter. This hand cream, which you can snag at hardware stores, is the only thing that can keep that at bay.
Let's keep in touch!  Instagram / Facebook / Pinterest / Bloglovin'