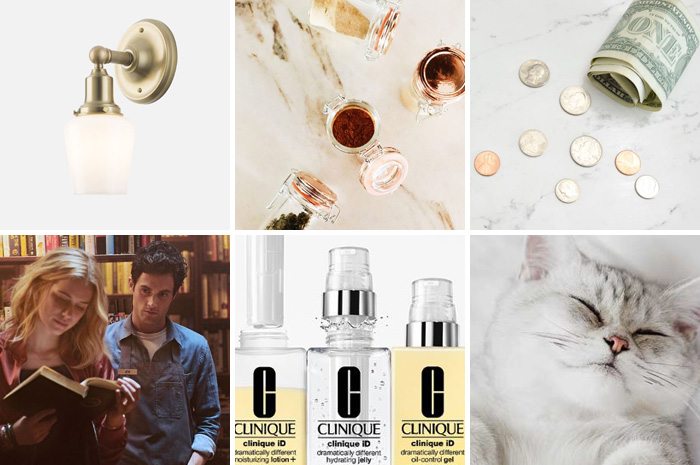 GOAL SETTING
After posting my 2019 resolutions, I've been thinking about breaking things off into more manageable milestones and setting monthly goals. This month I'm going to exercise twice a week, continue to drink at least 64 ounces of water a day, finish replacing the sconces in the living room with these (in brass with this shade), and strip the paint from the hardware for at least one more door.
SAVING
Saving … or rather not shopping. Just like last year at this time, I've found myself tired of spending money and in desperate need of a month-long spending freeze to get my finances back in order after the holidays. I already have so many things and there isn't a lot that I truly need right now. Sure, I have some wish list items like a few boho blouses, this backpack, and a new black a-line skirt, but I'm taking the 31 days of January to research purchases rather than pull the trigger. It's part of a larger goal I have for '19 to be more intentional about how I spend my money. I'll always love clothes and accessories, but I want to make sure that what I buy is something I'll love for more than one season — and that wasn't always the case last year. (The exceptions to this will be if we find a great deal on a spring trip to Europe, if I come across any fun vintage pieces while we're in Florida next week, or if I find something to spend a holiday gift card on. Also, I'll probably buy some storage containers for the next agenda item below.)
WATCHING
I mentioned recently that I was eager to watch You on Netflix, starring Penn Badgley. I watched the first season over the course of two days and loved it, even if I had a hard time seeing him as anyone other than Dan Humphrey.
ORGANIZING
How in the world do cabinets and closets get so messy?! And that's not even taking into consideration the state of our basement and the fact that we have unopened boxes from when we moved in a year and a half ago. (Some of those are sentimental items or books that I want but don't need out, but other boxes include things that don't fit our aesthetic or lifestyle and should be donated.) I'm planning to do a deep clean and organization of these messier areas, and donate the things that aren't useful or loved. My closet is the only space where I'll hesitate to donate things immediately. I typically put unworn items in a box and let them sit for a year to see if I miss them, but it's nice to get them out of the closet and make it easier to find the things that I do wear.
MOISTURIZING
Did you see that Clinque is offering more choices for its Dramatically Different Moisturizing Lotion? The cult classic has remained virtually unchanged since its debut in 1968. Now, you can purchase cartridges for your lotion that target different skincare needs: uneven skintone; lines and wrinkles; irritation; pores and uneven texture; and fatigue. The add-on cartridge only increases the price of the lotion by $11, making it an affordable option when it comes to targeted skincare.
INVESTIGATING
You may recall that I mentioned a new company, Basepaws, in this post. It's basically a DNA test for cats that allows you insight into the breeds your cat is most closely related to. It also offers insight into genetic abnormalities that may lead to disease. The company sent me a kit to test Bacon's DNA, which I'm pretty excited about. He's a Bengal (or at least should be!), so that aspect of the test is probably more interesting to cats that aren't purebreds, but I'm very much interested in what diseases he may have a predisposition for so we can be proactive in his care. Unlike animals such as mice and dogs, cat DNA isn't heavily studied. As more people submit DNA for testing, Basepaws will be able to compile more comprehensive results about your cat and will continue to send updates as more research is done.
Let's keep in touch!  Instagram / Facebook / Pinterest / Bloglovin'