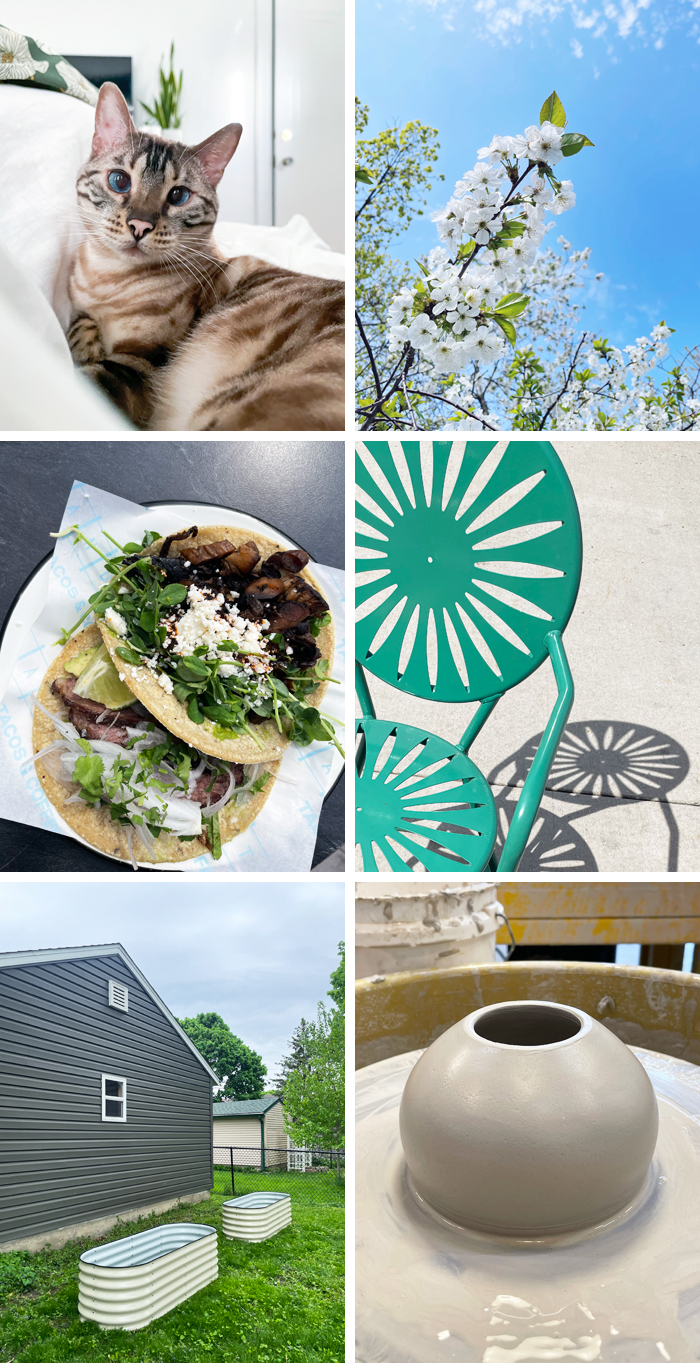 Why hello there! Time sure flies, doesn't it? The past month and a half has been incredibly busy with work, so the last thing I want to do when I have time to myself is be on the computer. Instead, I've been spending my free time at the pottery studio, dusting off the bicycle for the year, cultivating my green thumb, and hanging out with the cutest cat (I know, I'm biased).
Pictured clockwise from the upper left: lazy Saturday mornings with Lily; a camera roll of pretty blossoms make allergy season worth it; went to the Memorial Union Terrace for the first time this year and enjoyed lakeside beers; beyond proud of this round vase I threw at the studio; installed two raised garden beds (we're waiting to see how much sunlight we get behind the garage before filling them); enamored with Bandit Tacos.
It's getting too warm for our down comforter, so I placed an order for the quilt that I've had my eye on! It arrives today and is great motivation to finish up our bedroom design and share photos with you!
You have to make this rhubarb pie. Don't skip the butter crust!
Botox has proven mental health benefits for depression and borderline personality disorder.
Isn't this the truth?
I recently stopped by H&M to do a return, and left with this dress. It's comfortable and a little sexy — perfect for summer!
If we had a finished basement, this would be my ideal cozy rec room situation.
Loving this geometric fruit bowl from the Molly Baz x Crate & Barrel collab.
Everything you need to clean your jewelry is right in your kitchen.
Speaking of kitchens, this renovation is seriously beautiful!
Enjoy your week!
–
Let's keep in touch!
Instagram / Facebook / Pinterest / Bloglovin'
Thanks for visiting! As a reminder, I may earn an affiliate commission if you buy an item through my links. This is at no cost to you. I appreciate your continued support!