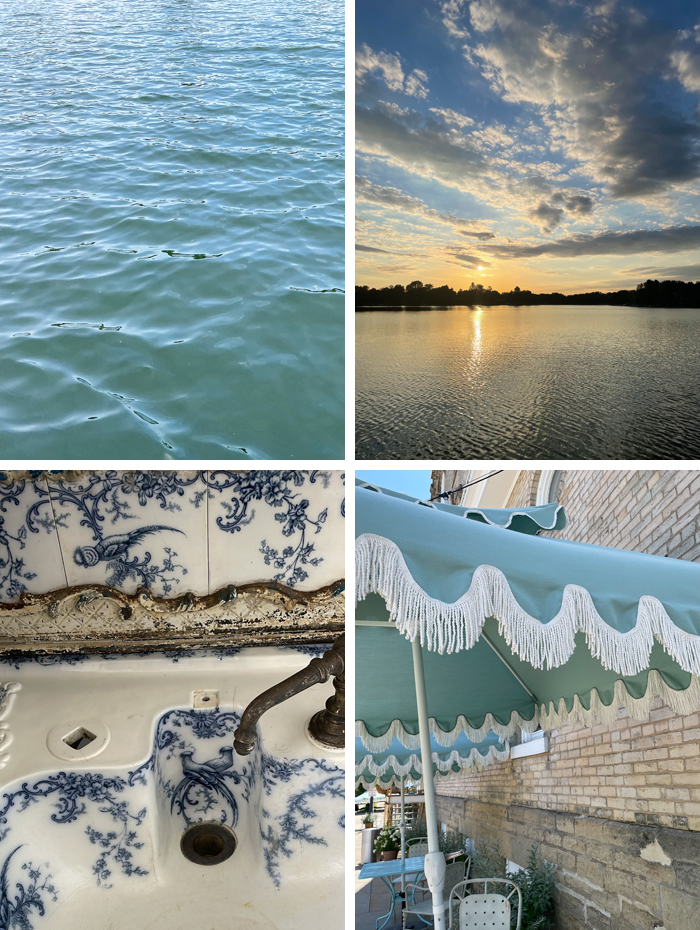 Recent snapshots (clockwise from upper left): an afternoon on the water at Dave's parents' lake house; a sunset boat ride around the lake; loved these cute umbrellas in Ripon, Wisc. where we went for antiquing and lunch; fell in love with this vintage sink.
A roundup of things I bought and loved last month.
The winners of the 2022 Etsy Design Awards.
Have you tried Malört? I don't love it, but I also don't mind it. learn what New York's top sommeliers had to say about the spirit.
I had low expectations for the Design Time podcast by Domino magazine, but the Christian Siriano episode was fun!
The science of freckles.
I enjoyed this tour of a chic home formerly owned by the host of Blue's Clues.
Exploring human evolution of lactose tolerance. From the article: "Data that have accumulated over the past two decades suggest that various peoples, not just in Europe, were consuming dairy thousands of years before they had evolved the ability to do so, lactase be damned." I'm lactose intolerant, so that just sounds … horribly unpleasant.
This simple salad looks delicious.
I just bought this cute pair of cropped jeans.
We tried the Korean-style corn from the latest issue of Bon Appetit. So. Good. It's basically a spicier version of street corn.
Have a great week!
–
Let's keep in touch!
Instagram / Facebook / Pinterest / Bloglovin'
Thanks for visiting! As a reminder, I may earn an affiliate commission if you buy an item through my links. This is at no cost to you. I appreciate your continued support!