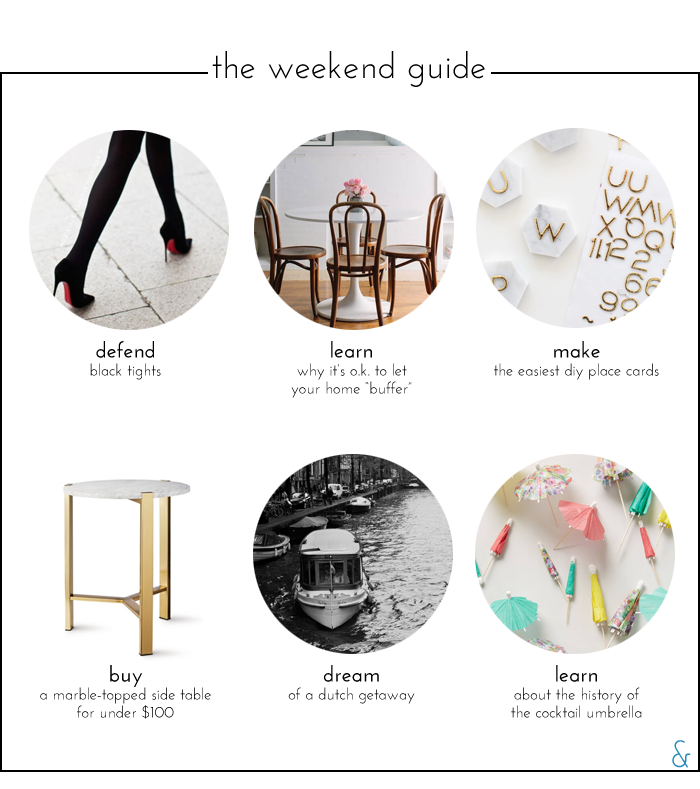 DEFEND
There's a bit of sass over at The Guardian about black tights. The author muses that black tights immediately betray the wearer, signaling old age and low social status. This author vehemently disagrees.
LEARN
We're all familiar with buffering when it comes to online videos (…so we can joyfully watch cat videos uninterrupted). Your home goes through a similar phase and here's why it's okay not to rush things.
MAKE
You can make 30 marble (actual real marble!) place cards for under $8. Bookmark this link for upcoming dinner parties and nuptials.
BUY
Between Twitter and the blog, this is the fourth time I've mentioned this side table. It's because it's awesome. The top is solid marble and it comes in at $90. It's not available for shipping (lame), but order it online anyway for in-store pickup. Target has been running discounts for 10-15% off online. I picked one up for myself a few days ago. It's on the low side, but I think it will be fabulous next to an armchair. (There's no room for it in our apartment, but it was too good to pass up.)
DREAM
I've already been to Amsterdam twice, but Jamie's photos are making me yearn to go back.
LEARN
We're going to Chicago in a couple of weeks for the opening of the Christkindlmarket. I've been putting together an itinerary for the long weekend, but I'm most excited about Three Dots and a Dash, where I fully intend to escape the Chicago cold with too many umbrella drinks. Before we go, I'm brushing up on my cocktail umbrella history.
FIVE UNDER $55

EARLIER THIS WEEK
Wore a painterly plaid dress.
Went "Behind the Baubles" with Alexa Leigh.
Posted the easiest DIY ever, inspired by an expensive D&G hat.
Shared some of October's mini moments.
Opted for brights and stripes for this week's most coveted.
Donned ultra glamorous Miu Miu sunglasses.
Had a bright start to the week.