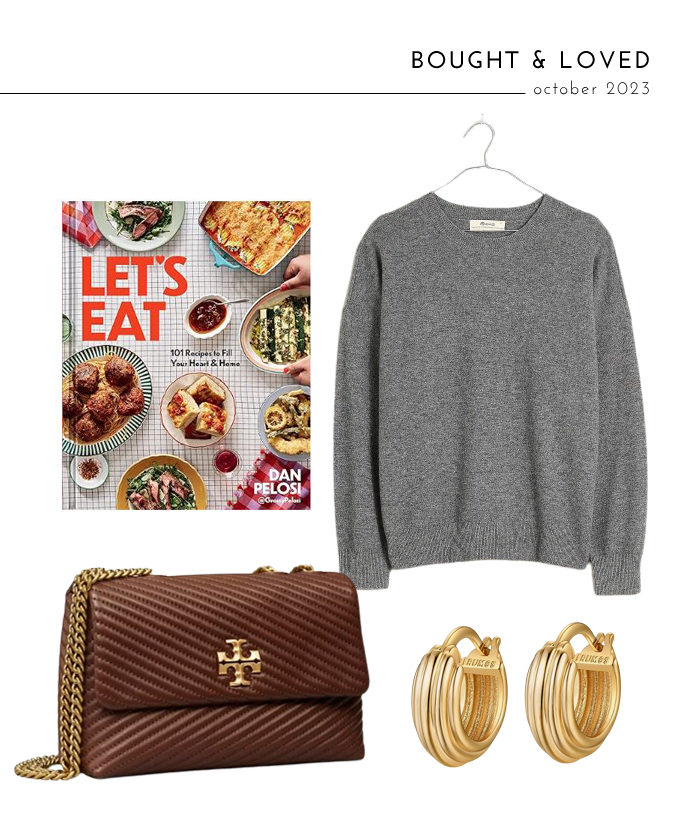 WARDROBE
See this year's sartorial additions here.
Madewell cashmere oversized crewneck sweater – I've wanted an oversized grey cashmere sweater for the past three years, but I kept coming up short. Most sweaters were fitted and going up a size just made it seem like I bought the wrong size. I even considered a men's sweater, but didn't like the cut. It was always one of those items that I kept wishing I had in my wardrobe every autumn and winter. I was very optimistic when I saw the Madewell one on their site this year and ordered it during a recent sale. It's perfect! While I normally hate drop-shoulders, it works here as an intentionally oversized piece. As far as cashmere goes, it's on the thinner side and I can't speak to how it'll wear over time, but it drapes wonderfully and I'm just so delighted with it. I'm planning to buy a second one if it goes on sale again to have as a backup. After waiting so long to find The One, I'd hate for something to happen to it!
Tory Burch small 'Kira' quilt shoulder bag – Make no mistake that this was a splurge for me, but I could not stop thinking about that perfect brown hue on a supple leather bag. Tory Burch had their fall sale earlier this month, which brought the price down by 30%. Even then, it was still a bit of an investment and I dipped into my "Splurge Savings" to cover the costs. It's a beautiful addition to my wardrobe and it fits all of the daytime essentials easily. The chain strap allows the purse to be worn as a crossbody bag or doubled up and worn over the shoulder. It feels so grown up and ladylike!
Amazon gold-plated hoop earrings – Grace posted about these recently and I thought they'd be a smart option to pack for our trip to Switzerland — if I lost them, no biggie! Since they're small, they're convincing enough to pass for fine jewelry.
HOUSEHOLD
Let's Eat by Dan Pelosi – Dan's recipes haven't lead me astray yet, especially this pasta salad! While I haven't made anything new in this book yet, I'm very much looking forward to digging in. The photos are beautiful and Dan's anecdotes peppered throughout are charming.
–
Let's keep in touch!
Instagram / Facebook / Pinterest / Bloglovin'
Thanks for visiting! As a reminder, I may earn an affiliate commission if you buy an item through my links. This is at no cost to you. I appreciate your continued support!