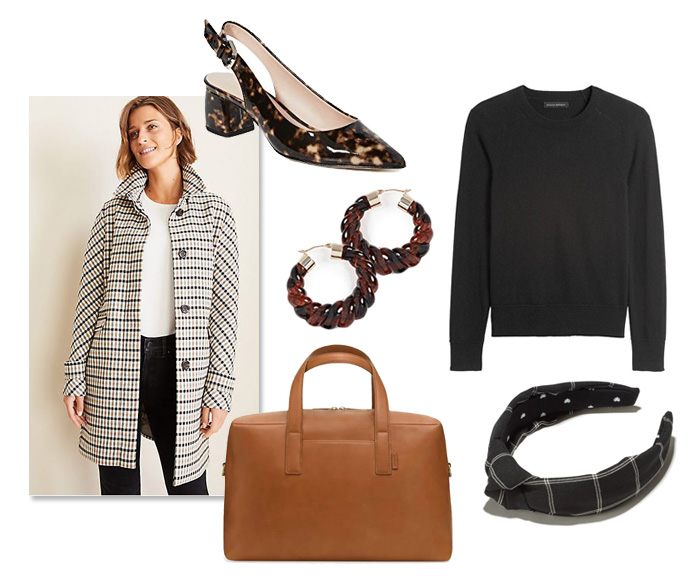 While the weather gets cooler and leaves start to turn, autumn offers awakening and renewal in one place: our wardrobes. I've already had my eye on a few classic staples this month to freshen up my fall wardrobe and wanted to share them with you while they're all still in stock!
Plaid Jacket – I already have a plaid jacket that I love, but that doesn't keep me from loving this updated take on a menswear style. It would look equally polished with jeans or workweek staples.
Tortoiseshell Patent Pumps – If you spotted my Instagram last weekend, you know I already added this to my wardrobe. They're gorgeous and I love the classic pattern.
Resin Hoop Earrings – My love for resin earrings is still going strong, especially when it comes to a pair of tortoiseshell patterned hoops by Loeffler Randall. (The designer recently introduced jewelry!)
Black Merino-Blend Sweater – I actually purchased the green version of this sweater last weekend. I love that the knit is more supple than J.Crew's "Tippi" sweater, which makes me certain I'll be reaching for it throughout the season for workdays and weekends. Plus, it can be hand washed rather than dry cleaned. Banana Republic might not be the most fashion forward, but they do have basic sweaters down pat.
Plaid Headband – I enjoyed my first foray into the headband trend this summer and I'd like a preppier version for fall. I also love this one.
Leather Travel Bag – I've been using a beat up, faux leather tote from Old Navy as my personal item for every trip in recent memory. It holds a lot, but it's not in the best shape anymore nor is it the most organized. This bag, however, looks perfect for air travel. I have cash in my "splurge" account and will probably snag it soon so I have it in time for our next international excursion.
I'd love to know what's on your wish list this month!
–
Let's keep in touch!
Instagram | Facebook | Pinterest | Bloglovin'