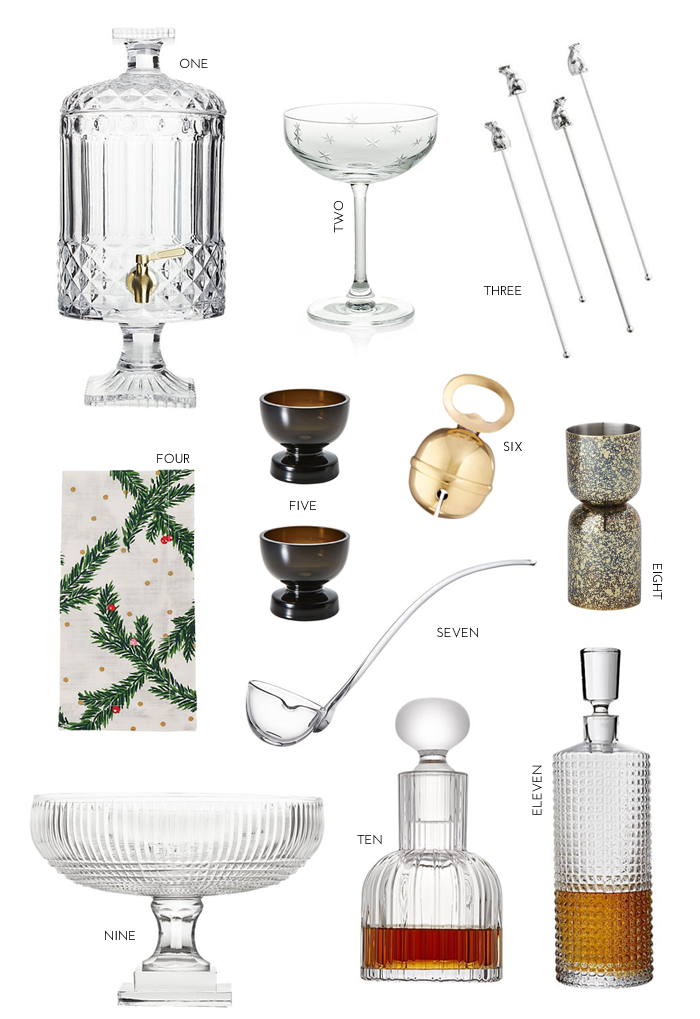 ONE | TWO | THREE | FOUR | FIVE | SIX | SEVEN | EIGHT | NINE | TEN | ELEVEN
If you're rolling your eyes at me for a holiday post before Halloween, trust me, I get it. But the happiest time of year always seems to sneak up on me, especially when it comes to entertaining essentials. I came across this darling Christmas tablecloth over the weekend, which got me thinking about holiday hosting and some of the items I'd like to add to my collection before the craziness of the season really sets in — starting with the bar.
I tend to avoid barware or serving pieces that are holiday-specific; we don't have that much room to store extra glasses and plates emblazoned with holiday designs. (But I'll cave when it comes to especially darling items like the appetizer plates I bought last year.) In this roundup, you'll find a selection of items to refresh your bar well in advance of the holiday hosting season. For the most part, these are timeless classics that can be used throughout the year. I own both of the decanters; they look more expensive than their affordable price point of under $40 each. (They sold out closer to the holiday season last year, so get 'em now if you're into them.) I also have the smokey glass cordial glasses. They're a lot smaller than you might expect, but they're perfect for a small sip and look so chic. While I don't own that drink dispenser, I love the idea of making a batch cocktail and letting guests serve themselves so I don't have to play bartender all night.