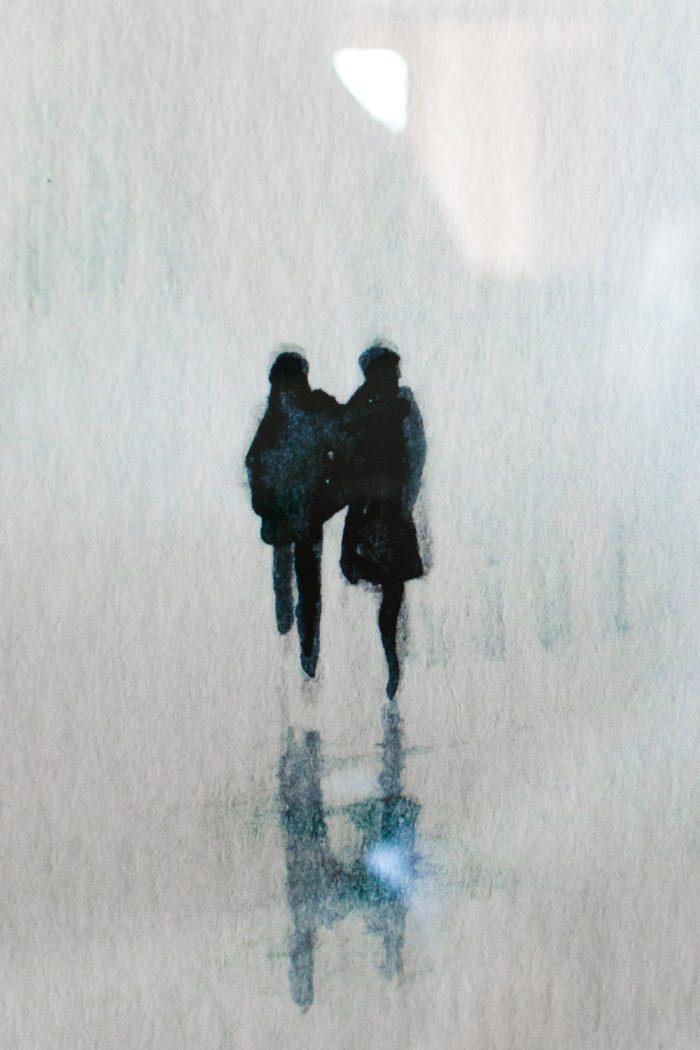 As you may have gathered, we're not exactly rushing things when it comes to our house. We've done a lot of work when it comes to the basics like painting (yet there's still a ton to do) and refinishing the floors, but decided to ease into it when it came to furnishing and decorating our space. It's tempting to add every piece we love from, say, West Elm and CB2, and do a quick turnaround that we'd be content with. However, we don't want our home to look like the brands' catalogs circa 2017 in a few years.
Sure, we did add a few West Elm pieces to our house (namely the coffee table we already owned, the bar cabinet, nightstands, and the duck lamp), but we've been seeking out other retailers as much as possible. We went to a local furniture store to pick out our couch, which is this beauty from Younger. We found our TV console/credenza from an L.A.-based designer on Etsy. We've picked up a vintage map of Denmark to frame. We're also incorporating items we've picked up on our travels into our decor — and hope to buy more housewares when we're traveling now that we actually have a house instead of an over-stuffed apartment! Basically, we hope that by taking our time to collect items we're both crazy about will create a space that truly reflects our style.
That isn't to say there aren't challenges when it comes to creating a space as a couple. Dave and I agree on a lot of items that are Danish-inspired or mid-century modern, but that's not always the case when it comes to decorations and artwork. After we had our offer accepted on the house this spring, I had the opportunity to work with Minted to choose an art print for our new home. Talk about the best housewarming gift ever! It hit on our design preference of adding a high-quality print by an independent artist to our home, so we were obviously on board. I spent hours scouring their incredible collection of prints from independent artists and came up with a few options for our living room: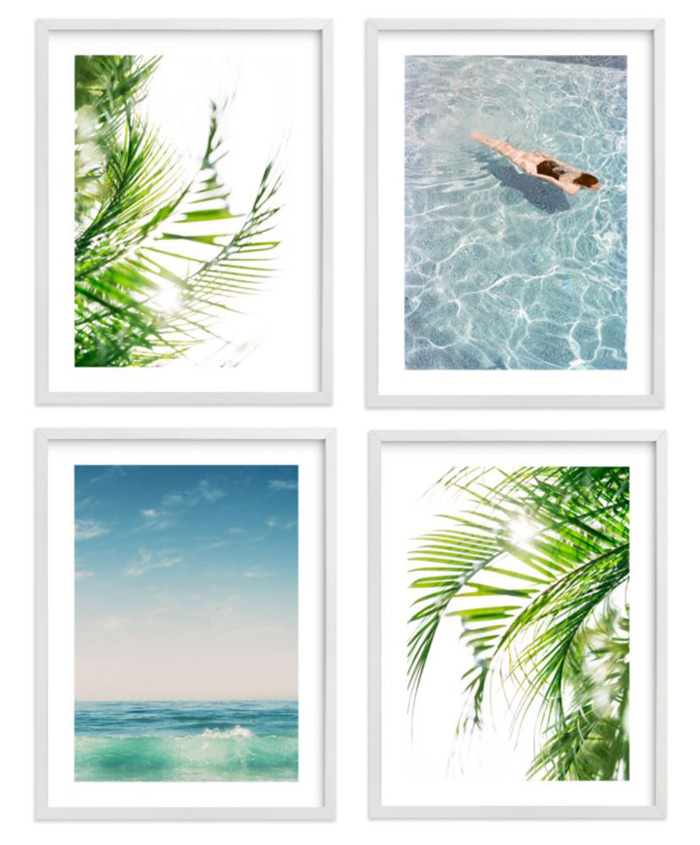 Dave hated the direction I was going in and didn't think a bright, beachy vibe belonged in a house in Wisconsin. While I insisted that it would be nice to come home and feel like you're on vacation, it wasn't a strong enough argument to sway him! So, I tasked him with coming up with some that he liked: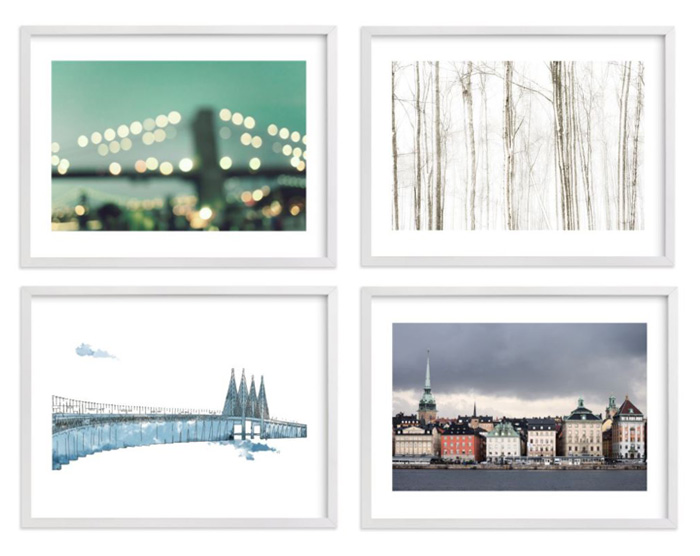 I liked some of the prints he picked, like the one of Stockholm, and the color scheme was similar to mine, but they just didn't resonate with me. I was obviously disappointed, so he told me that I could just pick whatever I wanted and he'd be fine with it. It was awfully tempting to just go with a beach print and call it a day, but I didn't want to do that. We were picking out a large print and I wanted him to love everything about our living room each time he came home. So, I was prepared to compromise and identified the things that were most important to us: I wanted something that had cool tones and either a beach print or an abstract; he wanted something that was sophisticated and reminded us of a place we've traveled to. During these discussions, we decided that we'd love to go with a 44″ square print so that helped narrow our search by size. We found this: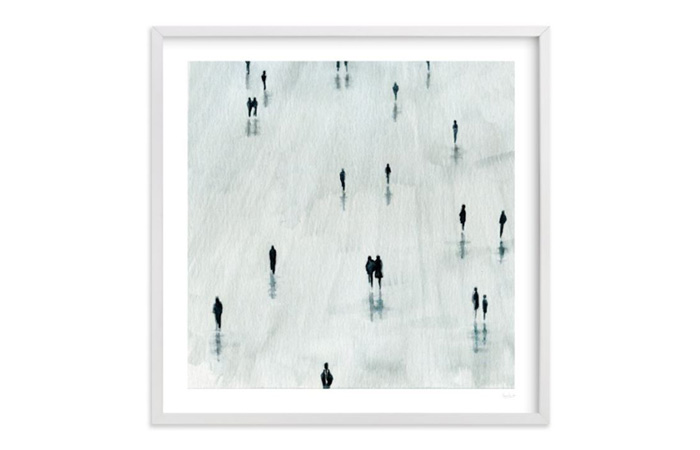 When we came across "Sombras" by artist Lulaloo with our compromise-criteria in mind, we knew it was the one. It had a sophisticated, cool color palette with an abstract design; and it reminded me, at least, of being en route to a destination. I'm actually surprised I liked it as much as I did because the print could come off as a cold, wet winter day. But I actually get a sense of coziness and warmth from the piece, especially of when it comes to the couple toward the middle. We placed the order immediately — before either one of us could second guess it!
When you're ready to place your order with Minted, you have options to customize your print to your liking and budget:
Paper: You can go with the standard option of acid- and lignin-free paper with a deluxe pigment print, or the archival option on 100% cotton rag paper for a museum-quality archival pigment print. We went with the less expensive, standard option.
Size: Most, if not all, prints come in a wide range of sizes, giving you the flexibility to choose a statement piece to feature or find the perfect petite print to fill in a spot on your gallery wall. There's also a size chart with a person holding the various-sized prints. It's an easier reference point than gauging the size based on a room rendering.
Frame: Minted offers 15 frame options. We went with with the white frame because of its versatility.
Signature: If you opt for a white border around your print rather than a mat, you can have the artist sign the work. I love going with this option because it makes it feel more personalized.
The print arrived roughly a week later, which was a bit earlier than we expected! Our floors were beginning to be refinished, but I was able sneak the print into the house before the stain and polyurethane was applied to the floors. When we finally unwrapped it, it was even better than we anticipated. It's well packaged so that the frame doesn't get damaged in transport. The frame is well made and sturdy. It also comes with a hanging wire on back so that it's ready to be displayed. I wish you could see the quality in person. I know it's a gamble to order art online, but Minted surpasses all expectations.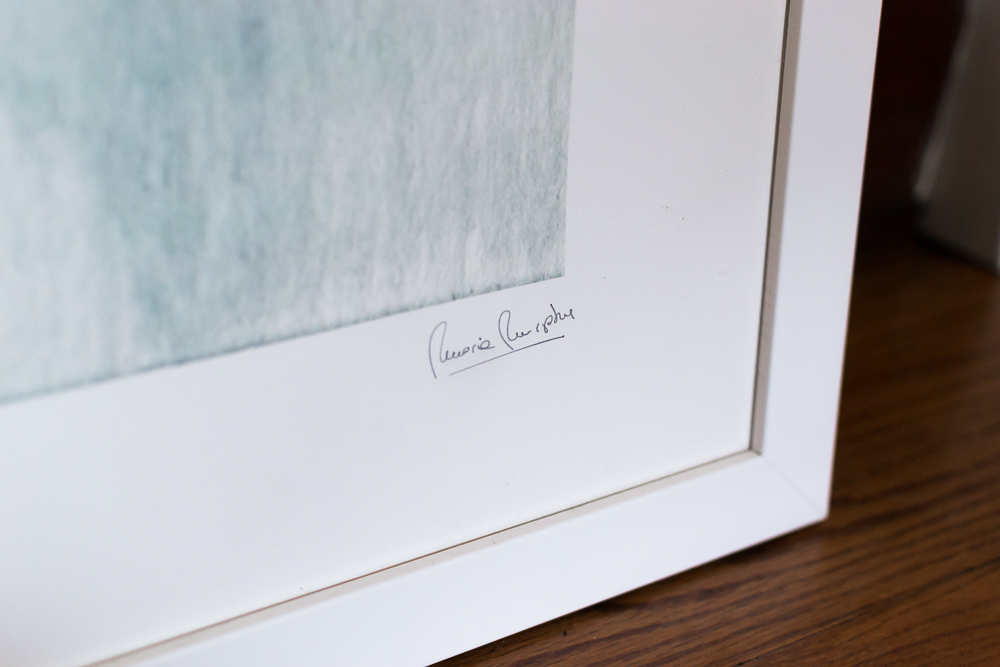 Next week, I'll talk about how the print works with the other pieces in the living room, along with a few progress photos of where things are at!

***
Thank you to Minted for partnering on this post!