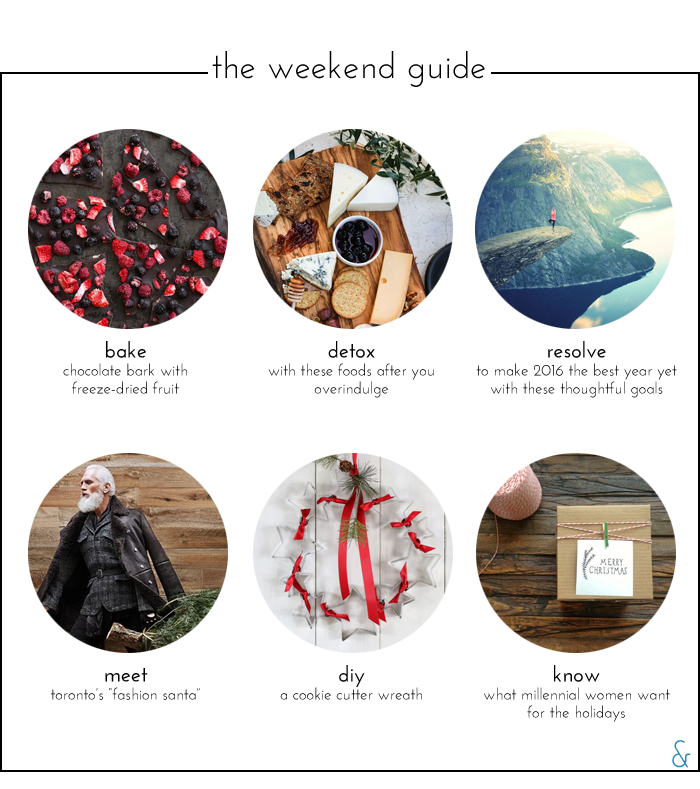 BAKE
If you've already had your fill of peppermint bark this season, here's another take on the dessert made with dark chocolate and freeze-dried fruit.
DETOX
Here's what to eat after you've overindulged on dairy, salt, sugar, and alcohol.
RESOLVE
I'm guilty of making ridiculous resolutions that include shopping goals and wish list items. I'd like to turn over a new leaf in 2016 with thoughtful resolutions to embrace in the new year.
MEET
Let's make "Fashion Santa" a thing here in the States.
DIY
Is your local tree farm out of pine wreaths? Don't fret. This cookie cutter wreath is equally festive and won't turn brown.
KNOW
There's a recent study that suggests Millennial women prefer to receive gift cards or cash. See what else is on their wish lists.
EARLIER THIS WEEK
Gift ideas for the hardest people on your shopping list: Men.
Behind the Baubles with the designer of Ben-Amun.
The foggiest outfit post I've ever done.
Our cat, Bacon, is obsessed with clean sheets.
Rocking the beloved faux bob.
Unpacking beloved Christmas ornaments.
FIVE UNDER $55


***
additional images via 1, 2