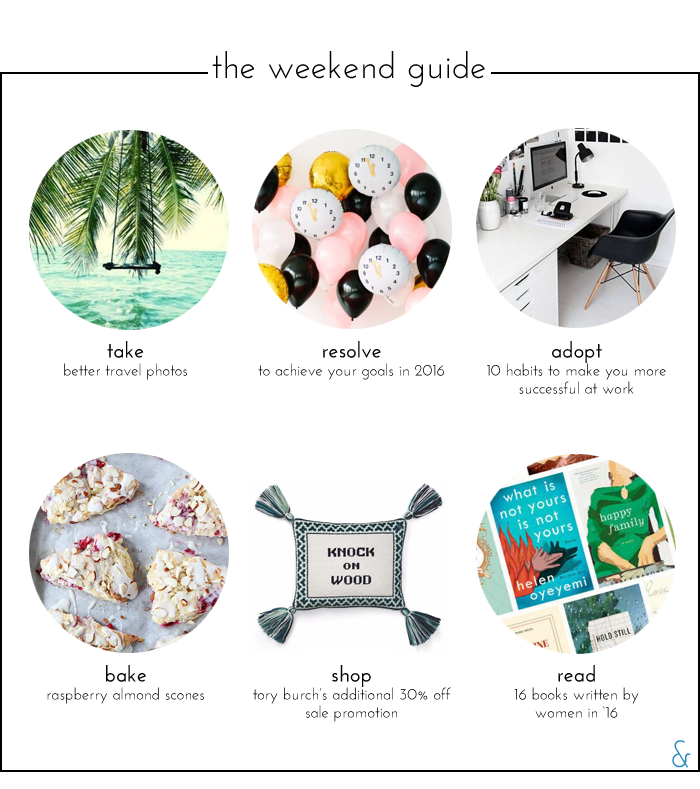 HAPPY 2016!
TAKE
For many of us, travel plans top our itineraries for 2016. Capture those memories with better photography.
RESOLVE
Making resolutions is easy. Sticking with them? Not so much. Achieve your goals in 2016 with these tips from psychologist Richard Wiseman.
ADOPT
Make the new year count at work with 10 habits worth adopting.
BAKE
One of my goals for 2016 is to try at least three new recipes each month. Raspberry almond scones look like the perfect accompaniment to Saturday morning coffee.
SHOP
There are only a few days left to take an additional 30% off sale items at Tory Burch. I usually use sale events like this to invest in a classic wardrobe staple like an oversize clutch or a cozy sweater. This time around, I purchased this cheeky pillow.
READ
Winter weekends are the perfect excuse to stay in and read. Here are 16 upcoming novels from female authors to add to your Kindle.
EARLIER THIS WEEK
Compiled photos of my favorite accessories and outfits from 2015.
Finally got my hands on pineapple shot glasses.
Shared my top 10 most loved and least liked purchases of the year.
Went down memory lane with snapshots from December.
Added these items to my wish list.
Took a stroll on the UW-Madison campus to take photos of my NYE dress.
Disclosed my December purchases.
FIVE UNDER $55