DISCOVER
New York's Grand Central Terminal is home to a hidden bar and secret walkways. This article unveils some of the building's mysteries, including why the constellation mural is backwards.
STICK
One simple change will help you achieve this year's goals.
COVET
My style icon, Iris Apfel, has designed a wearable tech collection. Of course, she finds the collection's bold bracelets "on the conservative side" and urges wearers to pair them with "more la-de-da pieces." Love her.
BUY
This XOXO keychain, inspired by vintage motel fobs, makes for a uniquely whimsical Valentine.
ARRANGE
Dave gave me this Tory Burch pitcher for Christmas. It's gorgeous, but I will admit that the mouth is awfully wide for my grocery store bouquets. I've been using this trick to space out the stems for a fuller arrangement.
EAT
I'm on week two of my diet and I'm getting tired of my yogurt and coffee combination. I'm planning to make a batch of oatmeal muffins for a quick and healthy breakfast on the go. I also came across this similar recipe.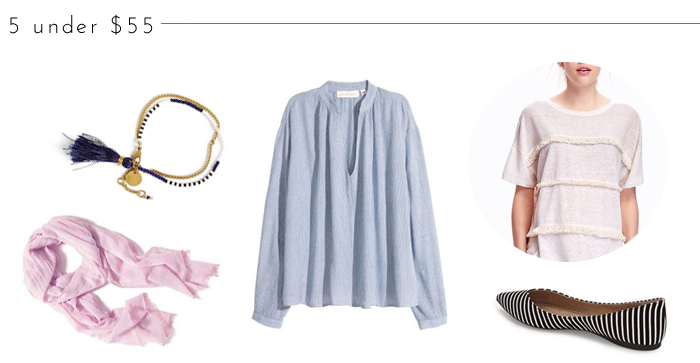 tassel bracelet, $15 | lilac scarf, $10 | tunic, $25 | fringe t-shirt, $25 | striped flats, $50
***
additional image via