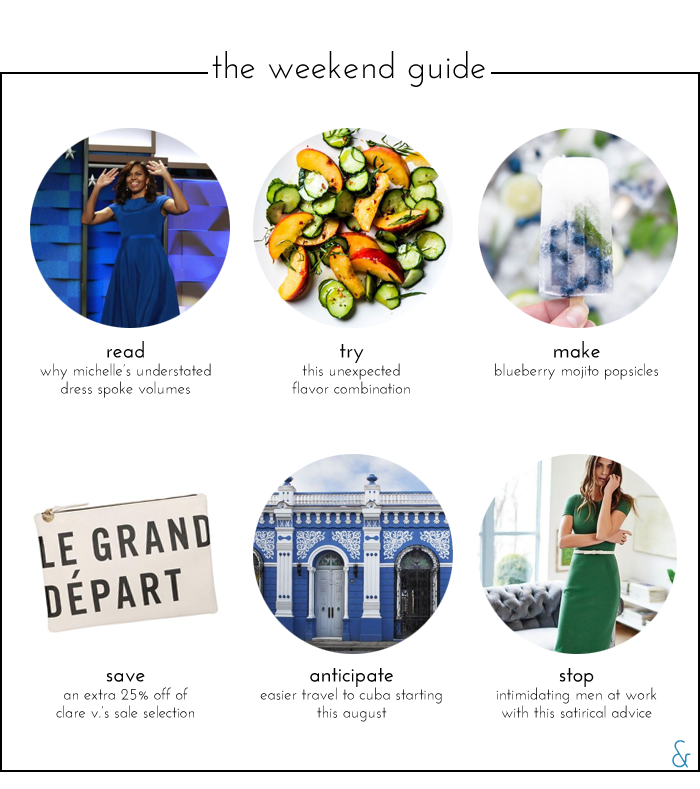 READ
Michelle Obama's dress at the Democratic National Convention may have been understated, but her choice to feature American designer Christian Siriano may have hinted at a political statement.
TRY
Combining cucumbers and peaches doesn't seem like a winning flavor profile, but this summer salad actually sounds amazing.
MAKE
Because all frozen desserts are better with booze in them…
SAVE
An extra 25% off at Clare V. this weekend! Use code CVSUMMER25 through Aug. 1. This is my favorite pouch.
ANTICIPATE
JetBlue just announced flights from Florida to Cuba for just $99 each way, making travel to the country more enticing than ever. Your trip still has to fall under one of the 12 approved categories for obtaining a visa. I wonder if blogging falls under "journalistic activity." Worth a shot?
STOP
"Nine Non-Threatening Leadership Strategies for Women" is by far the best thing on the internet this week.
EARLIER THIS WEEK
Wore a swingy slip dress and my new favorite shoes.
Put together the ultimate pre-fall wish list.
Confessed this month's shopping sins.
Found my next outfit photo location.
Bought this dress two hours ago. Oops!