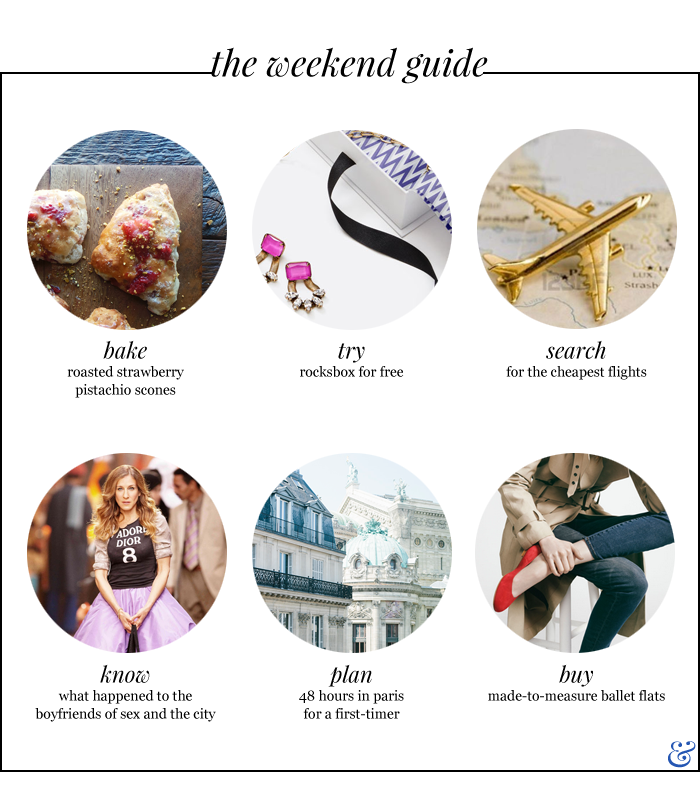 BAKE
Oh my goodness, how amazing do these look?
[spacer]
TRY
I finally had the opportunity to give Rocksbox a whirl. My favorite piece in the box is this gorgeous Trina Turk necklace. I'll post more about it and the other goodies I'm borrowing next week. If you've ever wanted to try Rocksbox, now's the time. Get your first box free with code bedknobsandbaublesxoxo.
[spacer]
SEARCH
If your travel dates are flexible, there's a new website called Skyscanner that allows you to search for the cheapest flights available. I haven't played around with it too much yet, but it's a great idea.
[spacer]
KNOW
Most Sex and the City articles are a little tiresome, but this one is worth the click. Spoiler: did you realize that the politician with the, um, fetish is Roger Sterling on Mad Men? Mind. Blown.
[spacer]
PLAN
First time in Paris with only 48 hours to spare? Check out this charming guide.
[spacer]
BUY
By now you know I'm almost exclusively a flats girl. My heart is going pitter-patter at the idea of made-to-measure ballet flats.
[spacer]
IN OTHER NEWS
We scrapped our Indianapolis plans after learning the Indy 500 is next weekend. We're stopping at Upland Brewing Co. and then will continue on to Cincinnati. I also purchased the dress I mentioned last weekend. It's absolutely adorable in person. There's a slight high-low hem, which I normally shun, but it's subtle and I actually appreciate the extra bum coverage with such a short dress. I will be wearing this in Cincinnati and on my birthday (May 30!) when we visit friends in the Twin Cities. There's a lot of Midwestern road tripping in our future.