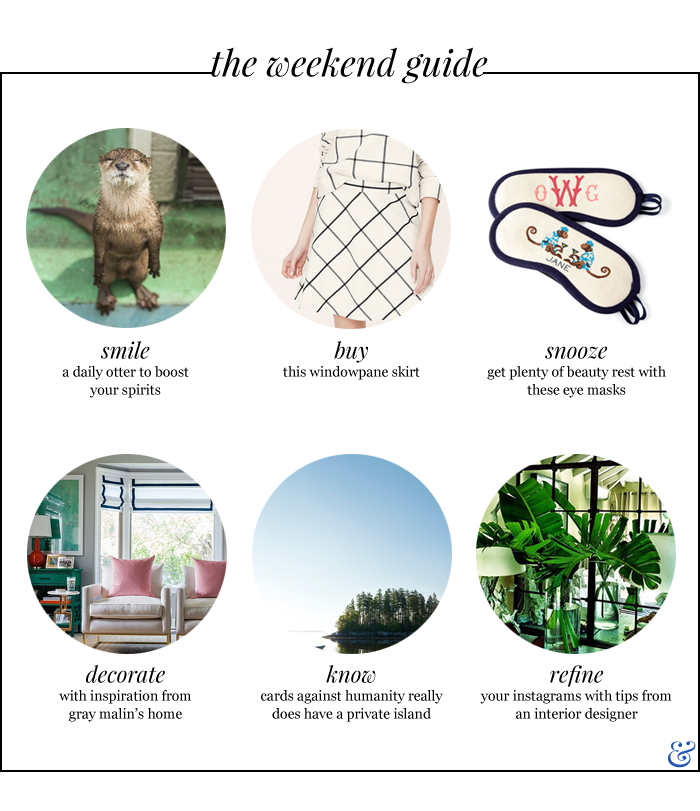 SMILE
When I'm having a particularly bad day, I'll spend a few minutes looking at photos of cute animals to perk up. The Daily Otter was a delight to stumble across.
[spacer]
BUY
The windowpane skirt I mentioned in my recent "Budget Update" is finally online.
[spacer]
SNOOZE
Every piece from Iomoi is adorable, but the cocktail monkey sleep mask takes the cake.
[spacer]
DECORATE
I've been itching to give our apartment a makeover and the design inspiration from Gray Malin's home with didn't help curb that desire! I've got my eye on this coffee table (in raw mango), but I'd like to follow Gray's lead with bright lacquer side tables. (Perhaps a vintage set so I can paint them myself.)
[spacer]
KNOW
Did you sign up for the "Ten Days or Whatever of Kwanzaa" holiday gift from Cards Against Humanity? Did you know that the private island was a real thing? From now on, I will brag about the land I own on Hawaii 2. All square foot of it.
[spacer]
REFINE
Step up your Instagram account with tips from interior designer Alessandra Branca.
[spacer]
FITNESS UPDATE
I thought I'd add my fitness success and struggles to this post as a follow up to this and a way to keep myself accountable. I only exercised three days this week, thanks to a work event, a basketball game, and a happy hour (excuses, excuses). I also let my Weight Watcher obligations slip. Not surprisingly, I only lost .4 pounds this week (2.5 total). On the bright side, I'm down a total of 1.5 inches from my hips in three weeks!