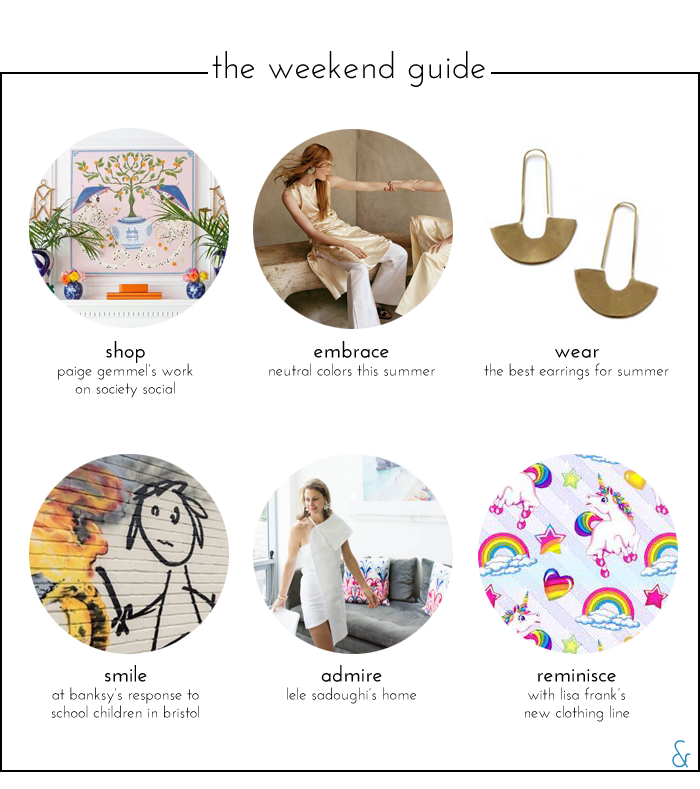 SHOP
Paige Gemmel nails vintage Palm Beach chic with her artwork now available at Society Social. See a piece styled in this room.
EMBRACE
I've kept many of my bright summer piece stored away this summer, opting for a more neutral palette. This editorial will make you want to do the same.
WEAR
I just came across this pair of earrings. Aren't they perfect for summer? The brass beauties are only $30 and are handmade in Kenya, plus a portion of every sale will go to A Voice is Heard.
SMILE
Children in England named their elementary school after the infamous street artist Banksy. Banksy responded in the best possible way.
ADMIRE
You already know how much I adore Lele Sadoughi's jewelry and now I'm coveting her interior style. Take a tour of her home here.
REMINISCE
Lisa Frank now has a clothing line. My grade-school self is geeking out.
NOTABLE SALES
Nordstrom: you may have heard that the #NSale started…
LOFT: 30% off regular-price styles with code VACAY; extra 60% off sale
Anthro: 20% off regular-price items through the weekend
Bloomingdales: extra 40% off sale or 50% if you buy more than one item
J.Crew: extra 40% off final sale
EARLIER THIS WEEK
Wore a pair of jorts for the first time.
Coveted items that can only be described as "desert chic."
Explained why there a binder clip in my makeup bag.
Bought these amazing mule sandals. (Go up a half size.)