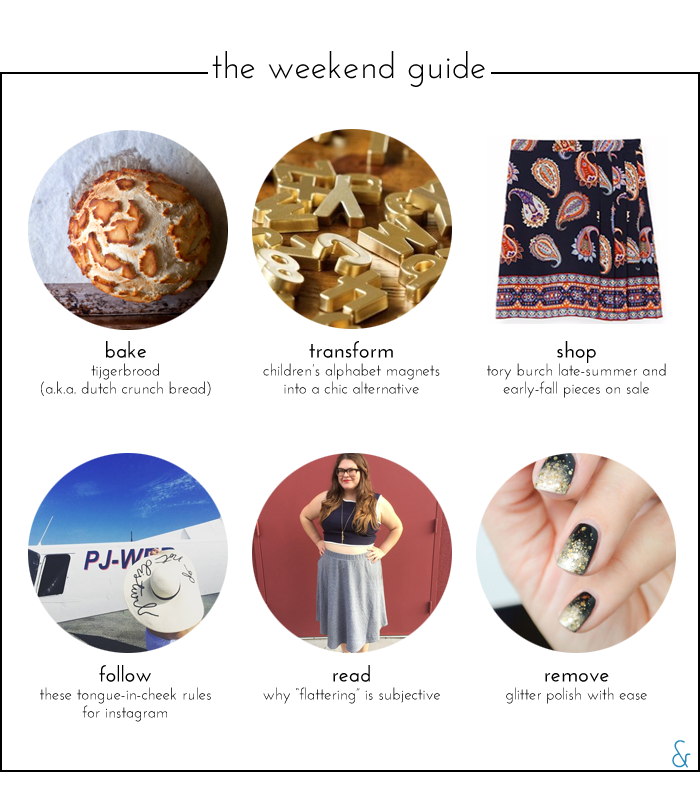 BAKE
The best thing about autumn weekends it that it gives you the excuse to cozy up inside with a hearty meal in the Crock-Pot and fresh bread in the oven. I'm pinning this Dutch tijgerbrood (tiger bread) recipe for later.
TRANSFORM
A coat of gold spray paint instantly transforms children's alphabet magnets into something adults wouldn't mind having on the fridge. A matte black or lacquered white would look fab too.
SHOP
Tory Burch's late-summer and pre-fall pieces are finally on sale. Pool days are wrapping up, but this pretty bathing suit is worth purchasing for next year. I'm also in love with this paisley skirt. There are so many colors in the fabric that you could wear just about any hue on top. Throw on a turtleneck or a Tippi sweater and a pair of boots, and you're all set for fall.
FOLLOW
Here's a hilarious guide for making the most out of Instagram.
READ
There's no shortage of guides available on identifying the most flattering silhouette for your shape, but does everyone actually agree on the rules. A member of the BuzzFeed staff visited five different retailers to find out. 
REMOVE
I've pretty much stopped wearing glitter nail polish because it's nearly impossible to get off. Elle tried five different methods to find the easiest way to remove that sparkle. (Here's the link for the ombre manicure.)
EARLIER THIS WEEK
I found a colorful wall for my not-so-colorful outfit.
Five ways to wear a fall cape.
The two items I purchased in August (and thoughts on the things that didn't work).
Five fall finds under $55.
My most cliche Instagram yet. (I'm loving your suggestions on what to add!)