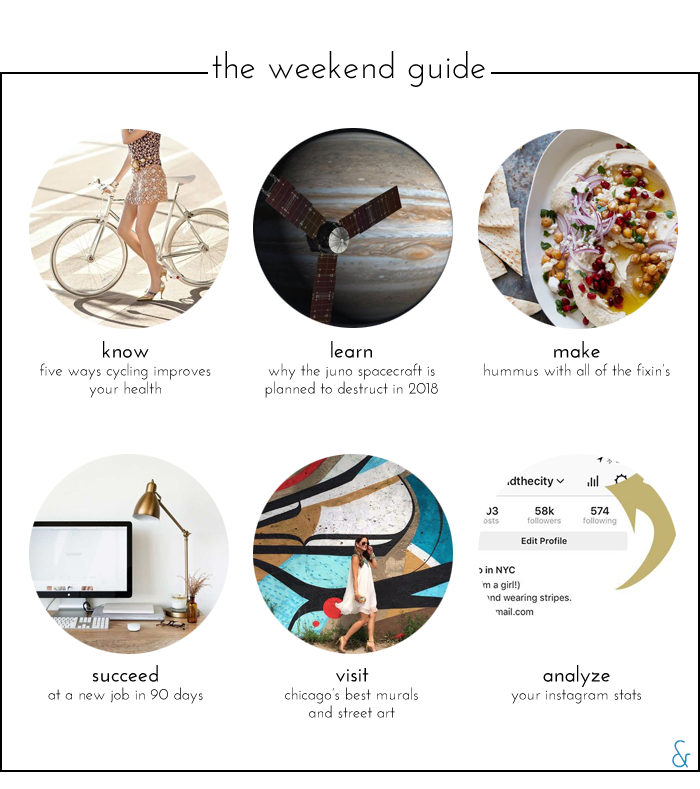 KNOW
As you know, Dave and I are getting into the cycling habit. We went on a 24-mile ride on Saturday and a 10-mile ride earlier this week after work. It's great exercise and I'm even more enamoured knowing how good it is for both one's mind and body. I've even — gasp — purchased athletic clothing to wear on our rides. My very first Athleta purchase consisted of this striped sports bra, this eyelet one, a skort, and a tank. They're all so cute!
LEARN
In the midst of this week's devastating news items (you know what I'm referring to), we made it to Jupiter. Isn't that crazy? The spacecraft is expected to nosedive into the gas giant's atmosphere in 2018, essentially self-destructing. Here's why.
MAKE
I'm a sucker for hummus. This DIY version looks so much better than the pre-packaged alternative I typically buy for lunch!
SUCCEED
The first 90 days at a new job are crucial. Don't screw 'em up.
VISIT
On Tuesday, we decided to book a hotel and spend the weekend in Chicago! I'm loving Jennifer's guide to the best street art and murals in the city. Follow along on our Windy City adventure on Snapchat. My username is bedknobsbaubles.
ANALYZE
Instagram is slowly rolling out its own analytics program and it looks pretty great. Read Elle's comparison between it and Iconosquare. (The analytics option isn't available to me yet. I'm hoping I get access soon.)
EARLIER THIS WEEK
Enter to win a personalized gemstone necklace.
I wore red, white, and blue on Monday — just like the rest of you!
Mixed up a boozy pineapple punch.
Created what has basically become my fall wish list.
Reviewed the latest POPSUGAR Must Have box.
Obsessed over the Miu Miu sunglasses that you can try for free!*
*Try them for FREE (or choose from hundreds of other options) with DITTO's Endless Eyewear program. Get your first month free with code BEDKNOBS. If you love the program, it's just $24 per month afterward, and you can cancel at any time.