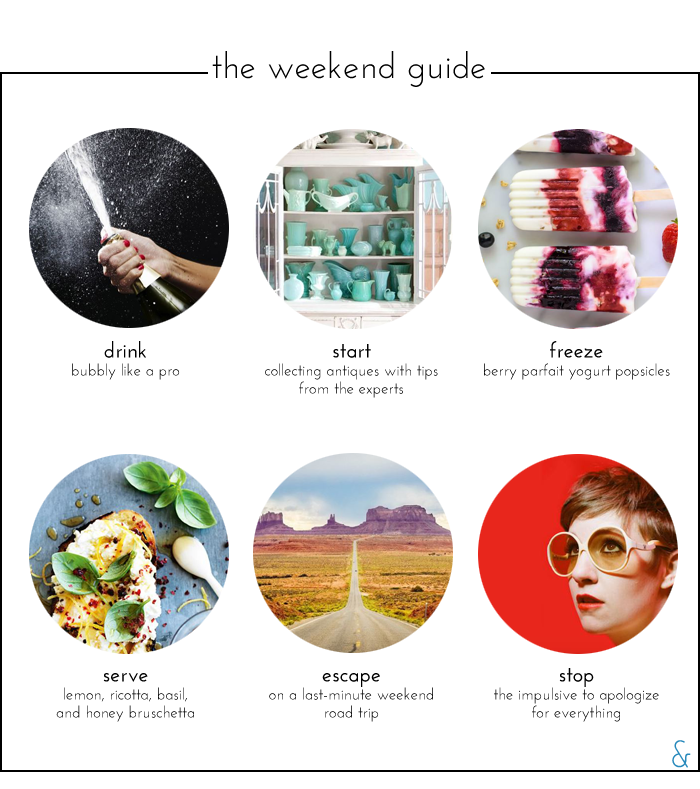 DRINK
Stop popping those bottles and start drinking champagne the right way.
START
Antiquing can be both thrilling and intimidating. Here's a guide to help you start a collection.
FREEZE
I can't wait for an abundance of summer fruit to use in these parfait popsicles.
SERVE
Looking for an easy appetizer to serve guests? This will be a hit.
ESCAPE
I can't believe it's Memorial Day weekend already! If there's one thing that epitomizes an American summer, it's an iconic road trip. Here are nine quick getaways from some of the U.S.' largest cities.
STOP
I think we all can identify with Lena Dunham's essay on her apology addiction.
EARLIER THIS WEEK
Explored Brussels in a LBD.
Coveted a selection of items in yellow and robin's egg blue. (I want those shoes.)
Scoured the Nordstrom Half-Yearly Sale for the best items.
Confessed my shopping sins.
Took a walk to the lake and ate ah-mazing pizza.