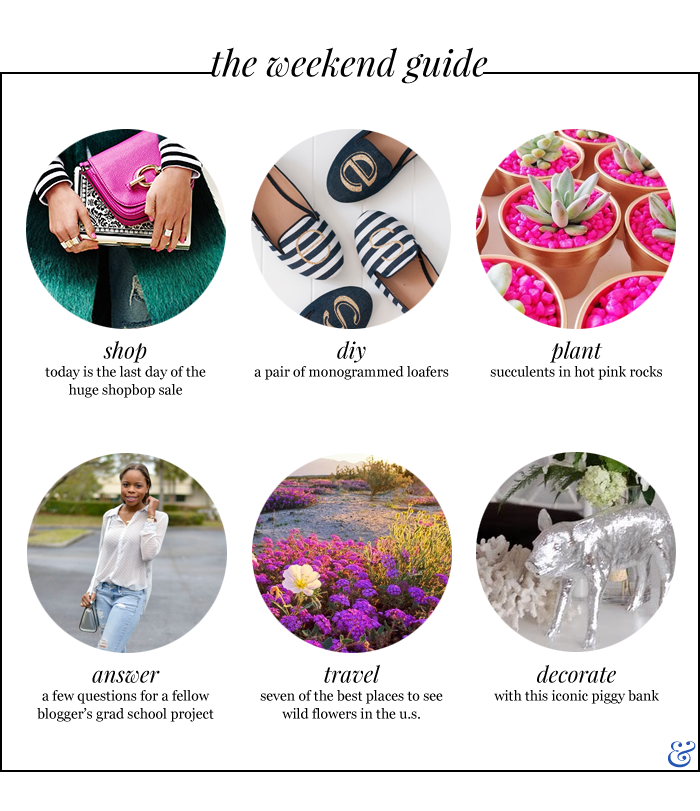 SHOP
Today is the last day of Shopbop's major sale. It's a great time to purchase any spring essentials like cocktail dresses for upcoming weddings or vacation wear (Tory Burch has the cutest striped espadrilles). I pulled the trigger on a pair of black Ferragamo Varinas and a Tory Burch tote (no longer available at Shopbop, unfortunately).
[spacer]
DIY
How cute are Erin's monogrammed loafers?! She created them from inexpensive shoes from Old Navy. (Get started with the striped version here and the chambray version here.)
[spacer]
PLANT
I'm still on a kick to redo our apartment and these succulent pots are too cute. Although, I think I'll go with a white glazed pot with turquoise rocks.
[spacer]
ANSWER
Charnele of Cha Cha the Fashion Genius is working on her final graduate school marketing campaign project and would love your help. The survey only takes a few minutes to complete.
[spacer]
TRAVEL
Seven of the best places to see wild flowers this spring.
[spacer]
DECORATE
So, uh, this happened earlier this week. I've wanted one of Harry Allen's piggy banks for years, but it seemed like such a ridiculous thing to spend that much money on. After scouring eBay for four years to snag one on the cheap, I finally found a silver one that went for $112. I can't wait for it to arrive. (It's cast from a deceased pig, which Dave finds morbid. Pssh.)
[spacer]
FITNESS UPDATE
I gained .6 pounds this week. I'm not totally surprised. We visited Milwaukee last weekend and one of my many cocktails was a Brandy Alexander, an ice cream drink that probably had a pint worth in it. On the upside, I've lost another half inch from my hips and from my waist. I'm still working out two or three times a week. And, now that Daylight Savings Time is tomorrow and it will be light out after work, we're going to start the couch-to-5k program soon.