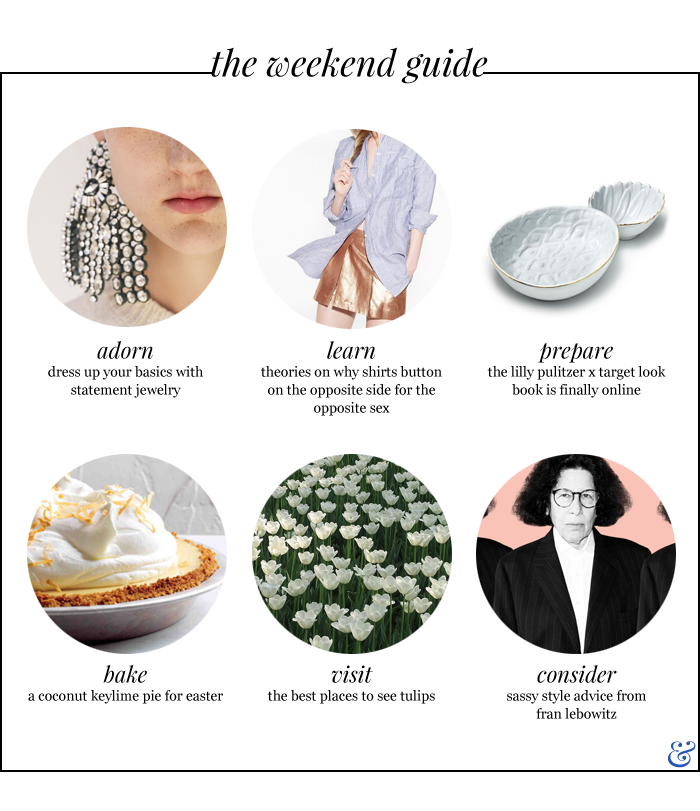 ADORN
A little inspiration to dress up your basics with the sparkliest jewels you own.
[spacer]
LEARN
We all know that men's and women's shirts button up on opposite sides, but why is that still the case?
[spacer]
PREPARE
The Lilly Pulitzer for Target look book is finally out. Out of curiosity, I totaled the price of everything I'd love to own. It came to $500. Needless to say, I'll be paring down to the must-haves: a pineapple serving dish, teak beach chairs, throw pillows, and pom pom trim shorts.
[spacer]
BAKE
My parents are coming to our place for Easter this year. The main dish and the sides will be easy to whip up, so I'm concentrating on the dessert. I'm not exactly sure what I'll make yet, but this sounds divine.
[spacer]
VISIT
Here are seven places to see tulips, my favorite flower, in bloom this spring. (We've actually looked at visiting Holland, Mich. for the annual tulip festival.)
[spacer]
CONSIDER
Fran Lebowitz is one sassy broad, but I find much of her style commentary to be spot on. I completely agree that we should all invest in well made items and take care of them properly. And, for the love of God, no one should wear sweatpants in public. It's basically waving the sartorial white flag.
[spacer]
FITNESS UPDATE
I'm down another pound for seven total! Heck yeah! I tried on a pair of compression capris at Old Navy yesterday, since everyone seems to love them. Uh, the white and blue pair were definitely sheer. I'm assuming a black pair wouldn't be as scandalous!
[spacer]
IN OTHER NEWS
I just added a new feature to my side bar highlighting a weekly find for $50 or less. This week's item is a lobster print silk canvas handbag for $50. It's available in red and navy.
---
// additional images via 1, 2 //