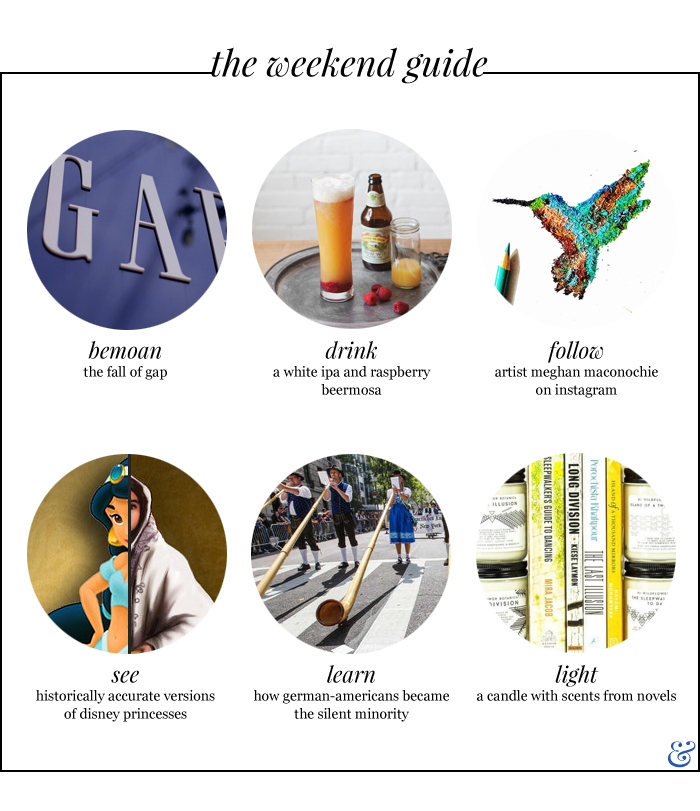 BEMOAN
Gap Inc. recently announced plans to close 175 stores. This piece discusses why Gap may have lost its cool and became, as the author so eloquently puts it, a "basic bitch."
[spacer]
DRINK
We have beer. We have raspberries. We have orange juice. Soon, we'll put them together and have beermosas. I hope they're as good as the photo looks.
[spacer]
FOLLOW
Artist Meghan Maconochie creates colorful animals and cultural icons out of pencil shavings. Follow her impressive Instagram feed here.
[spacer]
SEE
We all know Disney takes some creative liberties with its animated princesses. See what they'd look like if they were historically accurate.
[spacer]
LEARN
According to this article, German-Americans are America's largest ethnic group and they've assimilated so well that we barely even notice.
[spacer]
LIGHT
I love bringing a new scent with me on vacation. It helps bring back happy memories of our travels when we return. Hi Wildflower Botanica is looking to do the same thing with books.
[spacer]
IN CASE YOU MISSED IT
I may be on crutches, but I refuse to let it kill my summer style. Here's inspiration for an 11-piece wardrobe to get you through the work week with ease. Many of the items will transition into fall. (Truth be told, I already purchased the dress, skirt, shell, and cardigan. The dress is incredibly well-made and flattering. I'll need to get the top taken in, but it's worth it.)