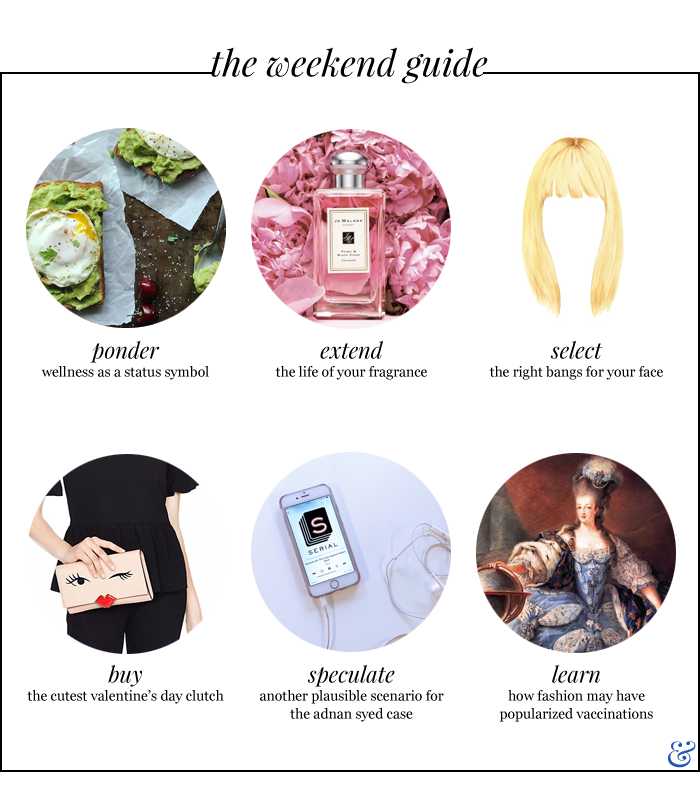 PONDER
Are green juice devotees really just flaunting their wealth?
[spacer]
EXTEND
Make your favorite fragrance last longer.
[spacer]
SELECT
I've been considering bangs ever since I looked through my parents' old photo albums. I love how bangs looked on pint-sized me. I'd definitely go for the fringe style. Should I do it?
[spacer]
BUY
Love is in the air and at your favorite retailer. I picked up these darling boxer shorts and I'm fond of this quirky Kate Spade clutch.
[spacer]
SPECULATE
I can't wait for season two of Serial. In the meantime, I'm still caught up in conspiracy theories for the Adnan case.
[spacer]
LEARN
Fashion might have popularized vaccinations in the late 1700s.
[spacer]
---
// additional images via 1, 2, 3 //