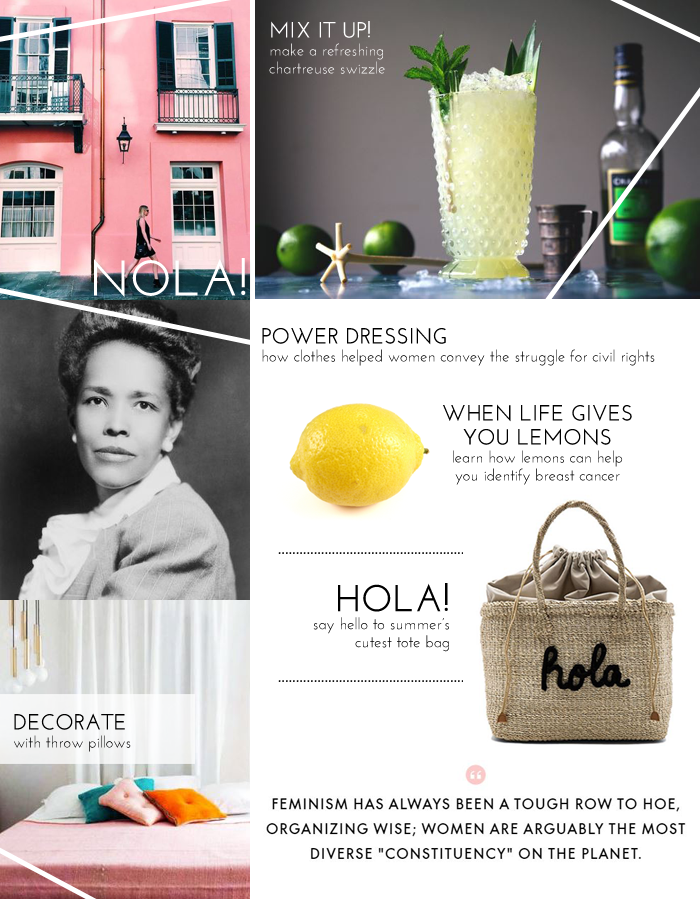 NOLA: I think we've finally picked our spring vacation destination. I had never seriously considered New Orleans as a must-visit location, but I've warmed up to The Big Easy after doing some trip research this week. Pretty architecture and beignets? I'm in!
MIX IT UP: Doesn't this Chartreuse Swizzle cocktail look amazing? It's the perfect thing to beat the winter blues this weekend.
POWER DRESSING: Learn how clothing played a role in the civil rights movement.
WHEN LIFE GIVES YOU LEMONS: This image has been making its way around the Internet to teach women the different ways breast cancer can look and feel.
HOLA: How cute is this tote bag?! (And how dorky am I for wanting to purchase it for an Instagram in New Orleans with the caption "Hola from NOLA?")
DECORATE: Use throw pillows like a pro.
FEMINISM: The women's march has had some hiccups along the way, but here's why you shouldn't criticize it too harshly.
IN CASE YOU MISSED IT: