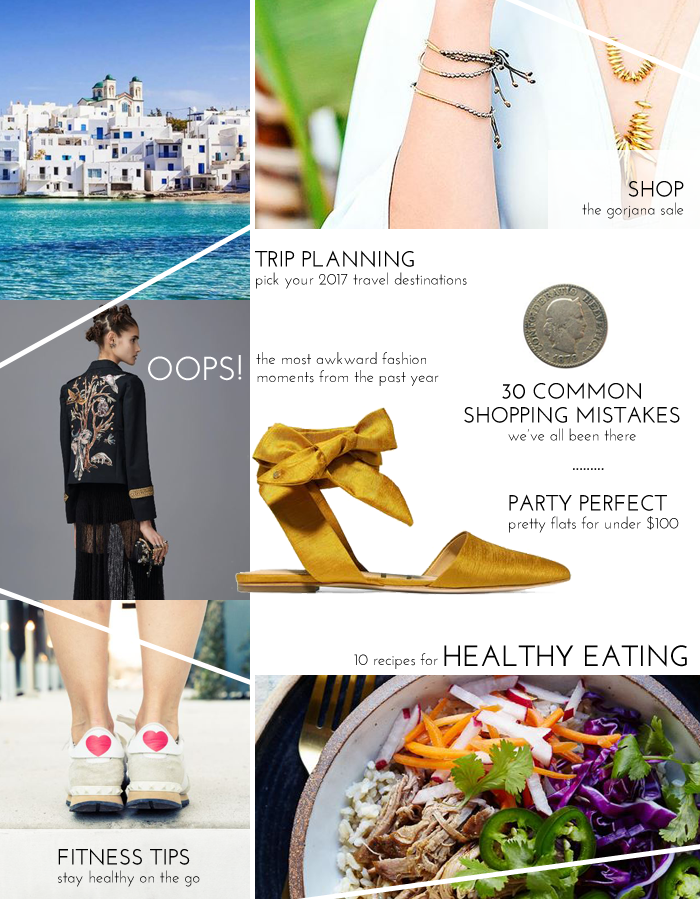 TRIP PLANNING: We're busy making our travel plans for 2017 and this post is the ultimate escape eye candy. So far, we're considering Arizona in March (I've never been to the Grand Canyon), a long, lazy weekend beachside, and a summer trip to Europe (possibly London).
SHOP: The post-holiday sale at Gorjana continues to be the most tempting thing ever with deeply discounted baubles. They're perfect for layering together or with your statement-making pieces. I ordered this and I'm tempted to add this to my collection, too.
OOPS: Take a trip down memory lane with 2016's most awkward fashion moments.
SHOPPING MISTAKES: Personal shoppers weigh in on the 30 shopping mistakes we all make — and how to avoid them.
PARTY PERFECT: Can these flats be any more perfect? I'm thisclose to buy them, but I can't decide between yellow or pink. I'm leaning toward yellow because it's more unexpected.
FITNESS TIPS: Easy ways to stay healthy on your next adventure.
HEALTHY EATING: Now that the holiday cookies are finished, it's time to start eating healthy again. Liz shared 10 healthy recipes to try in the new year.
IN CASE YOU MISSED IT:
'ROUND THE BLOGS: I'm thinking of adding a link-up to the "Weekend Reading" posts for you to share your favorite blog posts from the past week. Yay? Nay? Thoughts?