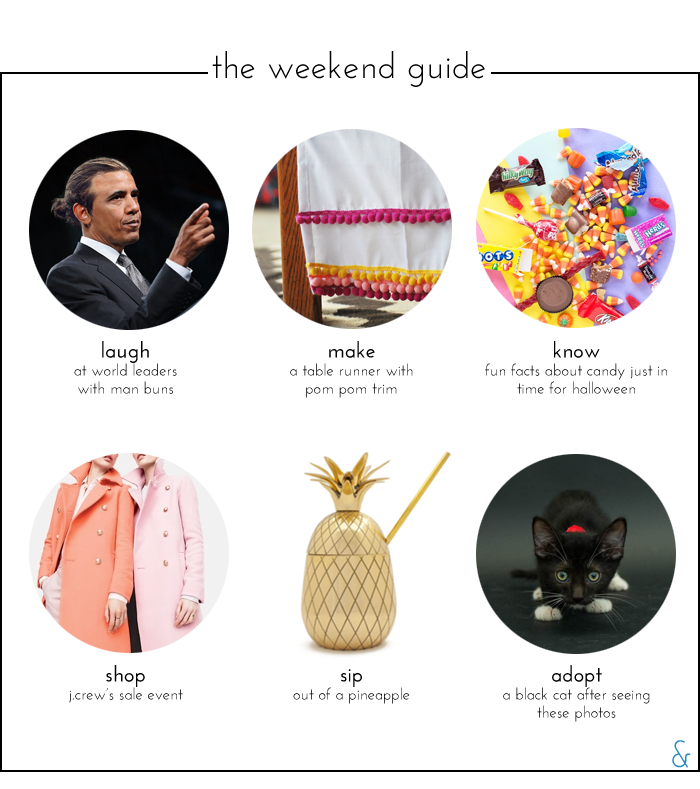 LAUGH
Doctored images of world leaders rocking man buns has pretty much made my week. There's more here!
MAKE
Create a DIY pom pom table runner in time for Thanksgiving. Go bright like Leah did or opt for a subtle color combination. Then, shop Anthropologie's sale section for additional table accessories. There's an extra 30% off sale items right now with code XTRAXTRA. I'm loving this serving platter and these wine glasses.
KNOW
Before you binge on the candy you "bought for trick-or-treaters," read these fun facts about Halloween favorites.
SHOP
J.Crew has a great promotion right now. Take $25 off orders of $125+, $75 off orders of $250+ or $175 off orders of $500+. I've got my eye on a new bright coat for winter and leopard flats.
SIP
This is undoubtedly the best link I've ever come across: pineapple tumblers. The large version with a straw is $99, but there are smaller pineapple tumblers and pairs of shot glasses for $29. I'm totally ordering something today.
ADOPT
Photographer Casey Christopher is on a mission to help black cats get adopted.
FIVE UNDER $55
EARLIER THIS WEEK
Five style tips.
This week's most coveted.
A budget update.
Went mod in a '60s-inspired outfit.
Visited an iconic Madison bar that had an Instagrammable face lift.