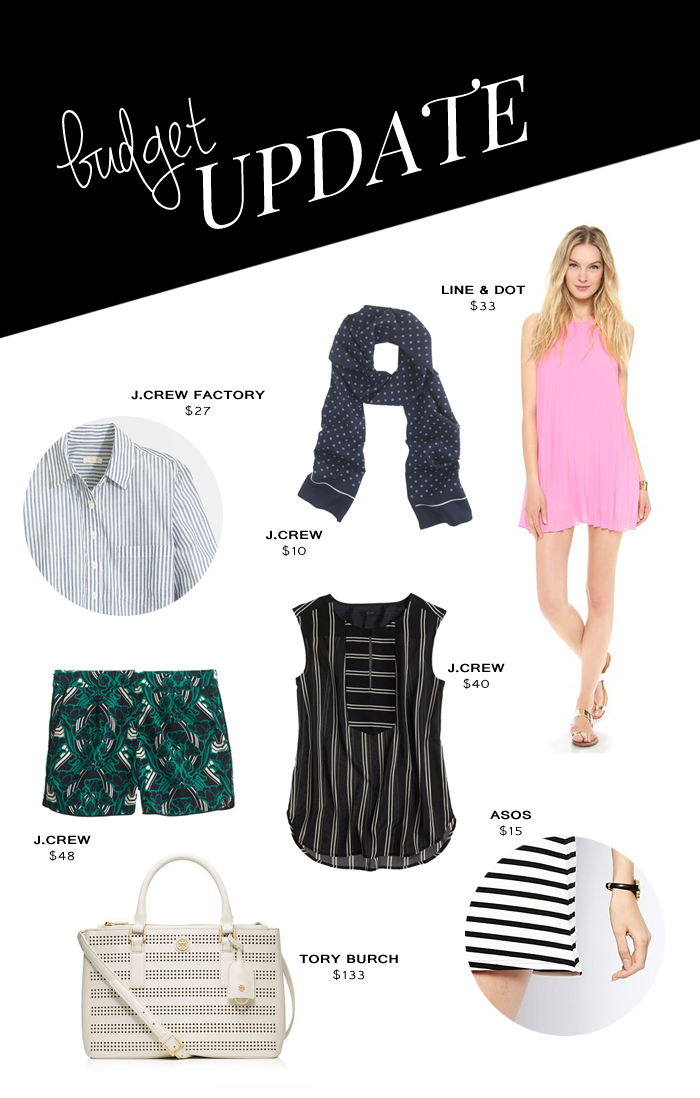 A new year calls for a fresh budget and a new Pinterest board to record my 2015 wardrobe additions. If you don't already have a board dedicated to new purchases (or even planned purchases), I'd recommend it. It's interesting to see the direction your wardrobe is taking with a quick glance. Evidently, I'm all about stripes (no surprise there) punctuated with rich color.
[spacer]
THE BUDGET

Each month, I've earmarked $250 to spend on clothing and accessories. I consider blog revenue and eBay sales to be "fun money" and will add a portion of that additional income to my monthly budget (if it doesn't end up in my travel fund first). I'll record any budget increases or expenditures here each month. Anything that has been ordered and has not yet arrived will appear on the next budget update. I'm also allowing any extra money to rollover into the next month.
$250 starting budget
+ $0 rollover from last month
+ $300 added to the budget this month
– $404 spent this month
= $146 remaining
[spacer]
PURCHASED
[spacer]
UP NEXT
Once we get a vacation on the calendar, I'd like to use a portion of my tax return to buy a few new pieces to pack. (I always wanted to be that girl who has a new vacation wardrobe!) While I won't be able to completely outfit myself on whatever amount I set aside, I'm hoping to add a pair of espadrilles, a few silky camis, this skirt (definitely a splurge, so it might not happen), and a couple of casual dresses. I've also ordered the Loeffler Randall "Starla" sandals in gold. You may remember the style from a couple of years ago. I'm beyond excited to see that they re-released the pair. I used a 30% Piperlime coupon and $100 in Gap, Inc. rewards that I had saved up to bring the price down to $23 (squee!). The sandals are backordered until April. Hopefully they'll still arrive, given that Piperlime is closing at the end of the quarter.
[spacer]
TRIED & RETURNED
Of course, with every successful shopping month, there are some misses:
[spacer]
HOW ARE YOU DOING?
Fran does a great job of linking to budget bloggers each month and I strongly encourage you to take part. I hope you'll also share links to your wardrobe recaps here. I'm always curious to learn how others curate their closets!