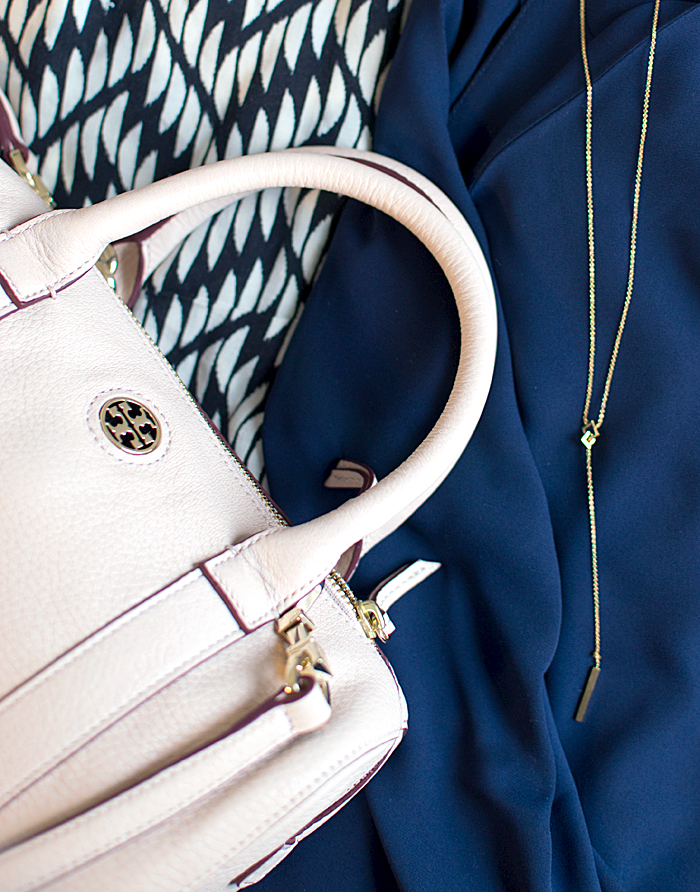 2016 is off to a good start sartorially. This month's purchases are a mix of classic and fun pieces that work well with my existing wardrobe. The faux fur coat was a splurge, but I kept clicking to the Nordstrom site to daydream about it every single day for two weeks. I figured if I was that interested in it, I should at least try it on! Of course I kept it.
We booked an April trip to Denmark and Belgium, so I'm planning to use the remaining balance of this season's budget on a couple of versatile items for the trip: a trench coat (love the detachable lining and hood on this one, but I can't decide between khaki and navy) and a pair of comfortable loafers for walking (maybe these). I'd also like to add a couple of dresses to my travel wardrobe that I can wear a couple of times over the two-week period. I'm particularly interested in this dress. It looks like it could be amazingly versatile with a trench, flats, and statement pendants.
In other news, I looked at additional ways to save money throughout the year. I'm using MyFitnessPal to count calories and cancelled my Weight Watcher subscription, saving $240 annually. I also shopped around for auto and renter's insurance and left Geico for Progressive to save $430 annually. I received $112 back in prorated refunds from Geico, which covered most of the renter's insurance with Progressive for the year.
BUDGET
Winter Budget (Dec. – Feb.): $750
Spent in Dec.: $154.5
Spent in Jan.: $257.75
Amount Remaining: $337.75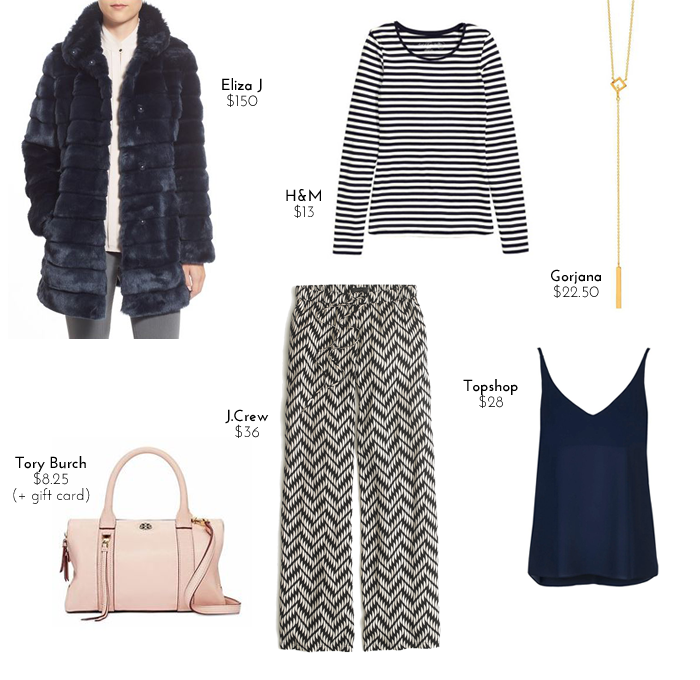 PURCHASED
See all of the year's wardrobe additions here.
J.Crew drapey beach pant ($36): When I first spotted these palazzo pants on J.Crew's website, I knew I had to purchase them before they sold out. They're intended for beach wear, but they're also pretty cute with a loose cami, oversize pendant, and sandals. (Summer, where art thou?)
Topshop v-neck camisole in navy ($28): Earlier this month, we toyed with the idea of booking a last-minute jaunt to Florida. Since I had already purchased the beach pants, I added the camisole to my wardrobe for a breezy ensemble. We obviously put Florida on the back burner in favor of Europe, but this cami is staying in my closet. It's a lovely layering piece. You'll have to go up at least one size.
Tory Burch "Brody" small satchel in light oak ($8.25): For being on the small side, this satchel is incredibly roomy. It has more than enough room for my DSLR, a Kindle, full-size wallet, phone, and other small daily must-haves (ahem, lipstick). I have a feeling that this is going to be perfect for traveling. I can fit all of my in-flight essentials inside and stow it away under the seat in front of me with ample foot room. The leather is incredibly soft and the bag is lightweight. (I received a $200 Visa gift card for the holidays and put it toward the bag.)
Gorjana "Ryder" lariat necklace ($22.50): I considered purchasing this lariat at full price a few months ago and was delighted to see it made it to Gorjana's end-of-season sale for a fraction of the price. It's a flirty piece to wear with a v-neck cami or a button-down shirt. (I had a $10 credit, which basically took care of the shipping cost.)
Eliza J faux fur coat in navy ($150): I'm such a fan of this coat (worn here). It's a convincing replica of real fur and warm enough for the subzero temperatures we experienced last week. It runs true to size. It also has a bright, floral lining, which was a lovely surprise.
H&M striped long-sleeve tee ($13): This is my least exciting purchase of the month only because it's a necessary staple. My old striped long-sleeve tops are starting to show their age and I need a few more to replace them with. This one runs small, but is stretchy enough that it doesn't lose its shape during the day.
DIDN'T WORK OUT
Things I tried and didn't love: 
H&M flared blouse: I daydreamed about this for a couple of weeks before dragging myself to the mall to try it on. The fabric was ultra soft, but the cut was terrible. Drop shoulders and a wide torso don't make for a flattering top. It's also kind of short for being so loose. Pass.
***
linking with Fran