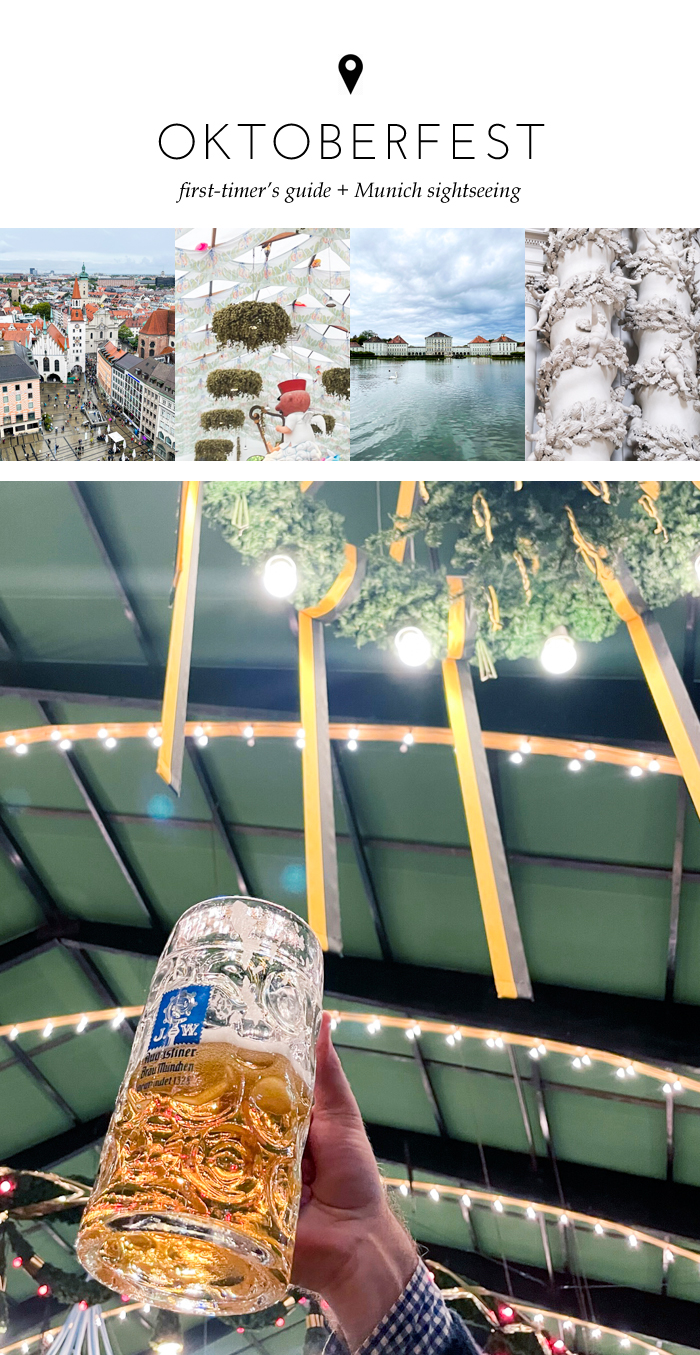 The world's favorite beer festival begins this Saturday at the Theresienwiese in Munich: Oktoberfest! If you're reading this, I suspect you're heading to the Wiesn to partake in a "Maß" of beer, sing Ein Prosit, and befriend festival goers from all over the globe. Or, at least, planning your bucket list trip to Bavaria!
Back in 2021 — before the end of COVID restrictions — we chatted with our friends about the possibility of going to Oktoberfest the following year. We weren't sure if the festival was really going to happen after being cancelled for two years, but we optimistically booked our hotel that autumn and plane tickets shortly after. You can imagine our relief — and excitement — when April 2022 brought news that Oktoberfest was back for its 187th year.
It. Was. Amazing.
I can't overstate how incredible it was to be in a tent with literally thousands of other people sharing such a joyful experience. Everyone was in a jubilant mood — a few too many beers in, but excited to celebrate with one another. It's unlike anything I've experienced before and, if I'm being frank, not something that could happen Stateside without someone ruining the fun. If you even have a passing curiosity about experiencing Oktoberfest, make it a point to join the six million people who visit annually. But first, read my dos and don'ts below as a first-timer at Oktoberfest.
Prost!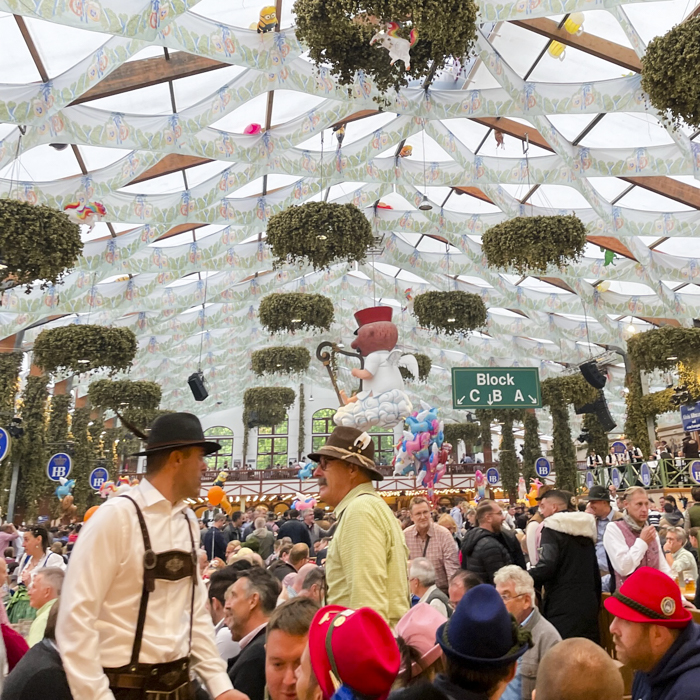 ---
Oktoberfest Tips
---
Do take the subway to the festival grounds. German efficiency certainly extends to its metro, which allows you a lot of flexibility when choosing your accommodations. Get off at the appropriately named Theresienwiese station and follow the crowd to Oktoberfest.
Do bring a small purse. Your bag must not exceed a volume of three liters or the size of 20 cm x 15 cm x 10 cm.
Don't worry about getting reservations at the tents. It's nearly impossible for first-timers anyway.
Don't overthink the tent. The best tent will always be the one where you can find a place to sit. If you need help locating a spot, just ask a member of the wait staff (who isn't currently carrying beer) to help. We had a group of six, which isn't the easiest to accommodate but with a bit of patience and a helpful waitress, she snagged a table for all of us. We started at the Hofbräu tent and then went to Augustiner.
Do chat with others at your table and nearby tables. As you probably know, you'll be sitting at shared tables with other attendees. Be sure to chat them up! It's the fastest way to make friends at the Wiesn.
Do sit down if you want to order a beer or food. You won't be served if you're standing.
Do go during the week so it's easier to find a spot to sit in the tents. They fill up quickly on the weekends and will close when they're at capacity. While there are some tents like the Spaten one that has seating areas outdoors, you still might need to wait until a spot opens up.
Do bring cash. Cash is king at Oktoberfest and you won't be able to pay with a credit card. There are plenty of ATMs available if you need to get more money out.
Do tip. Tipping 1 to 2€ each round is customary.
Do eat at the festival. The food in the tents is good! I can vouch for Spaten, which is known for its oxen. There are also food vendors throughout the grounds if you're looking for a quick bite while you're checking out the carnival rides.
Do wear trachten. Most people will be wearing traditional Bavarian clothing — not just at Oktoberfest, but in Munich while the festival is happening. You should get in on the fun with a dirndl or lederhosen. You can spend hundreds on beautiful trachten, but you can save money and buy your ensemble on Amazon. This is the one that I purchased and I wore it with this blouse. It's perfectly fine for the festival (especially since you'll likely get spilled on at some point), however I'll invest in a nicer dirndl the next time we go.
Do wear shoes you don't mind having beer spilled on. I wore inexpensive ballet flats the first night and sneakers the second.
Do tie your dirndl apron on the correct side. On your right: taken. On your left: single. In the middle: mind your business. On the back: widow or waitress.
Do learn the songs and sing along. Here's your primer.
Don't dance on the table. That's a surefire way to be escorted out.
Do be prepared to leave promptly when the festival wraps up each night. Beer and music wrap up at 10:30 p.m. and the staff is quick to get people moving and out of the festival grounds.
Do bring change to tip the bathroom attendant.
Don't just experience Oktoberfest while you're in Munich. It's a lovely city! See what else we did below.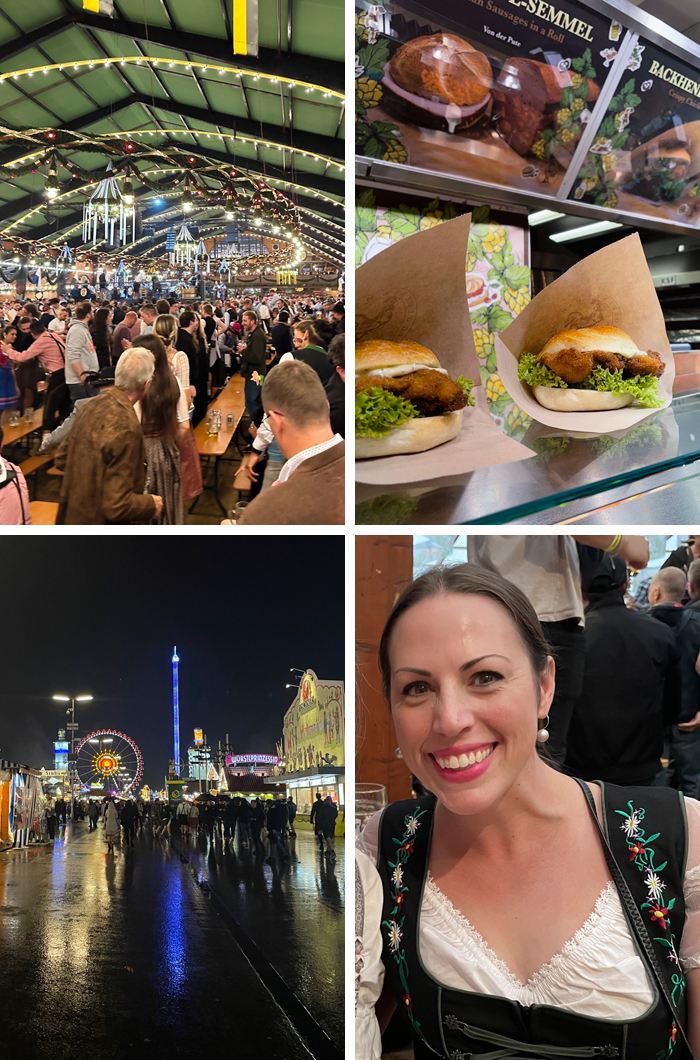 ---
Sightseeing in Munich
---
We didn't have the best weather while were in Munich last year. Hurricane Ian's impact on the Atlantic created an uncharacteristic week of rain over the city, but that didn't dampen our willingness to get out an explore. Plus, if a city is this pretty in the rain, imagine how gorgeous it is with nice weather! (And, if things go as planned, we'll have another crack at it in 2024.) Here's an overview of the non-Oktoberfest activities we experienced during our five-night stay before going to Salzburg.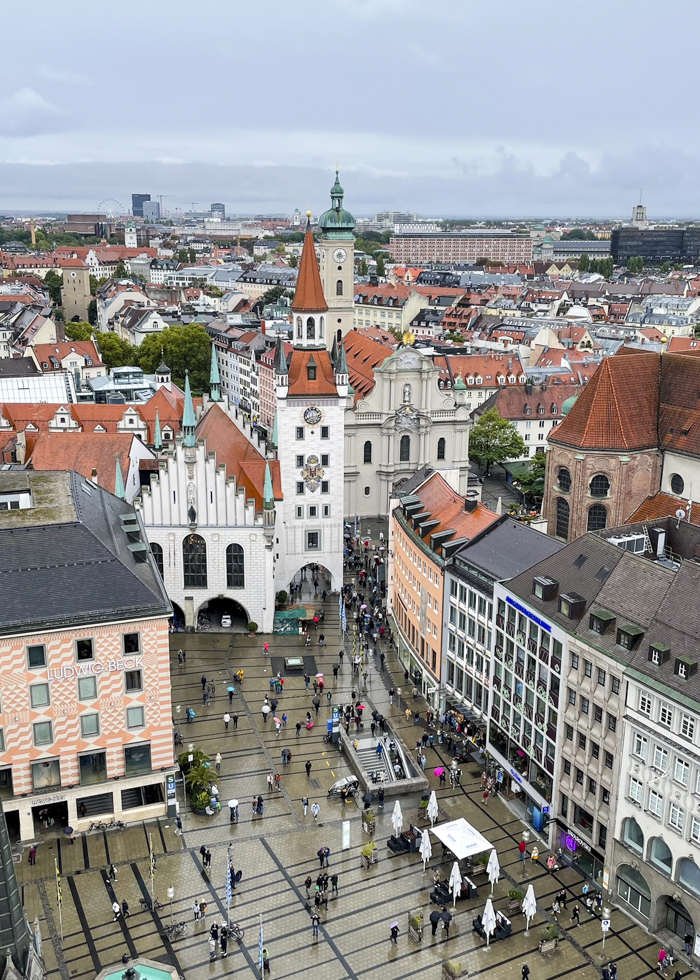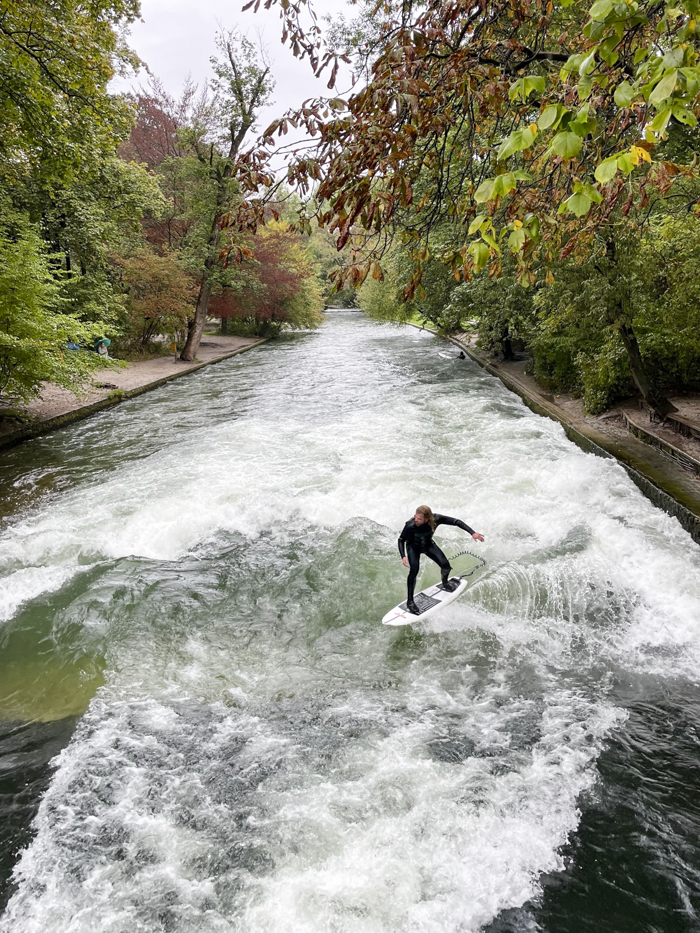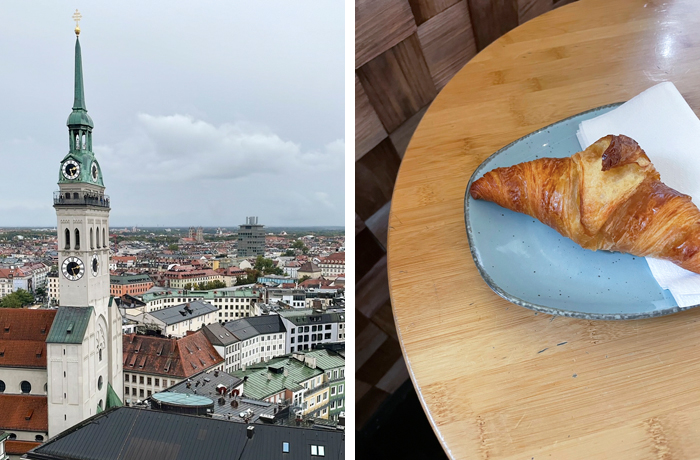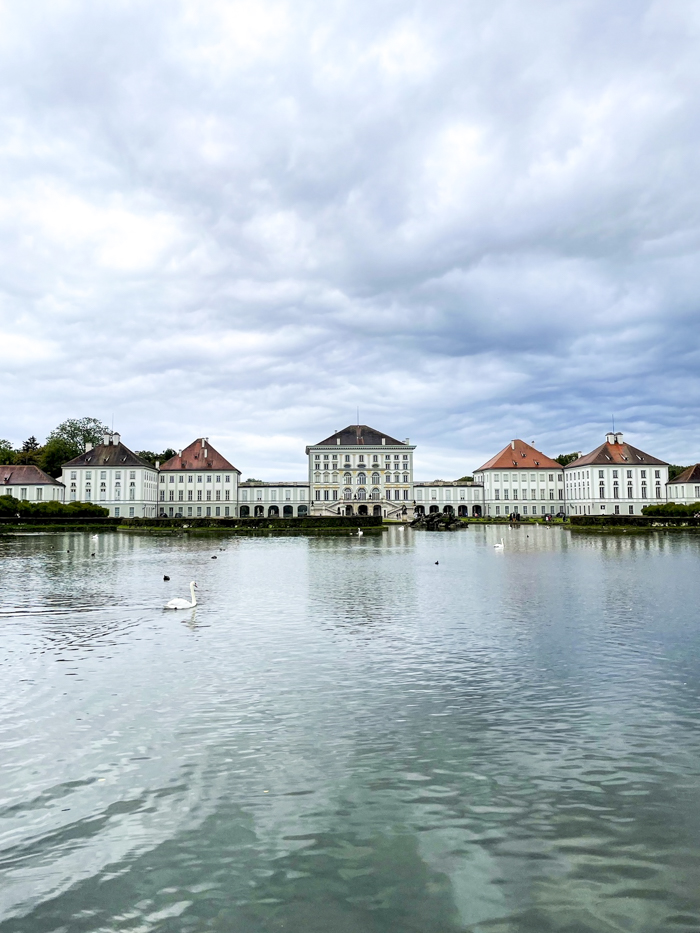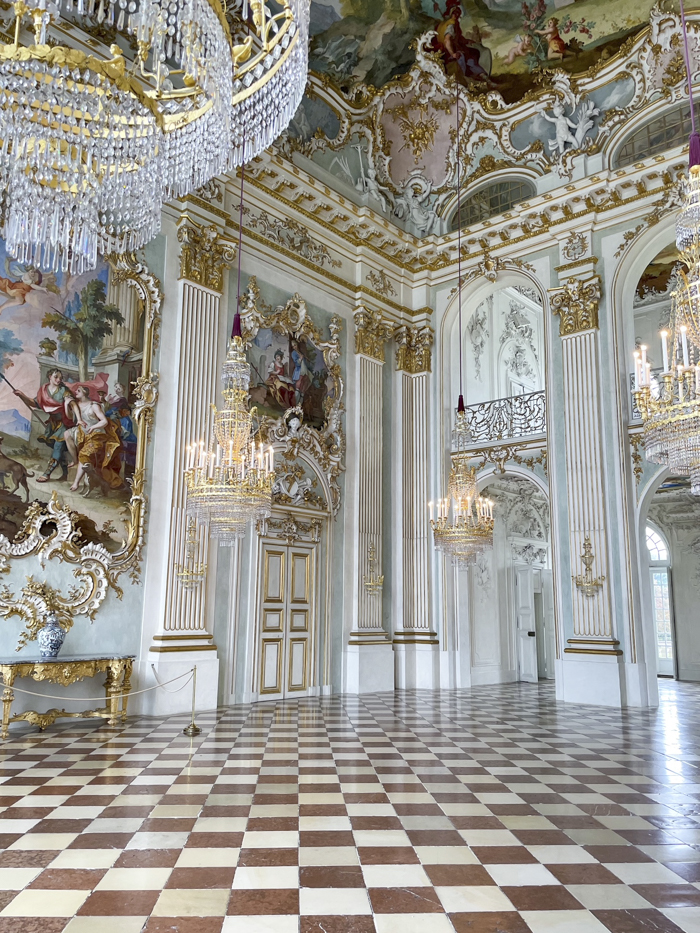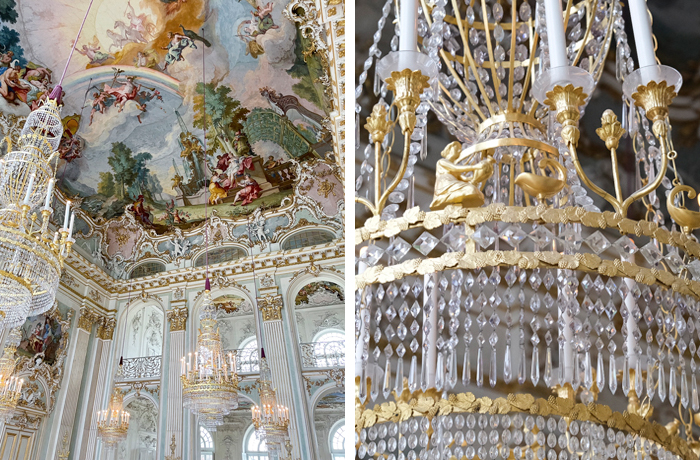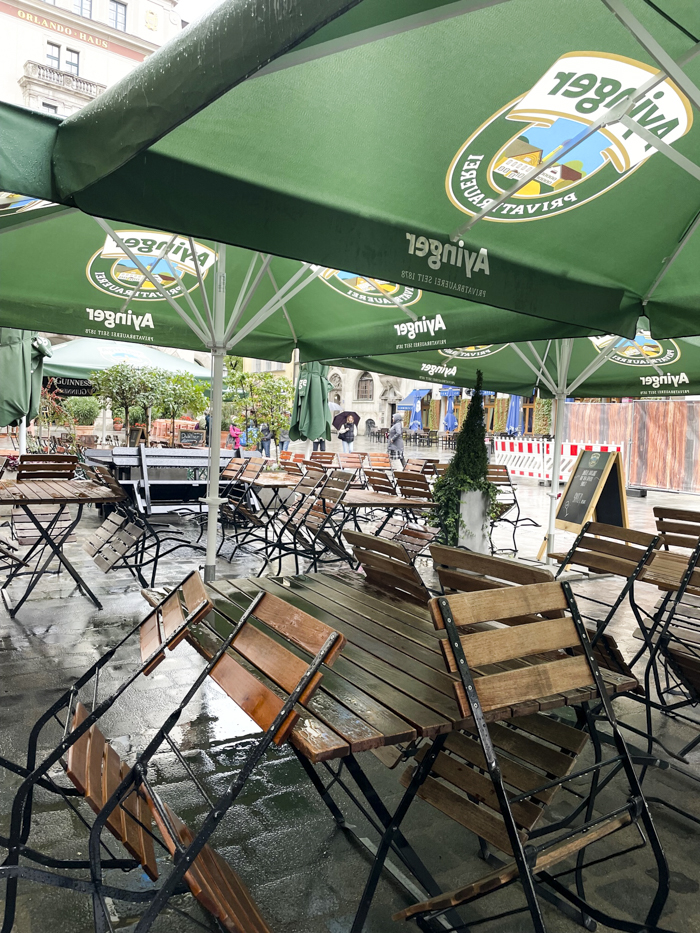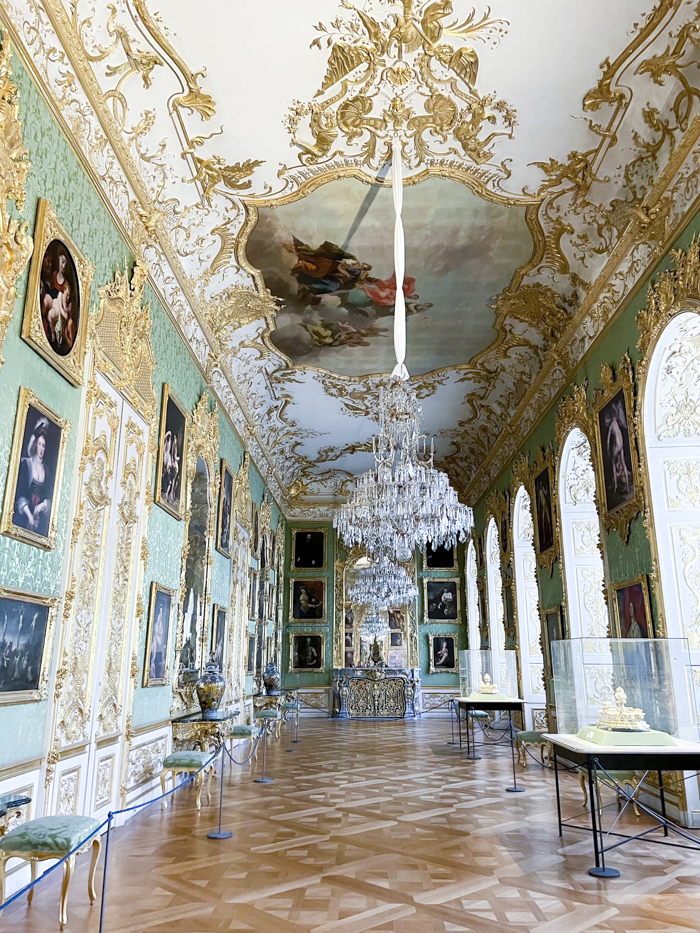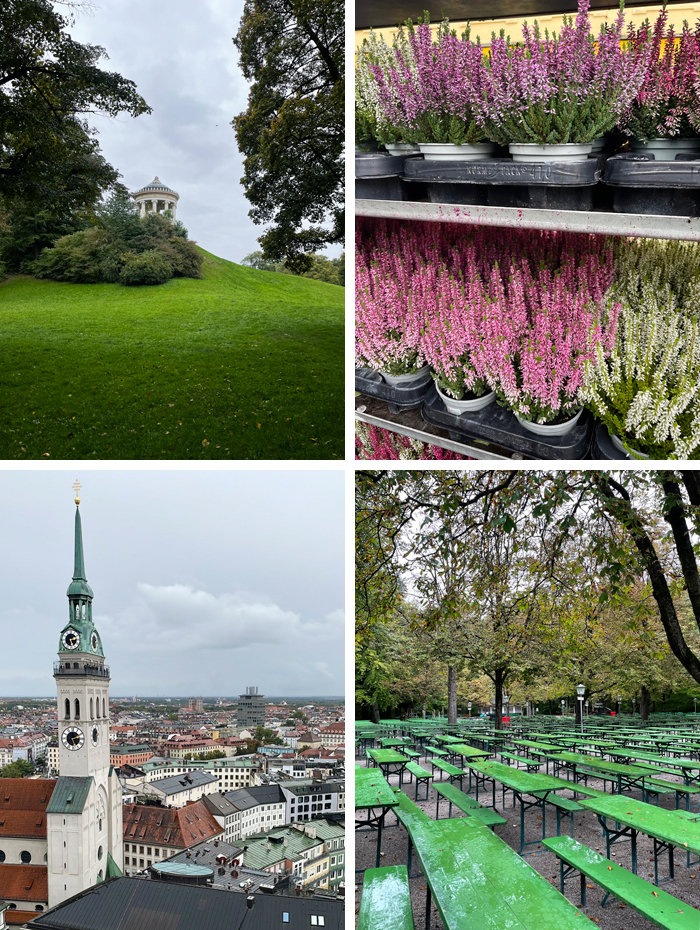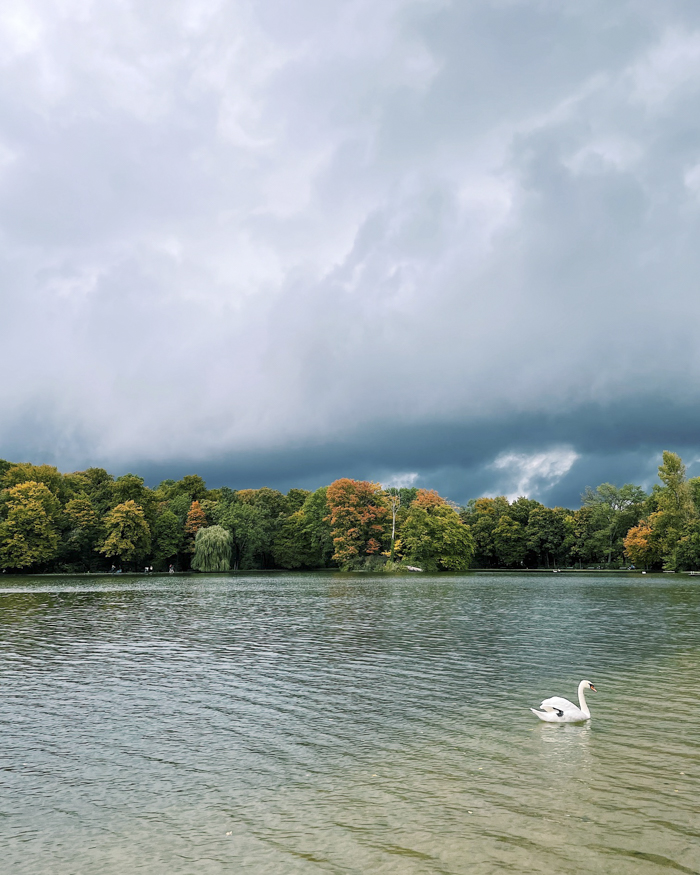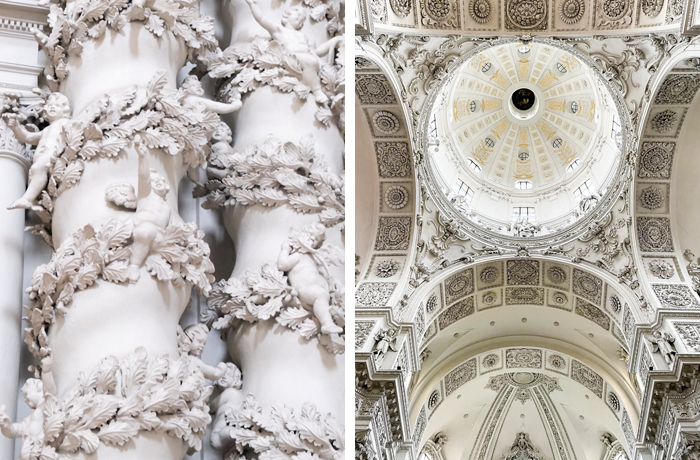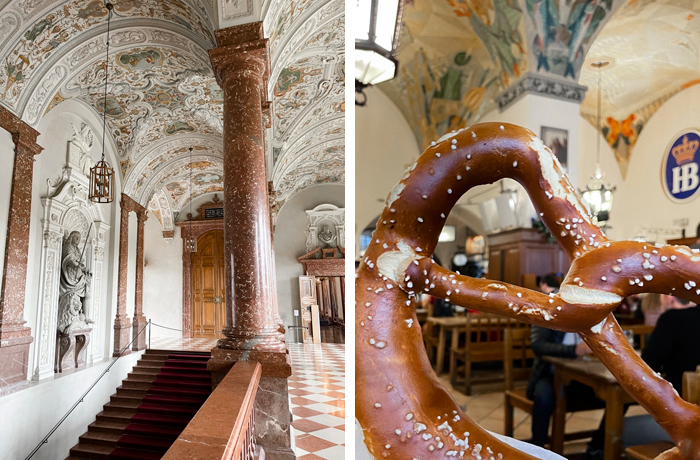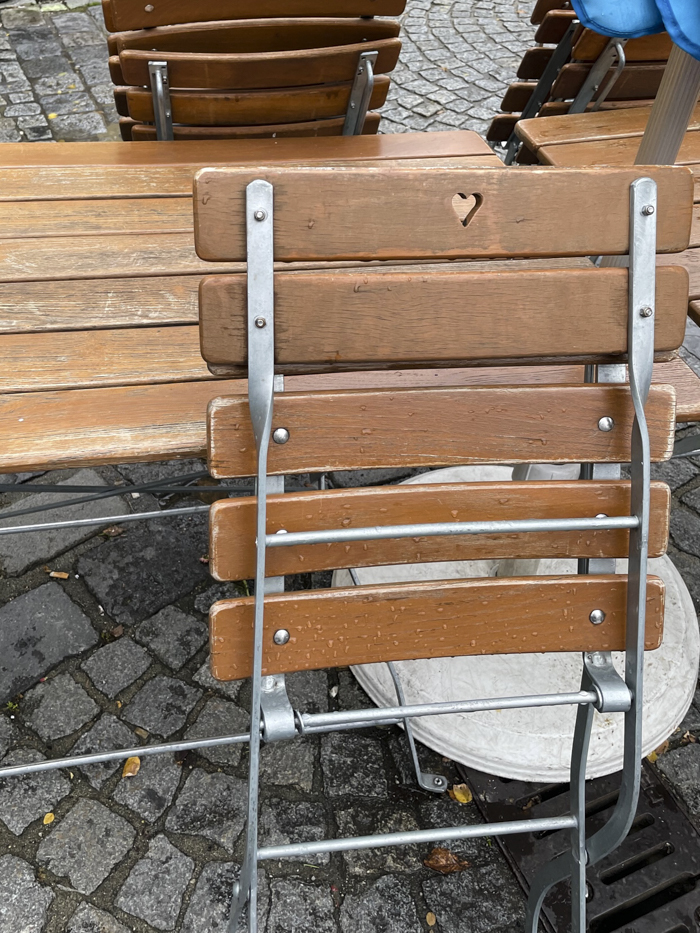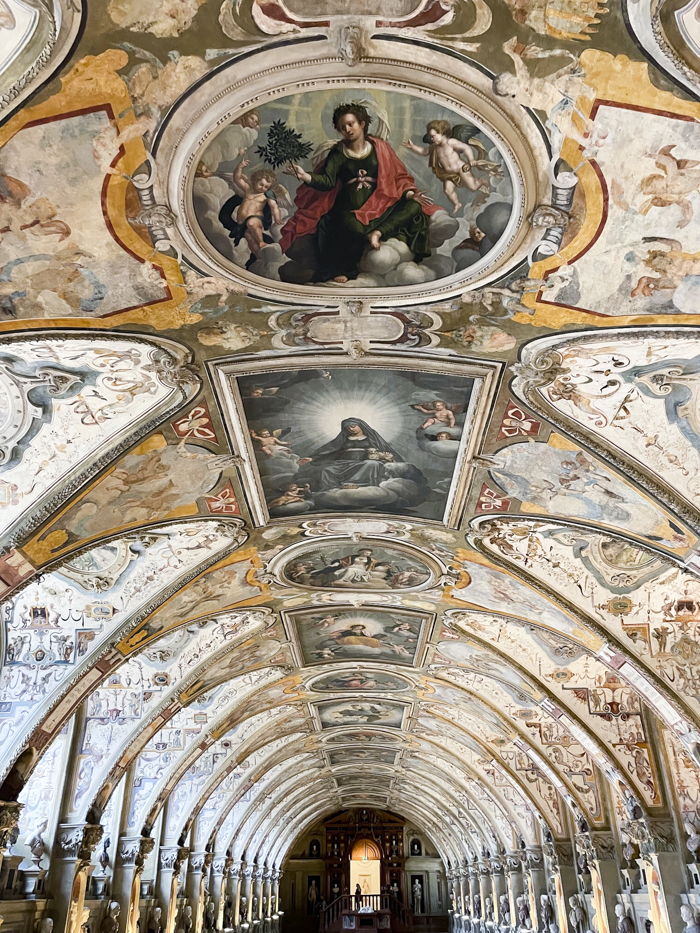 ---
Our Stay
---
Unsöld's Factory Hotel
Unsöldstraße 10, 80538 München, Germany
When choosing our accommodations, we decided that we'd rather be closer to non-Oktoberfest activities instead of being near the Wiesn. Munich has efficient public transportation, so there's no need to restrict yourself geographically to the west side of the city. We chose the Unsöld's Factory Hotel based on reviews (albeit just a few at the time as it had been recently remodeled), price, and proximity to The English Garden and Marienplatz. Plus, it was located in a quieter part of the city — a welcome respite from the flurry of festival activity.
It was perfect. Comfortable beds aside, my favorite part was the desk fan in the room that I used every night. (Seriously, I would not stop raving about the fan to our friends. It should not be such a rare hotel amenity.)
We walked to Cafe Lehel each morning for coffee and a pastry. They had even memorized our order by the end of our visit! And we had the best dinner at nearby Tattenbach Wirtshaus & Stüberl. I still daydream about the schnitzel!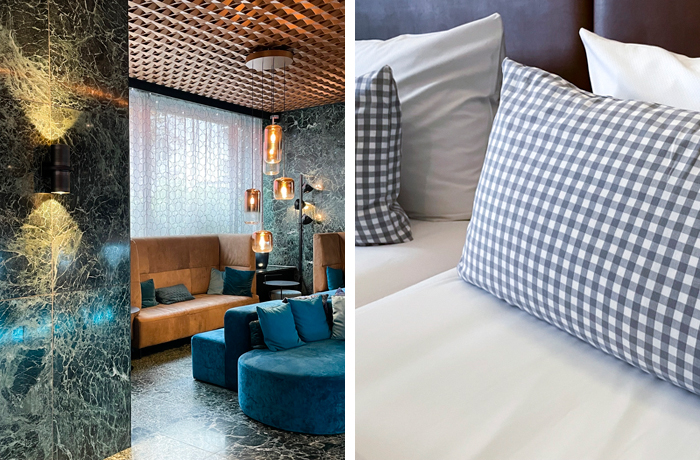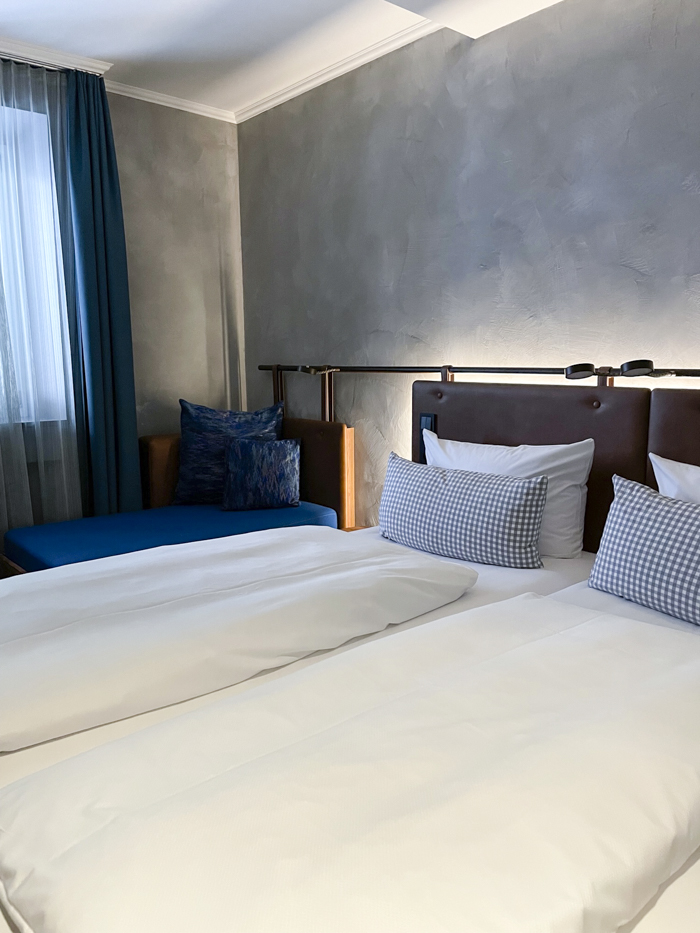 Let me know if you're planning an Oktoberfest visit! I'd love to hear about it!
–
Let's keep in touch!
Instagram / Facebook / Pinterest / Bloglovin'
Thanks for visiting! As a reminder, I may earn an affiliate commission if you buy an item through my links. This is at no cost to you. I appreciate your continued support!