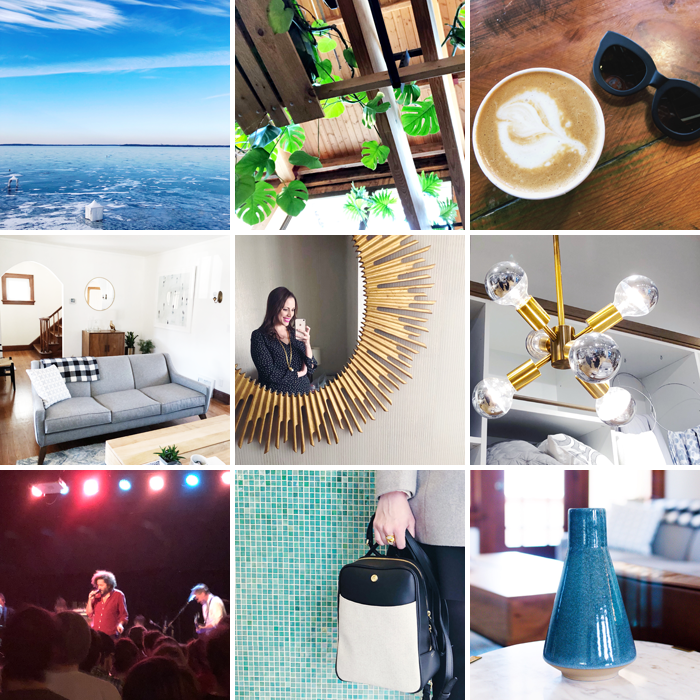 If you've been following my blog for awhile, you may remember that I used to post monthly recaps with a few of my favorite snapshots and mini moments from the previous four weeks. I'm not quite sure why I stopped, but I found myself missing it when I reflected back on the year in December. So I figured it was time to bring it back and share some of the little things I loved recently and talk about some of my goals for the month ahead.
Mini Moments (top to bottom, left to right):
I spent the day working off-site to help at a photo shoot. The afternoon views of Lake Mendota were stunning.
I love the shape of Monstera plants and have been considering one for our house, although I'm not sure I want to dedicate that kind of space to one plant!
Dave and I warmed up over lattes during our recent weekend in Milwaukee.
A peek into our current living room situation. Replacing the sconces is next up next on the to-do list. I'm going to buy these in brass to pair with these shades. I've been putting it off since that'll come to just over $700.
I can't help myself around a fabulous sunburst mirror.
While we're on the topic of light fixtures, I'd like to replace the one in my closet this month. It's just a bare bulb right now. I saw this mini Sputnik fixture at West Elm last weekend and thought it was fun, but I worry that a pendant light will get in the way of the shelf. Alternatively, this shape of this one is fun, this is fairly basic and wouldn't compete with other decor, this one has a prettier shape than either of those two (but pricier), and this is neat even if it'll require a decorative bulb. I don't want to spend a lot since this will be in my closet where no one other than me will appreciate it.
I gave Dave tickets for Christmas to see his favorite performer, Destroyer. The concert was mid-January and a lot of fun, even if the late night made me wonder how I ever managed to stay out past midnight in my 20s!
I gave my Paravel backpack a test drive and now I'm even more excited to bring it with me to London. It fits more than I need during the day, making it perfect for toting around treasures we pick up on vacation. This has only intensified my desire for the crossbody capsule bag.
Target does it again with its latest home collection. The quality of this vase makes it seem more expensive than just $13.
Upcoming Goals:
Filing my taxes is always at the top of my must-do list for February, and I already got them squared away on Sunday. I had made extra money for a freelance project at the beginning of 2017, so my return was paltry, but hey, it'll pay for one of those sconce and shade combinations!
Paint the door trim in my closet. I tackled the door frame for the office and bedroom, and then took a few weeks off. I need to get back into the home-improvement groove.
Repair any cracks and gouges in the upstairs hallway so we can paint that next month.
Install a light fixture in my closet.
Exercise two times a week. I've been counting my calories and have already lost four pounds, but I need to add movement into my routine.
Finally drop off the piles of donations we have bagged up and ready to go.
–
Let's keep in touch!  Instagram / Facebook / Pinterest / Bloglovin'