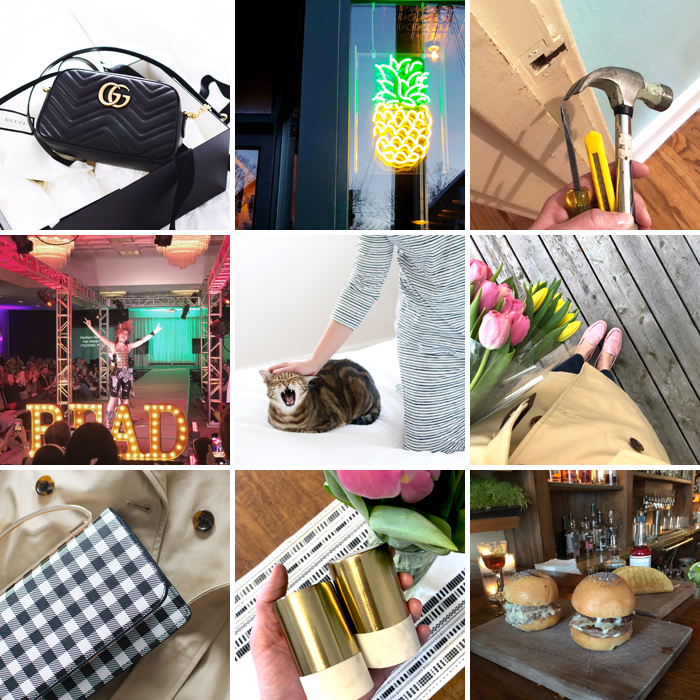 Last month, I mentioned that I wanted to bring back a roundup of "Mini Moments" from the month prior and share some of my goals for the month ahead. I dropped the ball on getting this up closer to the first of the month, but hey, there were still a few things worth reminiscing about and sharing with you! I'll have this week's "Weekend Links" post up tomorrow.
Mini Moments (top to bottom, left to right):
I finally bought the Gucci bag I've been saving for! It's ridiculously indulgent, but goodness, I'm so happy with it! (If it's on your wish list, you can see what fits inside here.)
Dave and I went out for date night drinks at Robin Room in Madison. Their cocktails are amazing and you know I'm smitten with the pineapple neon sign in the window.
I finally got around to painting the door frame of my closet. I'm sure it comes as no surprise that I was anxious to cover up that tan color with crisp white paint! Also, I can't stand it when hardware is painted over. (Apparently you can boil the hardware in water to loosen the paint. Latex paint should peel right off and lead-based paint should crumble off. That'll be a project for an upcoming weekend.) A quick tip for removing stubborn screws that have been painted over: position your screwdriver in the groove and hit the base with a hammer. The extra force should shake some of that paint loose. I also used a razor to remove the paint at the edges of the screws.
I participated as a judge for the Madison Reading Project's READ(y) to Wear fashion show. It was basically a Project Runway unconventional challenge with paper.
An outtake from this post cracks me up.
I played hooky last Tuesday when the temperature crept close to 60 degrees. I treated myself to sushi for lunch, picked up tulips, and wandered around our neighborhood on a 2.5 mile walk. (You can snag the trench coat here and similar loafers here.)
I'm all kind of obsessed with this gingham cutie for $28.
I had been using dollar store salt and pepper shakers for the last 10 years. We finally upgraded to these marble and brass beauties.
We checked out Forequarter for their happy hour menu of sliders and tacos. It was delicious, but the cocktails were too expensive for what they were (as far as Madison pricing goes). I'd rather stop here again for happy hour snacks and get drinks somewhere else.
Upcoming Goals:
Start painting the upstairs hallway.
Replace the light fixture in my closet. This was actually on my goal list last month, but the fixture I ordered from West Elm arrived damaged with a scuff in the brass base and two chips in the globe. (It also arrived in two boxes and after three weeks of continuously asking for a second mailing label with a different tracking number, they finally had to send someone from UPS to pick up both boxes. It was such a frustrating mess. I'm not exactly pleased with West Elm's customer service when a problem crops up as we've had a few additional annoyances, but that's a story for another day.) The new one just shipped out, and I hope it's actually a new one and not just the old one coming back to me because I do really like the shape of it.
Finalize my packing list, shopping, and itinerary for London! I'm doing my best to not over-pack this time and bring extra pieces just for outfit photos. I'll likely do an outfit roundup when I get back to show you how I remixed pieces during the 10-day trip. I hope it comes off as inspiring rather than boring!
Get a quote on laying additional concrete by our garage for a parking pad. We have a long driveway between our house and our neighbor's house and a one-car garage. I can park to the side of the garage door to let Dave in and out, but it's easier for me to turn around before driving out rather than backing out the length of the driveway. I was able to do so on our lawn with the ground frozen, but that's not going to be doable much longer!
Have someone come in to discuss replacing the window shades in our dining room (they're a dingy beige color) and adding them to our upstairs bedrooms. We're going to add roller shades now and look at drapes later.
–
Let's keep in touch!  Instagram / Facebook / Pinterest / Bloglovin'